Kinky American Handsome Daddy Gay Porn Star, D Arclyte
Known Aliases:
Years Active: 2016 – 2019
KINK INFO:
Body Type: Muscular
Height: 6′ 2″
Weight: 200
Hair Color: Brunette
Gender: Male
Cock Girth: Normal
Cock: 8″ cut
Scene Role: Bottom
Pubic Hair: Shaved
Ethnicity: White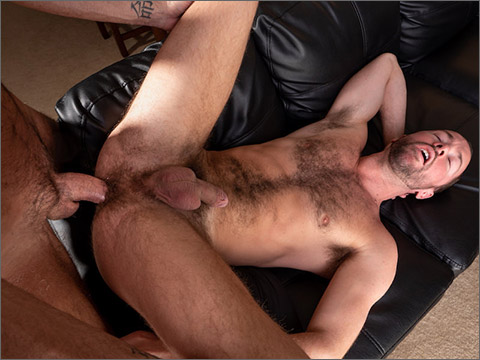 FUCKING DADDIES: D Arclyte fucks Alex Hawk
With today's modern society and it's many obligations, sometimes couples can become distant and fall out of sync. Bearded and tattooed D Arclyte knows this, which is why he and sex pig extraordinaire, Alex Hawk, make sure they always make time for date night. It might consist of sitting watching television and holding hands or going to the movies. Or, in this particular instance, it's all about dinner and dessert. And there's enough cock for Hawk to call his bearded daddy dinner, just as Hawk's savory hole is Arclyte's dessert! The two make out a bit and slobber on cock, but it's Arclyte's eating of Hawk's ass that will leave you drooling. It doesn't take long for daddy to slide that raw cock home, taking his sweet time as he fucks Hawk bareback. After all, sometimes you just want that dessert to last, don't you? Like taking small bites from his favorite cake, Arclyte relishes in the sensation presented before him, the delicacy that is Hawk's hungry hole. Daddy speeds up, stuffing Hawk full of succulent meat. Sadly, like dessert, all good things must come to an end. While riding Arclyte, Hawk whips out a frothy load and glazes Daddy's belly. Then Arclyte adds the proverbial cherry on top with a creamy finish that splatters everywhere.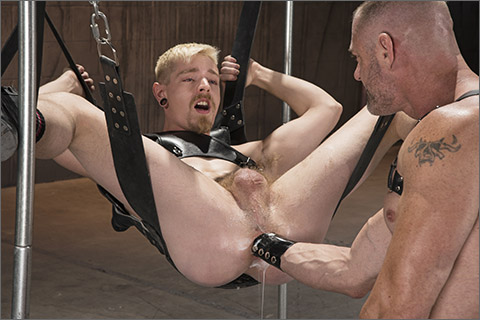 DEEP HOLE DUNGEON: D Arclyte fists Cody Winter
Blond and smooth, Cody Winter sprawls across a leather bench. His sir, D Arclyte, rubs his hands along Cody's lean body. Their shiny black harnesses squeak against the leather bench as Cody rips off his codpiece to reveal his throbbing, uncut cock. D expertly administers a blowjob to his boy, then flips him over to eat Cody's eager hole. Eager to please his daddy, Cody moves to a sling where he opens up his ass for D's fat fist. As D slides his knuckles past Cody's muscle ring, the sub's moans get more and more intense. Every movement of D's hand against Cody's guts elicits gasps and yelps of mind-blowing pleasure. Faster and faster, D pumps his fist into Cody's hole, passing his wrist. Passing his leg over D's arm, Cody faces forward and fucks himself on his sir's big fist. "You gonna cum for daddy?" asks D. "Oh yes please," replies Cody. With Cody's hole gaping, D wraps his hands around Cody's neck and constricts his airflow, and the feeling of being totally at the mercy of his sir impels Cody to shoot a massive, spurting load into the air. When Cody's orgasmic moans subside, D asks him, "You ready to take care of daddy?" "Yes sir!"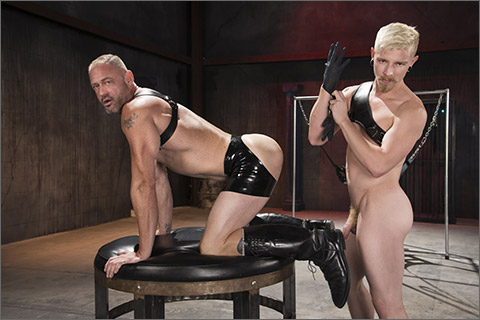 DEEP HOLE DUNGEON: Cody Winter fists D Arclyte
"Good boy!" D Arclyte leads his sub, Cody Winter, to the sling for a reciprocal session: "Show daddy how much you appreciate what I did for you!" "Yes sir," says Cody, inhaling D's thick, hard meat. D's fat balls slam into Cody's chin as he face-fucks his boy. D turns around and gives eager Cody a taste of his daddy hole. Cody rims D's ass like his life depends on it, burying his face in the crack and sliding his tongue up and down. Moving to a leather bench, Cody gloves up and works his fist into D's hole. As he buries his fist inside D, Cody's erect cock swells and bounces in the air; his veiny foreskin is so long that it completely covers his glans even when hard. Kneeling down to get an even more intense angle, Cody speeds up the motion of his fist inside D's man cave. Rolling onto his side, D encourages Cody to go even deeper, and his pleasure is evidenced by his grunting vocalizations. "You wanna help daddy cum?" "Aww fuck yeah!" explains Cody, eager to receive his sir's load. Crouching on all fours, Cody opens his mouth as D lets loose with blasts of hot white cum. With his face drenched in cum, all Cody can say is, "Daddy's so hot!"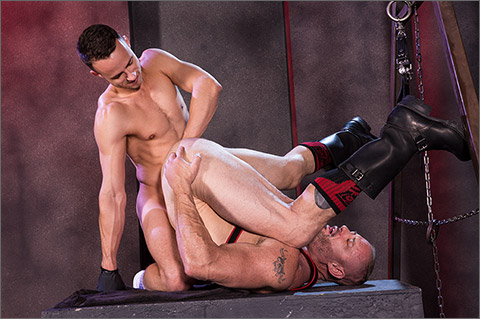 PIG ALLEY: Nate Grimes fists D Arclyte
Muscle daddy, D Arclyte, grabs Nate Grimes by the neck and shoves his tongue down the hung jock's open throat. D is in an aggressive mood and today he wants Nate's fist shoved firmly up his ass. The pair makes out for a bit until D turns around and offers his hole for Nate to open up with his tongue. It's a nice long rimming session that leaves the leather daddy's asshole open, throbbing, and ready to be fed. Amid a torrent of dirty talk from both horny pigs, Nate puts on his rubber gloves and pulls out a giant bucket of lube. He dips his hands in the sticky goo and gets them good and slathered up before he sticks his fingers inside D's gaping butt. It barely takes a second before Nate's whole fist is swallowed up by D's hungry man cave. The horny jock is loving every second of pleasuring his daddy by alternating his hands in and out as strings of lube fall from D's cavernous asshole and Nate's strong arms. D is in complete ecstasy as his mouth gapes and his eyes roll back in his head with every plunge from the fit stud's fists. D needs it a little deeper and a lot more rough so he lies down on a bench with his legs in the air and lets Nate plunge his hole even harder. Nate gets wrists deep inside his daddy as he hurriedly switches hands and keeps up the intensity of the extreme fisting session. All the hole stretching and deep penetration gets D hard as a rock and ready to burst. D stands above Nate as the cum hungry hunk takes a massive load of D's creamy jizz in his eager mouth and on his smooth, tight chest.
VIDEO ON-DEMAND: D Arclyte @ AEBN SMUTJUNKIES THEATER
DVDs & ON-DEMAND: D Arclyte @ TLA VIDEO