ChaosMen Corbin Fisher Amateur Gay Porn Guy, Cruz
Known Aliases: Damon (Corbin Fisher)
Years Active: 2012 – 2015
BRIAN OCKERT / CHAOS MEN INFO:
Start Age: 21
Debuted: August 13, 2012
Height: 5'10"
Weight: 165 lbs
Cock: 7″ Cut
Cruz has done a straight video before and found the pay was not that great. It was time for pay raise and that meant working with guys.
   He is married and his wife is all for him going out and bringing home the bacon by doing adult work. She seems to be one of those gals who likes to watch their hubby in action, with guys or girls. Cruz said it wasn't exactly an open relationship, but they did get married very young, and they are always trying to keep things interesting sexually.
   He has some experience with guys, but tends to be more into women. He stuck to straight porn with girls with giant boobs as his stimuli. Cruz seems very calm, and very free-thinking in his attitudes. I think if it feels good, he is down for it.
   With a hot body, an awesome cock, and a vesatatile attitude, I am sure he will be back for more!
   What do you think? The Edge Chair?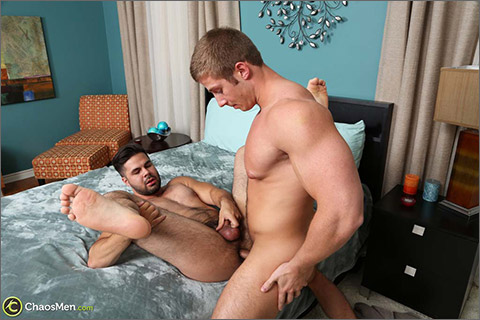 RAW: CHANNING & CRUZ FLIP-FUCK
Cruz is back after having a second baby. He took some time off for school also. He and his wife are still going strong, but Cruz is now comfortable with his attraction to men, and with his new mindset wanted to try gay porn again. Bi guys do exist!
   He also has been working out hard, and when I saw his progress, I knew I wanted to put him Channing.
   In the past, Cruz was a better bottom, but he says he has gotten a bit more aggressive as a Top, so I figured they could fuck each other.
   Cruz has a lot more passion also, which Channing responded to nicely. Lots of kissing and a little bit of body worship.
   I would say Cruz has leveled up at giving head. He sucks on Channing's cock like he means it, and even eagerly rims his hole. I think Channing is also getting better at sucking dick. I haven't quite figured Channing out. He has not had girlfriend in the time I have been working with him. He is always charged up and ready to play with a dude. He is super shy, but at times I wonder if maybe he is playing for wrong team. Even still, we had straight porn going on set, and both relied on it to get hard between photo takes. Channing is young and it took Cruz awhile to declare himself officially Bi.
   Cruz bottoms first with him sitting on Channing's dick. Channing pulls his ass cheeks apart so we can see his cock slide in and out. Yup! Cruz is still an amazing bottom, and made out with Channing as he fucked his hole!
   It was time for some Cruz control, so he fucks Channing doggie style. For the first time since working with Channing, he actually winces as he gets penetrated. Cruz is quite hung, and Channing struggled to accommodate it. Channing finally loosens up so that Cruz can get some deep fucking action going. Was a little worried for a moment!
   Cruz knew for certain that he could cum from getting fucked. Have yet to get Channing to try this, so I think the next video we will see if he can cum while being fucked. He stays so hard as a Top that he can just keep fucking until the Bottom busts his nut. It is great to see Cruz's cock spurting cum as Channing's cock hammers him!
   Channing pulls out and bust his load all over Cruz's hole, breeding our young daddy's hole!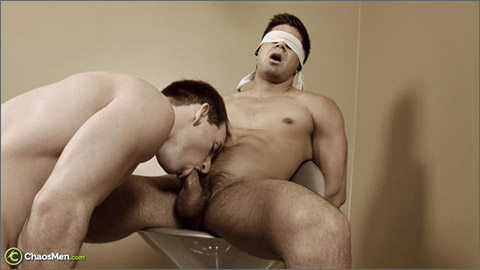 EDGE: CRUZ
Cruz gets Edged by Allen in this one. Lots of naughty stuff as Allen really enjoys being the one in control.
   Sometimes you just have to sit on a hot cock!
CLICK HERE TO GO TO HIS CHAOSMEN BIO PAGE
RAW: CHANNING & CRUZ FLIP-FUCK
PURE: AIDEN PACE & CRUZ
PEEP: CRUZ & TAURUS
PURE: CRUZ & GLENN
RAW: CRUZ & THEON
G:hOle RAW: ARIES & CRUZ
PEEP: CRUZ
RAW: CRUZ & GAVIN
RAW: CHAZ & CRUZ
RAW: BOOKER & CRUZ
RAW: CRUZ & TROY
EDGE: CRUZ
CRUZ SOLO