Blond Raw Castings American Gay Porn Amateur, Cory D.
Known Aliases:
Years Active: 2016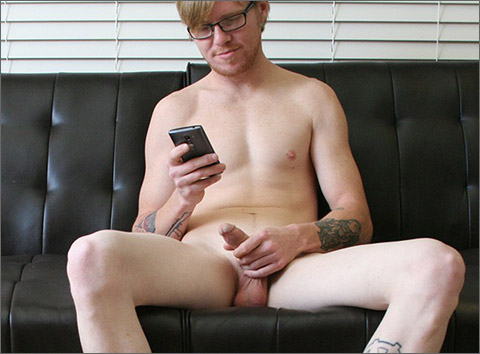 RAW CASTINGS #173: CORY D.
If Shaggy from Scooby Doo (the cartoon, not the movie) were to show up on your casting couch, Cory is what he would look like. Aside from people into cosplay, one might think, what does Cory have to offer the world of gay porn? Well, like a lot of performers, Cory's offering to the porn world is that he will do whatever you tell him to do, and act like he enjoys it. During the interview, the casting director asks what motivates Cory. He responds that he likes "Sex, Money, Cars, and Food," in that order. Judging from the couch he is on right now, it's unclear how much sex he gets, but it's probably certain that he's low on cash. When asked about his sexual experience, Cory opens up about having had some gay sex, but he is fairly tight-lipped about his experiences. Suffice to say, Cory isn't a virgin, but pretty much needs to be drinking in order for anything to happen. We're not sure which person needs to be more drunk, though, Cory or his sex partner. It's when Cory takes off his clothes that he becomes more attractive. He has a smooth ginger bod, a great twinkish frame, nice nipples, and a very young looking butt. Not bad at all! It's a shame he can't be naked all the time. He keeps his glasses on, however, to suck dick. Even with the glasses, though, Cory looks like a talented cock sucker, and the casting director seems to be enjoying himself. Once the action moves to raw fucking, Cory takes a raw dick with some effort. The casting guy fucks Cory in missionary position first, and he loosens up fairly quickly. Cory is completely soft himself, but his pink butthole looks great getting slam fucked bare. Even after several positions and a lot of fucking, his hole still looks like a virginal untouched boy cunt. The casting director, in spite of his obvious enjoyment of Cory's tight ass, at last pulls out once he is close to orgasm. He jizzes all over Cory's hole, and with a look of surprise, Cory exclaims "Oh, that's warm!" Well, at least he has a good attitude and a nice personality! It shouldn't be too difficult to get Cory roles in which he is a little bareback bottom bitch, he definitely has what it takes.