Bentley Race Cute Uncut Hung Aussie Gay Porn Guy, Connor Peters
Known Aliases:
Years Active: 2020 – 2021
BENTLEY RACE COMMENTS / INFO:
A couple of weeks ago I met this cute new guy Connor Peters from the inner suburbs of Melbourne. The 21 year old had emailed me about doing some modelling a little while ago. I thought he looked cute in his photos we had a chat and then I got him over for this shoot. And I gotta say that he's really cute in real life. So I set him up for a simple shoot in the studio wearing a little pair of red shorts and white converse sneakers. Being the middle of summer, Connor has a nice tan and starts shedding his clothes. He's got a nice slim build and looks great naked. But the surprise came when he pulled down his underwear. Connor is sporting a pretty big dick. It was already growing early in the shoot, but its surprised me when he pulled it out. SO I went ahead and got some great shots of Connor wanking his big cock on the floor. I loved seeing him naked wearing just the sneakers. Being a cute and super sweet boy, I think Connor is going to make a great addition to our group of mates this summer. I will load Connor's first video a little later this week.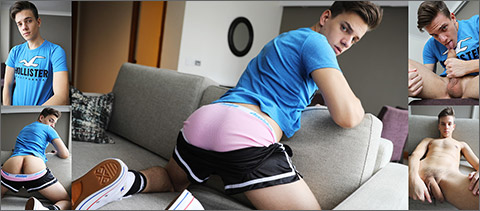 CUTE CONNOR SHOWS OFF HIS HUGE COCK AND A HORNY TRICK
Just before we went into the winter break I met up with Connor Peters for one more horny photoshoot. This shoot had a few surprises for me. I had only learnt recently that Connor could suck his own cock. So I really wanted to get some photos and video of him in action. All the photoshoots with Connor are really nice, but this one was really horny as he wanks his cock hard getting ready to suck it. I had a lot of fun doing this shoot with our cute mate and ended up having a lot more fun in the video with him. Make sure you check out all of Connor's videos. I'll be getting him around soon for more.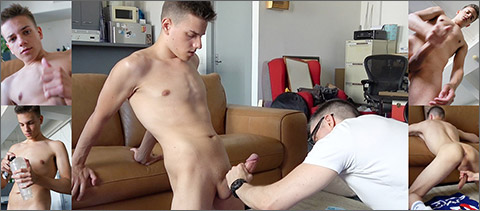 MY CUTE MATE CONNOR PLAYING WITH HIS THICK COCK
After that hot strip show photo shoot Connor lays back on the couch to play with his thick cock while I grab the video camera. After getting full erect several times through the photoshoot Connor is now ready to get off. I follow him around with the camera as he puts on a hot show playing with his hole as his legs are spread in the air, making sure you get a close look. Connor films himself a little just after he's been shoving his lubed up dick into one of my rubber fuck toys. I can tell in this video that Connor likes to play as I grab his dick and wank it a little myself. It's a long video and I left all of it in so you don't miss a thing.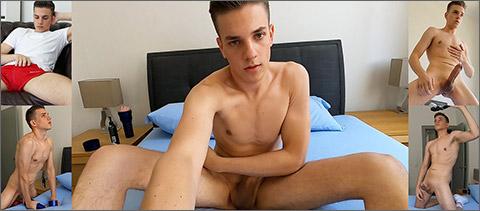 HUNG AUSSIE BOY CONNOR PETERS' FIRST VIDEO
This is the first video our hung Aussie boy Connor filmed with me in the studio earlier this month. I had already taken a ton of photos of the 21 yer old posing and stripping naked. Connor looks great in the photos. But let's have a look as this hot video of our new mate getting naked one more time and stroking that super thick cock. Armed with some lube and a fleshlight, Connor puts on a really hot show. He makes good use of the Go Pro too so that you get a nice close up look. Make sure you watch this video right to the end as Connor squeezes every last drop of cum from his throbbing big cock. I will post the BTS footage from Connor's first shoot soon.