Sexy Blond Uncut American Gay Porn Star, Connor Maguire
Known Aliases: Connor McGuire (Perfect Guyz)
Years Active: 2010 – 2015
TWITTER @ConnorMXXX
CYBERSOCKET 2014 BEST PORN STAR NOMINEE
DOMINIC FORD INFO:
Connor is the guy you might see on campus hanging out with his football friends, or just hanging out in the quad. While you might wonder "is he? isn't he?" nothing could prepare you for his rock hard cock and his powerful frame. He is strong and will fuck you like there is no tomorrow!
INFO:
Location: Miami Beach, Fl
Job: Accountant
Hobby: Writing
Sport: Wrestling
Food: Chef J's Protein Puffs
Music: Metal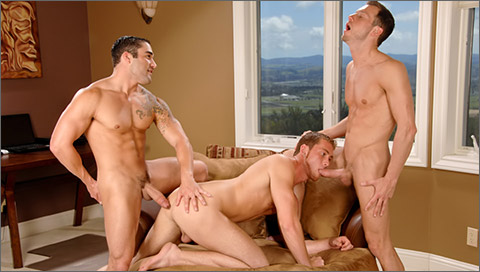 DICK BY THE FOOT
Samuel O'Toole has a pretty extensive collection of shoes. However, he pays a price for looking so well coordinated. Namely, some of those great looking pairs of shoes hurt his feet something silly. Luckily Samuel also has an extensive collection of friends willing to rub his feet at the end of a long day. Of course, his feet aren't the only parts they're willing to rub. Kyle Quinn is ready and willing to rub whatever Samuel can slide his way, and the only thing better than two cocks is three, so Samuel calls Connor Maguire and asks him if he wants any part of it. Which, of course, he does. Before you know it, Samuel's feet aren't hurting anymore, but his dick is about to bust and rock fucking hard. Guess that's what friends are for…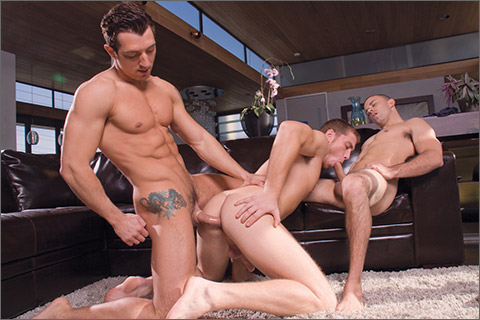 HUNGOVER: Jimmy Durano & Chris Tyler spit-roast Connor Maguire; Chris Tyler gets fucked
Connor Maguire is the lucky middle of a triple decker manwich — just as he hungrily sucks on Chris Tyler's tool, Jimmy Durano is rimming his asshole. Chris bends forward to nurse on the randy redhead's cock while Jimmy is still licking, fingerfucking and juicing up his crack with spit. Soon, Connor is getting plugged at both ends with Chris' cock down his throat and Jimmy's pole in his hole. Then it's the brave marine's turn to get fucked and the durable Durano proves his determination as he screws Chris while sucking Connor off. The action escalates until the guys can no longer hold back and they squeeze out three explosive spasms of jizz.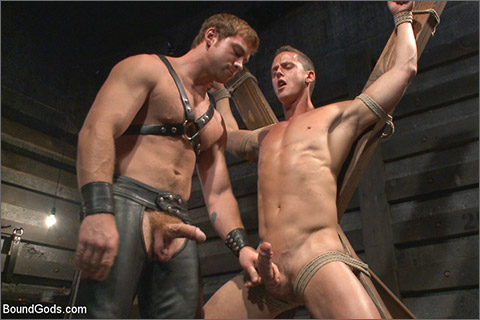 HOUSE DOM CONNOR MAGUIRE BREAKS IN A NEW BOY
Ivan Gregory is a new boy with hopes of joining the slave ranks in The House. Here to test his commitment is House Dom Connor Maguire. Connor begins the initiation by examining the boy's boot licking skills. Ivan polishes his Dom's boot with his tongue and licks up and down the leather chaps. When the boy gets too eager for cock Connor beats him with the crop. The boy may have poor self-control, but at least he has a nice ass to make red. Bound to a wooden "X" Ivan is given a proper flogging that tests his limits. Having seen the boy's potential, Connor takes him back to the Cocksucking Throne and fucks his ass. With Ivan covered in his own freshly fucked load, Connor rewards him by standing over him and cumming on his face.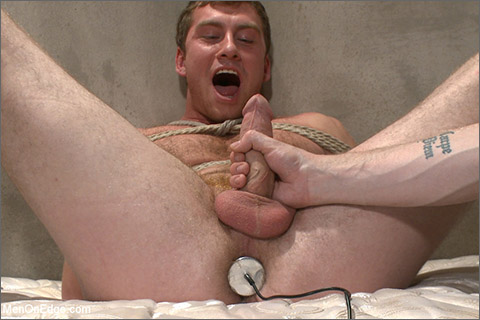 OFFICER MAGUIRE EDGED AND GETS AN ELECTRIC BUTTPLUG FOR THE FIRST TIME
Officer Connor Maguire is on the beat at the Armory, this time subjecting a graffiti spraying punk to a full cavity search. Sebastian walks in on the hot interrogation and gets a little inspiration from the sight of the new hunky guard. Sebastian binds Officer Maguire to a chair and subjects him to continuous edging and tormenting his nuts with the ball crusher. Sebastian hogties the officer in a padded cell and keeps denying that thick cock while worshipping Connor's feet. Officer Maguire gets flipped over and is introduced to the electric butt plug for the very first time. With his prostate buzzing, Officer Maguire finally gets permission to cum and blows a hot load before he screams for mercy from tickle torment.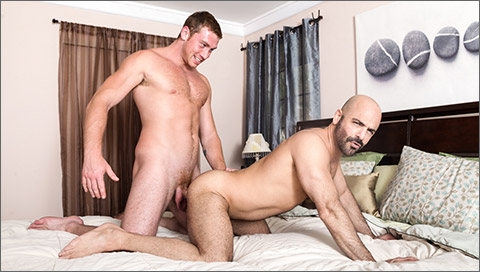 THE STEPFATHER: Connor Maguire fucks Adam Russo
Boyfriends Connor Maguire and Casey Tanner have a fight on the phone because Casey is spending all his time with his future stepdad Adam Russo, and not in bed with Connor. Connor decides to show up at Casey's house when he's away at school to talk to Adam in person. Things get heated as Connor starts threatening to expose Adam's dark secret unless he sucks Connor's dick. Connor knows that Adam is gay too, and that he's just lying to himself and Casey's family. Connor pushes Adam down on his knees and shoves his dick into his mouth. Adam tried to protest, but finds himself giving into the beautiful boy. Connor makes him stand, rips open his shirt and tosses his pants down on the ground. Adam gets so turned on that he begs Connor to go down on his dick again. Adam arches up his back and lets Connor plow him on the bed, something Adam has only ever fantasized about, and they don't stop until both men have fully satisfied their hunger.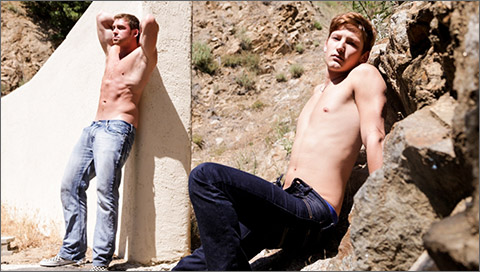 THE STEPFATHER: Connor Maguire fucks Casey Tanner
Casey Tanner's mom is in the kitchen cooking dinner for her son and his new 'friend' Connor Maguire. She explains to her new husband, Adam Russo, that Casey is gay, and hopes this doesn't change the way he feels about his new son. Casey arrives back home with Connor, and the two rush up to Casey's bedroom to start fooling around. Casey removes Connor's shirt and kisses down his body until he gets to his jeans. Casey eagerly starts sucking his boyfriend's dick, getting him hard so that Connor can plow him on the bed. Casey moans softly so that his mom and stepfather don't hear what the boys are doing, and his toes curl with pleasure at the feeling of Connor's thick shaft inside of him. The two fuck all over the bed until they both climax at the same time.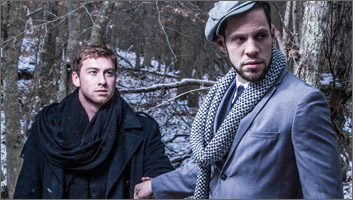 FORGIVE ME FATHER 2
SCENE 2: Connor Maguire & Wolf Hudson
Connor Maguire needs to get a weight off his chest, so he goes to confess his sins to Father Brendan Patrick. He was partying one night with a friend who introduced him to Wolf Hudson, and the two guys hit it off right away. They go into the kitchen to grab a refill, and Connor realised that he was drunker than he thought he was. He was feeling sick and dizzy, so Wolf brought him into the downstairs bedroom to lie down. Connor asked Wolf if he would stay with him and talk turns to attraction. Wolf says he doesn't label himself sexually and grabs Connor's hand. Seeing no resistance from his friend, he leans down and starts kissing Connor. Soon the guys have their shirts open and are making out chest to chest on the bed. Connor slips his hands down Wolf's pants and the guys free their raging boners from their jeans. Wolf takes Connor's full length into his throat, getting his friend nice and hard so that he can stick it inside his asshole. After a passionate fuckfest, Wolf explodes in a huge burst of cum, followed immediately by his new close friend Connor.
Categories: Anal, Safe Sex, HD, Oral/ Blowjob, Cumshot/Cum, Jerking Off, Masturbation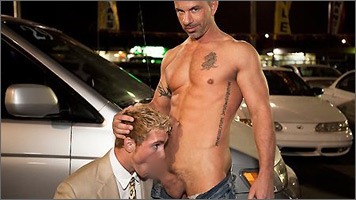 RIDE ONE DICK IN YOUR ASS, TODAY!
CONNOR MAGUIRE SOLO
CONNOR MAGUIRE & MICK GIBSON
TALK DARK AND HANDSOME SAVES
RACHEL STARR TRICKS A FAN DAY
IN SEARCH OF SOME BRAVE YOUNG MEN!
THREE GUYS & A CHEVY
A HELPING HAND!
THE HARDER THEY LIKE IT IN THE BUTT
JACOB'S NOT TOO BRIGHT FOR A COLLEGE BOY
BEST BLOWJOB EVER
AXEL FLINT SUCKS CONNOR MAGUIRE
CONNOR THE BARBARIAN SOLO
CONNOR MAGUIRE FUCKS AXEL FLINT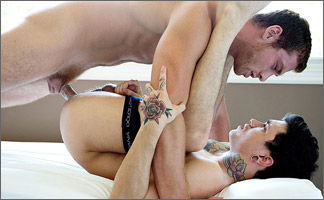 CONNOR MAGUIRE & JAKE BASS FLIP-FUCK!
CONNOR MAGUIRE FUCKS LEVI KARTER
CONNOR MAGUIRE FUCKS RICKY ROMAN
CONNOR MAGUIRE DRILLS LEVI MICHAELS!
CONNOR MAGUIRE FUCKS CHRIS HARDER
CONNOR MAGUIRE BUSTS A NUT
SECRET FANTASIES: CONNOR MAGUIRE & CHRISTIAN RAY
CONNOR MAGUIRE FUCKS VALENTIN PETROV
BETTER LAID PLANS
LUCKY LUKE
CASEY GETS MANHANDLED
BLOND BOY'S ASS ABUSED
BUMFUCK NOWHERE 4: CABIN FOR THREE
BUBBLE BUTT SPANKED
CONNOR MAGUIRE FUCKS JAKE
GYM JAM 2 with CHRIS DANIELS & CONNER
CONNOR MAGUIRE & DEAN SCOTT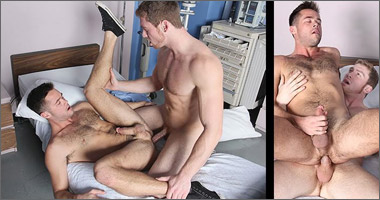 CONNOR MAGUIRE FUCKS MIKE DE MARKO
CONNOR MAGUIRE SOLO
BRYAN COLE'S OBSESSION AND INFATUATION
ROGUE COP AND THE HAIRY BIKER
HUGE COCK BOY BOUND, BEATEN AND FUCKED
NEW MUSCLED INMATE AT THE MERCY OF OFFICER CONNOR MAGUIRE
LOCKUP, CELL EXTRACTION & PRISON GANG FUCK – PART ONE
LOCKUP, CELL EXTRACTION & PRISON GANG FUCK – PART TWO
GANGBANG AND CUM FOR A STUCK UP GO-GO BOY
RIPPED GO-GO BOY BEATEN, FUCKED AND COVERED IN CUM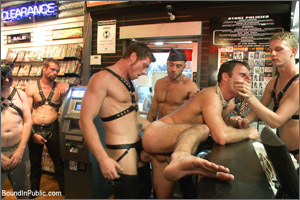 SEXY STUD CAMERON KINCADE – THE FOLSOM STREET WHORE
LAZY EMPLOYEE ABUSED AND HUMILIATED BY COWORKERS AT STOMPERS BOOTS
FOLSOM STREET WHORE TORMENTED IN FRONT OF THOUSANDS OF PEOPLE
BOOT SHOP SLUT ABUSED AND GANG FUCKED BY COWORKERS
BATHROOM PIG WHORED OUT TO THE HORNY PUBLIC
CONNOR MAGUIRE'S HOUSE PARTY
PUNISH THE ESCAPED GLADIATOR FOR HIS CRIMES AGAINST ROME!!!
HUNG STUD HAS HIS BALLS STRETCHED, ASS GANG FUCKED & PROSTATE MILKED
MUSCLED HUNK TORMENTED & GANG BANGED IN A STAIRWELL FULL OF HORNY MEN
HELP ME OFF!
TOP TO BOTTOM 3
BUBBLE BUTTS – PART 1
INTERVENTION
DARK ROOM
SCRUM – PART 3
BUBBLE BUTTS – PART 3
THE OFFICE SLUT 3
THE REPLACEMENT
STRIP CLUB
DREAM TEAM
FRAT HOUSE CREAM
INTO THE WILDE
SUMMER OF FUCKIN'
DIRTY RASCALS
THE MIX
FIENDS
POOL BOYS
ATHLETIC APPROACH
PARAME-DICKS
BEST FRIENDS DO IT BEST
PERFECT STRANGERS
SUMMER FLING
COME TOGETHER
ALUMNI WEEKEND
BROMANCE
HANDS ON WORKOUT
CONNOR MAGUIRE SOLO
CONNOR MAGUIRE SOLO
NEW MEAT
CHOCOLATE DILDO
LUCAS & CONNOR
CONNOR LIVE SHOW
BODIE, GABRIEL & CONNOR
DAVID & CONNOR
BODIE, CONNOR & GABRIEL BTS
CHARLIE ROBERTS FUCKS CONNOR MCGUIRE
PILLOW TALK
POLES ROYCE
WHAT DID YOU TELL HER?
DICK STRAIGHTY
VAN-A-DUDE
DADDY'S WORKOUT
BRANT DICKSON & CONNOR MAGUIRE FLIP-FUCK
FOOT BALLS
DICK BY THE FOOT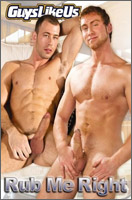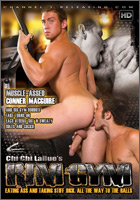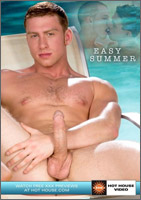 EMBRACE
MAGNETISM
THROB
READY TO FUCK (FEG-001)
TURN IT UP! (FEG-002)
INTENSITY – PART 1 (FVP-243)
INTENSITY – PART 2 (FVP-244)
NAUGHTY PINES – PART 1 (FVP-246)
TAHOE: SNOW PLOWED (FVP-231)
BUCKS COUNTY 1 – INTO THE WILD (FVP-235)
PLAYS TOGETHER (FVP-237)
HUNGOVER (FVP-218)
I WANT YOU (FVP-215)
RUB ME RIGHT (SEX-002)
SENTENCED – PUNISHED, YOU'VE BEEN WARNED – PART 2
COCK TRAP
SOME THINGS CUM UP!
SPITTING IMAGE
RIM GYM
CHAMPS
EASY SUMMER
GET YOUR ASS IN GEAR!
JOCKHOLE
PUMPED
HORSEPLAY
MORNING WOOD 2
WORKING STIFF
BAD ASS BOTTOMS
COCK CRUISIN'
JERSEY SCORE 2
FEED HIM CUM
ICONMALE
PRIDE STUDIOS
BAIT BUDDIES
JAKE CRUISE'S COCK SURE MEN
DOMINIC FORD
MEN.COM
NEXT DOOR STUDIOS
COLLEGE DUDES
ON THE HUNT
COCKYBOYS
KINK.COM / BOUND GODS
KINK.COM / BOUND IN PUBLIC
KINK.COM / NAKED KOMBAT
CHANNEL 1 / RASCAL
ALL WORLDS VIDEO
FALCON STUDIOS
RAGING STALLION
HOT HOUSE
HOT HOUSE CLUB INFERNO
ICONMALE
NAKEDSWORD
BIG DADDY
BIG DADDY / OUT IN PUBLIC
BANG BROTHERS / BAIT BUS

FALCON: THE MEN OF BUCKS COUNTY
VIDEO ON-DEMAND: Connor Maguire @ AEBN SMUTJUNKIES THEATER
DVDs & ON-DEMAND: Connor Maguire @ TLA VIDEO