Tattooed American Gay Porn Star, Colton Grey
Years Active: 2013 – 2020
LUCAS ENTERTAINMENT INFO:
Height: 5'6
Weight: 145 lbs
Dick Size: 8″
Position: Versatile
There are a lot of reasons to fall in love with Lucas Entertainment's new exclusive performer, Colton Grey, and his candid attitude is chief among them. "Who wouldn't want to get paid to have sex with hot guys?" Well put Colton, and aside from being open and honest he's also cute as hell, has a sexy little body, and has total bragging rights about the thick eight-inch cock between his legs. Colton loves kissing and ass eating when having sex, and his weakness is for masculine and muscular studs who know how to show him a good time. Colton's hobbies are working out, running, music, and his great passion of photography.

BANGING RUSLAN'S BUBBLE BUTT: Jeffrey Lloyd, Colton Grey, and Geordie Jackson Slam Jackson Radiz's Hole
If there's a bottom with a cock-hungry bubble butt that comes in at a close second place to Ruslan Angelo, it's Jackson Radiz. Jackson is all about service and submission, and he gives his ass over to three huge dicks… Jeffrey Lloyd, Colton Grey, and Geordie Jackson. It's going to be a challenge, but Jackson Radiz takes dick up his ass and in his mouth until his tops are ready to shoot their loads!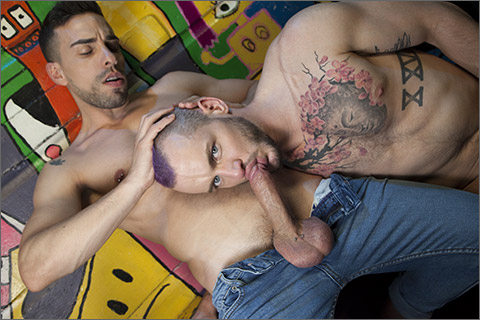 MAKING RENT: Colton Grey & Josh Milk flip-fuck
The SOMA district of San Francisco brings its fair share of street trade. As Powerhouse bartender Colton Grey arrives to work to open the bar, he is greeted with a pleasant surprise: sexy euro boy Josh Milk passed out on the front door. Colton invites him in to help clean in exchange for some quick cash. After wiping down the bar, Josh goes to the backroom to wipe down his stinky armpits and catches the eye of Colton. Colton decides to take advantage of the prize left on his doorstep and jumps on Josh's big uncut cock. They hot young studs take turns sucking dick and fucking ass. After an epic flip-flop, Josh asks for his cash and leaves Colton with face-full of cum and a satisfied smile.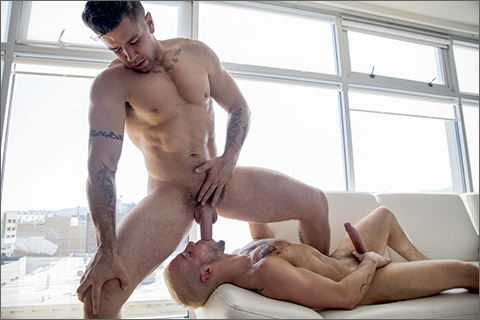 PARIS PERFECT – BLINDSIDED: Colton Grey & Trenton Ducati
Muscled porn star Trenton Ducati appears bored as he stares out the window of his San Francisco hi-rise, despite the fact that blue-eyed Colton Grey is giving him a world-class blow job. Without warning, Trenton pulls out and blows his load all over Colton's face. Before Colton even has a chance to wipe off the jizz Trenton dumps him and tells him he wants him gone – now! Blindsided and infuriated by the breakup, Colton packs his bags and leaves, helping himself to Trenton's frequent flyer card on his way out the door…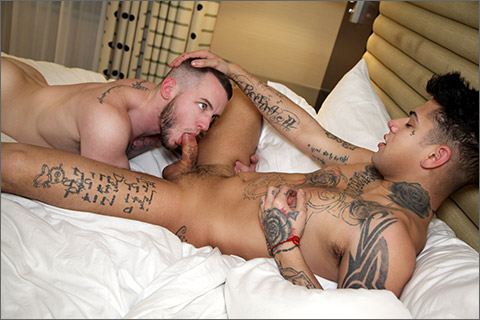 THE LAYOVER: Colton Grey & Mickey Taylor flip-fuck
Our jet-setting playboys are here to tackle the question on every horny traveler's mind: What should I do during my layover? You can bet Mickey Taylor and his friends aren't browsing duty free, reading a book, or taking a nap between flights. From Vegas to Los Angeles to Puerto Vallarta these young, hung, full of cum studs show you how they spend their temporary downtime in The Layover!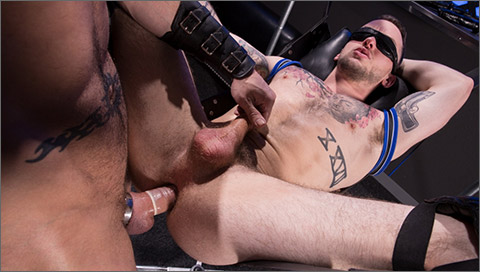 BLINDFOLDED: Austin Wolf fucks Colton Grey
Blue-eyed bottom Colton Grey is hoisted up in a sling as Austin Wolf aggressively makes out with him and covers his eyes with a blindfold. At the total mercy of Austin, Colton throws his arms up and lets Austin drill his tongue and finger deep into his tasty ass. It doesn't take long for Austin to work his fat meat into Colton's slick, lubed asshole. The sling sways and rattles with each vigorous pump. Austin gets kinky and switches it up by putting an a few ice cubes into Colton's warm hole to cool it down a bit and keep fucking him silly. Colton loves the combination of the ice with Austin's cock and suspends himself out of the sling to be impaled by Austin's hole stretcher. They switch it up and move to a leather sawhorse where Austin stuffs Colton from behind. Colton turns on his back on the padded fuck bench and takes all of Austin's powerful thrusts deep inside him until he blows a massive load onto his chiseled abs. Austin finishes with an oozing load into Colton's hungry mouth.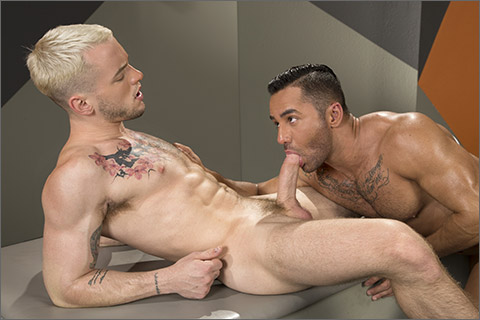 STATE OF AROUSAL: Colton Grey fucks Bruno Bernal
Their tongues intertwined, Colton Grey and Bruno Bernal let go of their inhibitions and submit to the pull of their heightened sexual arousal. Colton's huge cock and heavy balls are irresistible to Bruno, who falls on his knees and inhales Colton's throbbing member. Colton leans back, savoring the sensation and showing off his six pack abs and colorful tattoo. Reaching for Bruno's ass, Colton works a finger into Bruno's hole, foreshadowing what is to come. Colton repositions himself behind Bruno and shoves his face into Bruno's ass. As he works his spit into Bruno's hole, he tugs on Bruno's balls to increase the sensations. With Bruno's hole lubed up, it's time for them to raise the stakes. Bruno sits on Colton's cock and goes for a hell of a ride, using his thick, muscular legs to raise and lower himself on Colton's girthy tool. As he starts thrusting up into Bruno from below, Colton's big balls bounce and slap against Bruno's ass. Moving to missionary position, Bruno puts his left leg up in the air so Colton can pummel his hole with maximum penetration. The intensity of their sexual chemistry increases as their fucking becomes more and more energetic. With Colton pounding his g-spot, Bruno strokes out a thick load that splashes across his leg. Grabbing his cock, Colton lets loose with a massive stream of cum that covers Bruno's torso.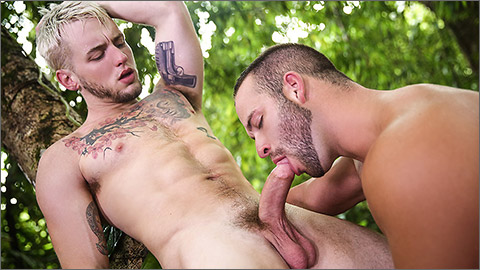 TARZAN A GAY XXX PARODY: Colton Grey, Luke Adams
Stranded ashore a lush tropical island, Luke Adams and Colton Grey cope with surviving the jungle by exploring each other's dark dank holes. Colton readies Luke's delicious cock with his warm wet mouth then opens his hole with his probing tongue before plunging his rock hard dick deep inside Luke's eager ass. Luke returns the favor by fucking Colton up against the palms of this tropical rainforest as a native resident watches from the bushes…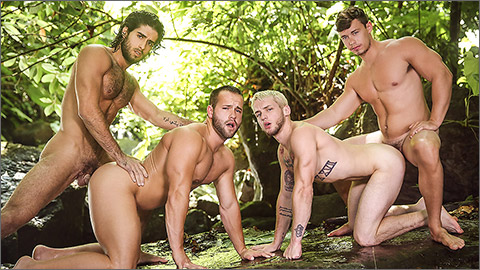 TARZAN A GAY XXX PARODY: Colton Grey, Diego Sans, Luke Adams, Tobias
Colton and Luke are wandering around the jungle looking for Tobias and decide to stop for some rest. Tarzan pops out of nowhere with Tobias in tow. Reunited at last! Tobias explains where he's been and what he's been teaching Tarzan; who is eagerly pawing at his 2 new discoveries. It doesn't take much longer before all four of them are sucking and fucking.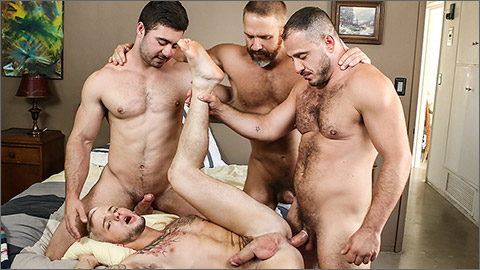 HAIRY TALES – PART 3
Golden boy Colton Grey gets off on stealing from the rich, but this time his path is crossed by three hairy bears — Dirk Caber, Derek Bolt, and Marc Giacomo. Caught in their bed, he coaxes the bears into joining him for one hot jizz orgy. Each bear gets a taste of the thief, eating his golden little asshole before jamming it full of their hot hairy cocks. Seems the three bears have a new addition to their hairy family.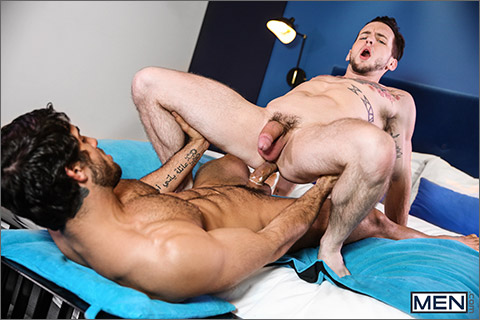 RELEASE
Watch Diego Sans relieve himself inside Colton Grey's tight little pink hole. The boys take turns savoring each other's dicks, Diego working his tongue to open Colton up and prepare for a stuffing of his beautiful throbbing cock.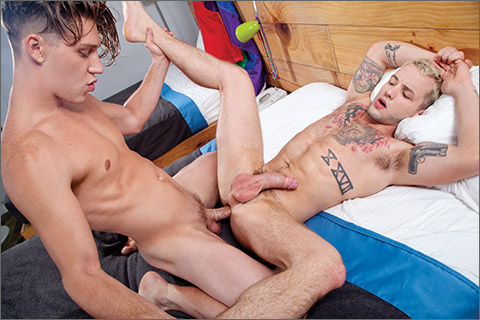 WILD WEEKEND – PART 2: Paul Canon fucks Colton Grey
It's the day of the San Francisco Pride parade, and the guys are out having fun all over the city. Paul Canon makes eyes with a hot stud on the street, Colton Grey, and gives him some beads. They hit it off instantly, and they seize the moment to have some sexy fun. They beat it back to the hotel room and kiss passionately, burying their tongues in each other's mouths. Colton quickly moves down to service Paul's rock hard dick. Colton fucks Paul's face, his balls swinging into Paul's chin. With plenty of spit, Paul services Colton's cock, then focuses on Colton's hot, hairy ass. He spreads Colton's cheeks and uses his tongue to reach deep down Colton's hole. Mounting Colton doggy style, Paul thrusts his meat inside with firm, vigorous strokes. His nuts slap against Colton's ass as they pick up speed and intensity. Flipping on his back, Colton jerks his cock as Paul pummels his hole. A sheen of sweat glistens across their hard bodies as things heat up. Reaching the edge, Colton unleashes massive spurts of cum that arc over his body, and Paul immediately ads his own thick, juicy load. They kiss, reveling in their afterglow, as their cum and sweat mix.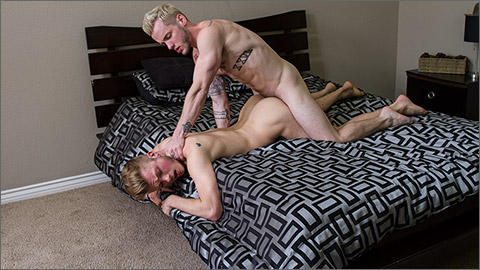 AUSTIN GETS PLOWED BY COLTON
Everyone loves some Colton Grey. As we said in the video, we're gonna get him fucked soon! Until then, he's fucking newcomer Austin Ryder… and fucking him HARD. Colton literally fucked him off the side of the bed at one point, but kept going. Austin's an insatiable bottom, so he kept taking it no matter where he ended up. The chemistry here was real, as was the sweat, deep throating and choke-fucking. Colton fucked the cum out of Austin, then pulled out and busted all over, feeding him Austin every last drop of his load. Good times.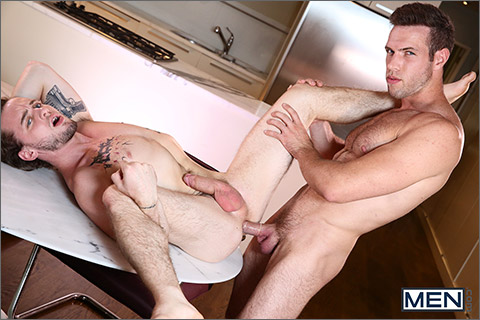 STEPBROTHERS – PART 1
Alex Mecum is caught cheating with Colton Grey when his home surveillance system is tapped. Alex fucks Colton with his thick tool and then has Colton ride his cock until Colton blows his huge load. Alex tells Colton to get down so he can shower him in his hot cum.