Titan Men American Gay Porn Star, Cole Ryan
Known Aliases / aka:
Years Active: 2005 – 2007
TITAN MEN INFO:
Age: 34
Height: 5'7″
Penis Length: 7″ Cut
Bio: The first time I had anal sex was on the set of my first TitanMen movie.
Turn-ons: Being dominated by older guys.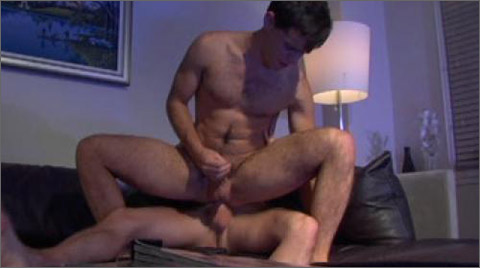 MICHAEL LUCAS' LA DOLCE VITA: Chad Hunt & Cole Ryan
At the party, Michael had wanted Cole to meet publisher Chad Hunt. Chad is all over Cole, who finally gives in to the open relationship depravity he has so detested in Michael, especially as Chad disparages Michael while they make out. Cole is way too hot for Chad to really pay much attention. Naturally, once Chad's cock is released from its confines, Cole works on devouring it. Kudos to Cole for doing a splendid job with more inches than most manage. Chad coos in his role as blasé top, letting himself be adored, and hairy-chested Cole isn't arguing at all. He simply finds comfortable positions for his exciting trips down Chad's cock. And when he gets all the way down, well, anyone who has seen Chad Hunt's size knows how great that looks! Ever the ass man, Chad licks at the deep pink hole between Cole's hairy cheeks. He has to give the boy some prep before fucking him. When Chad does, it's silky smooth. Cole isn't a toy bottom, he's the real deal. Chad is able to work him over with absolute depth and a comfortable gyrating rhythm that keeps going even when Cole is in charge and riding, still going to the base. I never tire of watching bottoms excel with Chad, especially when they don't just merely take him, but take him in cool positions and with defining speeds that show just how damn good they are. Cole cums being fucked and then Chad unloads on Cole's stomach.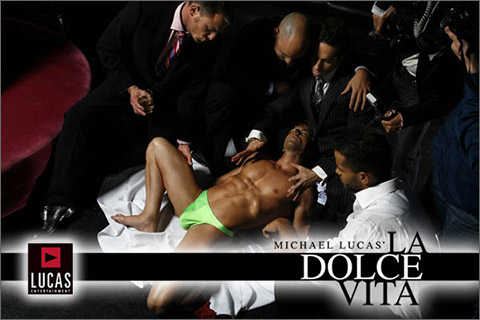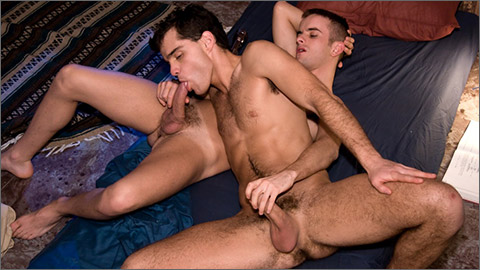 THE CHEST – A DORMER ROOM IN THE ATTIC: Simon Angel [Simone De Jesus] and Cole Ryan flip-fuck
In a second letter to his dad, Cole reads about the time Jack's Spanish friend visited and the boys bunked together in that exact attic. "You were the first guy," it says. It's bed time, and Simon's jacking off. Jack—played in a cunning performance by Cole—shines his flashlight across the room, and huskily commands his friend, "Show me!" First one cock, then the other, is caught in the flashlight's bright exposure. "C'mere," Jack demands. And Simon gets what he wants, as the young men explore each other's bodies in hesitant caresses that melt into full embrace. Gazing up into his friend's eyes, Simon guides Jack's cock deep into his mouth. They swing around into reverential sixty-nine. The sight of sweet young cock getting a first suck-job is thrilling, and they pull back to see it themselves, stroking to hotblooded explosions of young cum. Simon's cum lands on his nipples—not that far, really, when you realize his cock reaches halfway there already. But Jack's flies over his head, and Simon's face lights up. Jack pulls up on all fours, and Simon explores the offered hole. Jack moans at the tongue's lubing spit, the probing finger or two, and his eyes roll back in his head as Simon's long cock makes its slow but steady entry, deep to the hilt, and begins a regular rhythm of gentle but full-length plugging. Jack gasps, "Oh, yeah," as the tempo increases, and Simon rabbit fucks that now spread-open hole. Jack winces with each plunge, but you won't see his hole snap shut when Simon pulls out before plunging in again. And Simon's a kind lover—he straddles Jack and squats on the rigid pole, settling deep upon it. As Jack pounds Simon's ass in a first-timer's frenzy, Simon jerks off and explodes just as Jack pulls out and splatters cream across Simon's cum-covered belly.

ARCADE ON ROUTE 9 – BIG RIG
Ken Mack instructs Cole Ryan
In the arcade's parking lot, trucker Ken Mack invites naive Cole Ryan into his big rig, where another big rig gets all the attention. Cole doesn't know if he's really down with this man-on-man action, but with the patient encouragement of a daddy like Ken, he gets all the way down on the trucker's massive hunk of man meat. He's always wanted an older buddy to teach him that sex stuff, and now he's got the best one around for some jack-it-off, suck-it-down action. "We're bad boys, huh?" Ken says. "Go ahead, sport—it's time to sperm it!" And the li'l sport sprays his best buddy with hot jizz.
COLT STUDIO / BUCKSHOT PRODUCTIONS
CLICK HERE TO GO TO HIS TITAN MEN DETAILS

MEN MAGAZINE PRESENTS: TITAN MEN
VIDEO ON-DEMAND: Cole Ryan @ AEBN SMUTJUNKIES THEATER