Hunky Daddy American Gay Porn Star, Cole Connor
Known Aliases:
Years Active: 2020 – 2022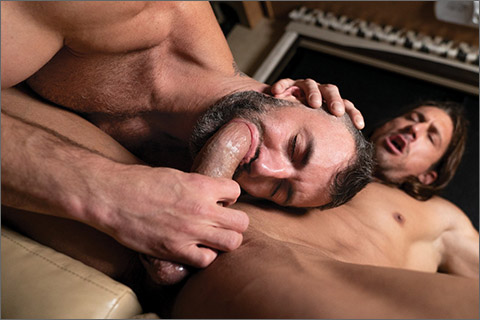 FUCK ME FAST AND FURIOUS: Darenger McCarthy fucks Cole Connor
Driver Cole Connor just lost the most important race of his life and is determined to figure out what went wrong with his car. In the dead of night, an irate Cole drags head mechanic Darenger McCarthy into his RV to get some answers, but instead decides to take his anger out of Darenger's oversized cock. He swallows every inch of his mechanic's member before the long-haired, 6'4′ stud ditches his greasy clothes to pound Cole's hole all over the inside of the RV. With Darenger's dick deep inside of him, Cole huffs and puffs as he rides his crew member and plays with his own hard cock. A few strokes and Cole is shooting his load all over Darenger's pecs and face right before the hung top pulls out to spew his load into Cole's open mouth.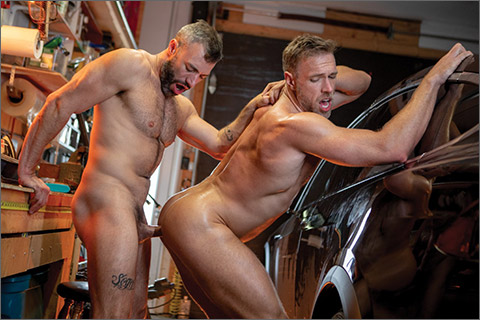 FUCK ME FAST AND FURIOUS: Alex Mecum and Cole Connor flip-fuck
Alex Mecum has been out of the racing game for a while, and he's hesitant to help driver Cole Connor figure out what's wrong with his car, but some convincing from Cole's persuasive mouth just might change his mind. The desperate racer begins servicing Alex's hairy dick and smooth hole right in the middle of his auto shop before bending him over his prized ride and taking his ass for a test drive. Ready to take a turn in the driver's seat himself, Alex speeds into Cole's garage and barebacks his daddy hole. He drills the driver's sweaty ass until Cole's cock is shooting cum all over Alex's face. Proving he's still a buster himself, Alex strokes until he's feeding Cole an XL serving of his fresh load.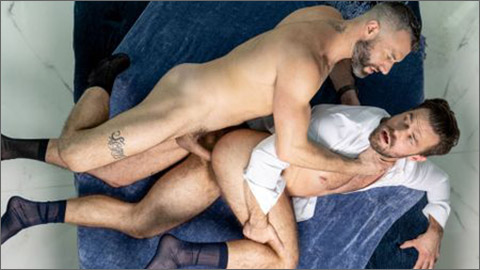 POWER PLAY: Cole Connor fucks James Fox
Everybody knows that Cole Connor uses his hole to climb the corporate ladder, and now co-worker James Fox wants to see what all the fuss is about. While waiting for a meeting with the CEO, James goes for it and pulls Cole's cock out of his suit. He sucks his dick and rims his muscular ass before propping him up on the stairs and barebacking him. Cole returns the favor by laying James down, topping his hairy hole, and showing him why everyone in the company can't get enough of his cock. After busting from the sensation of Cole sliding in and out of him, a still-hard James heads to a chair where Cole ties him up with a necktie and rides him until he's shooting out his own massive load all over James' naked body.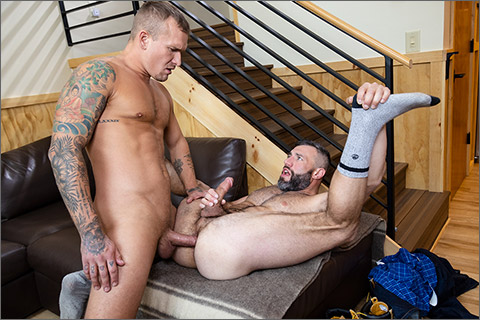 MOUNTAIN TOPS: Isaac X & Cole Connor flip-fuck
When Isaac X see's Cole Connor at the cabin across the road, he passes a note on a line that says, "come fuck me". Cole is eager and as soon as they get inside, Cole is on his knees polishing Isaac's knob like an expert. After getting his cock sucked, Isaac returns the favor with a long deepthroating on Cole's pole. They take turns sucking each other's cocks before Isaac bends over a table and gets his ass licked by Cole. With his ass slick and ready, Cole mounts up and inserts his rod deep in Isaac's ass. The bareback drilling continues until Isaac flips the script, eats Cole's hole and puts his cock in the hairy hunk to pound his prostate. The new friends take turns fucking each other in multiple positions until Cole gets his load fucked out of him while Isaac pulls out and shoots all over to add to the mix.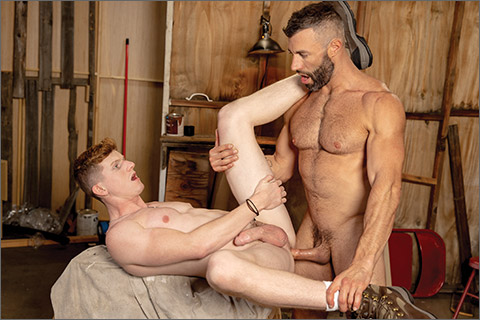 CAPITOL AFFAIRS: Cole Connor & Max Lorde flip-fuck
Once 'Big Lie' believers Cole Connor and Max Lorde realize they've been lied to and the march on the Capitol is a full-fledged insurgency, they run away together to hide and figure out what to do next. In the midst of the chaos, they also decide to stop lying about their sexual feelings for each other. With their longings known, Cole's hard and Max gets on his knees to deepthroat Cole's flagpole. Max pulls down his shorts and starts to stroke his cock, making Cole want to bend over and give Max a taste of his hairy hole. Max takes his time getting in deep with his tongue before getting in deep and raw with his lengthy cock. After getting fucked bareback by his bud, the men switch places and Max is on his back as Cole is storming his rear. Max keeps getting his hole stretched out by Cole, until Cole shoots hits Max inside just right making Max shoot all over his abs. Watching Max pop sends Cole over the edge and he covers Max's hole with a warm load.

SHOW HARD: Romeo Davis & Cole Connor fuck Beau Butler
Undercover cop Cole Connor is watching from a hidden hole in the wall as Romeo Davis and Beau Butler cruise each other and start to jack each other off. Not knowing they are being watched, Beau gets on his knees and gags on Romeo's cock. The action is so hot, so Cole decides to abandon his post and reveal himself, Beau and Romeo keep doing their thing while Cole jerks off. They invite Cole to join, and Beau is still on his knees, now servicing two cocks at once. Cole joins Beau on his knees to deepthroat Romeo's cock. All three hunks take turns swallowing cock before Beau gets hoisted up and bareback fucked by Cole. After working out Beau's ass, Cole bends over and gets stuffed on both ends. When it's Beau's turn again, he bears down on the sink to let Romeo stretch him from behind. Both Romeo and Cole take their turns fucking Beau's hole multiple times until Romeo sits back and lets Cole and Beau take turns riding on his raw cock. In the end, Cole is sitting on Romeo's cock and slams his ass up and down until his cock throbs and Cole shoots a thick load on Romeo's abs. Beau strokes a load out onto Romeo to add to the mix before Cole and Beau get on their knees to receive Romeo's load in their mouth.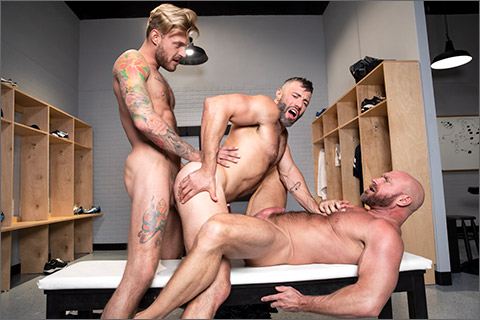 SCRUM: Chad Hammer, Killian Knox & Cole Connor Flip-Fuck
Cole Connor comes off the fields and hits the shower when he notices teammates Chad Hammer and Killian Knox working out some sore muscles by the lockers. As Killian is massaging Chad's shoulder, he notices the bulge growing in Chad's shorts and directs his attention to Chad's cock with his mouth. Cole takes notice of what the other players are doing and towels off so he can join them. Instantly, Cole is between the studs getting his ass ate and his mouth fucked. The teammates are in tune with each other like a well-oiled machine, sucking and rimming with abandon, leading to Cole's hole getting double-teamed by Killian and Chad's tongues. The energy intensifies, and Killian takes charge sliding his bare cock into Cole's hole. It's not long before the ball changes possession with Cole making a quick move to blast his dick into Killian's ass bareback. The athletic maneuvers have Chad scrambling to find an opening, and he drives his post in the goal that is Cole's raw ass, while Cole is still deep in Killian. The cock sucking, ass fucking frenzy continues as a perfectly executed series of plays where everyone wins. With Chad's cock buried in Cole's ass, Cole unloads a thick load that covers Chad's abs. To get Chad off, Cole fucks his hole until he bursts all over himself. Being the team player that he is, Cole slides inside Killian, pounding his ass until he erupts with a fountain of cum. Everybody SCORES!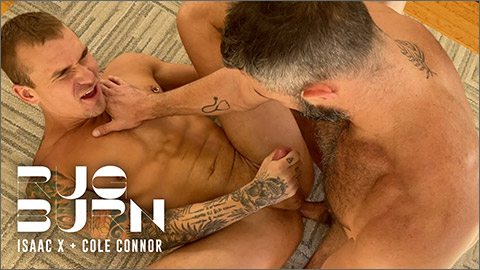 ISAAC X & COLE CONNOR FLIP-FUCK
In the heat of the moment you fuck where you are because… it doesn't fucking matter. Isaac X meets Cole Connor in the living room and it goes down right there. Mouth to mouth right from the start the clothes came off and these hot men started exploring holes. Fingers, tongues and cocks in and out, …
CLICK HERE TO GO TO HIS RAGING STALLION DETAILS

WATCH IT NOW AT: Cole Connor @ AEBN / SMUTJUNKIES THEATER
NOW STREAMING: Cole Connor @ NAKEDSWORD