Handsome Blond Next Door Studios Gayporn Star, Cole Christiansen
Known Aliases / aka:
Years Active: 2013 – 2015
NEXT DOOR STUDIOS INFO:
Cock : 7″
Body Hair : Smooth
Height : 6'0″
Hair Color : Blonde
Eye Color : Gray
Foreskin : Cut
Body Type : Muscular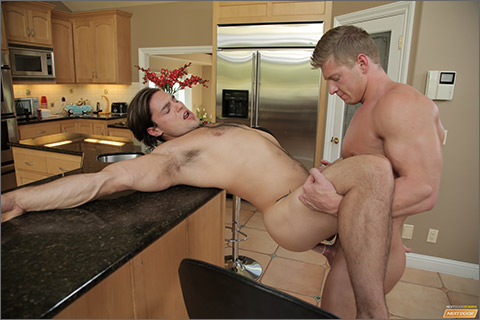 BROTHERLY PASSION
They're stepbrothers that share more than just their parents' comfortable home. Cole Christiansen and Aspen are very close. They confide in each other and trust one another to offer sound advice. This morning, as Cole eats his usual bowl of cereal, Aspen joins him and listens to what's on Cole's mind.
   Cole is suspicious that his frat brother, Johnny, might be gay. He's noticed Johnny giving him lustful glances recently. He knows Aspen is also friends with Johnny. When Cole asks Aspen if he thinks Johnny is gay, Aspen laughs and tells Cole that he sucked Johnny's dick last Summer at the pool party. Cole can't believe it! Then Cole asks Aspen if Johnny knows about the two of them.
   You see, Aspen and Cole, although stepbrothers, have been having casual sex with each other for a while now. Aspen doesn't think Johnny knows about it. As they chat, Aspen can see the longing in Cole's expression. He knows how much Cole must be aching to have his cock drained. They haven't messed around in a while, but this is the perfect opportunity to rekindle the more intimate side of their relationship.
   Some deep, passionate kissing turns into hard sucking of Cole's fat, erect dick. Aspen knows exactly how to work Cole's luscious cock. The amazing feeling of Cole's pulsating meat in his mouth makes Aspen's tight hole hungry. Cole is happy to serve up the second breakfast course. Join these loving stepbrothers as they start the day with some passionate pounding.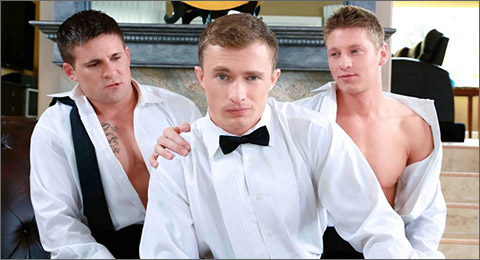 WEDDING JITTERS
For Markie More, the big day is here. The first day of the rest of his life. As he dresses nervously for his wedding, something seems amiss. Perhaps it's just the standard wedding jitters, or maybe it's something more. As his groomsmen, Cole Christiansen and Steven, come to grab him to go, they can sense something is not quite right, and so they sit him down to hash it out, and that's when Markie drops a secret on them. Turns out he's having second thoughts because he can't stop thinking of a liason back in college with a couple of guys. He tells them he's been having dreams about getting fucked by a guy, and he's not sure he wants to get married afterall.Sensing the gravity of the situation, Cole & Steven decide to help out their best friend, so they simultaneously begin to undress. Confused, Markie watches them a little puzzled, until Cole assures him they are here to help. With that, Steven shoves his cock into Markie's mouth, slamming it down his throat as Cole takes off his pants. Once disrobed, Cole stands on the other side of Markie, and Markie trades off, first with Steven's dick, then moving to Cole's, then just shoving both cocks in his mouth at the same time. As good as this feels, this ain't no pleasure cruise, so Cole quickly gets down to business, penetrating Markie's virgin ass from behind, as Steven continues to feed Markie cock on the front end. After flipping Markie over, Cole and Steven switch, and Steven gets behind Markie, pumping him hard and fast. Markie strokes himself as Steven continues to pound away, losing his load as he sucks on the head of Cole's dick, before Cole also explodes all over Markie's face, leaving only Steven, who pulls out and blasts Markie with his third load. Quite the introduction for Markie, and one that could have a lasting effect on his future.Is that bride still waiting at the chapel? She might be going home disappointed today.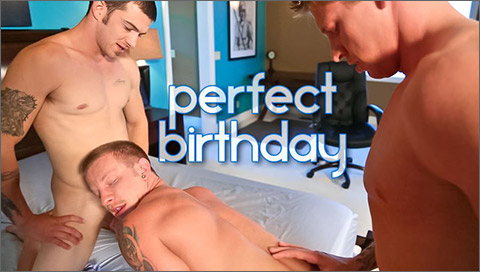 PERFECT BIRTHDAY
For Jaxon Colt, the perfect birthday is about to begin. As he lazily sleeps in, his boyfriend, Brandon Bronco, makes preparations for a day full of surprises. Waking Jaxon up, he leads him out to a covered picnic under a trellised veranda, where a champagne brunch awaits our birthday boy. After snacking on sweet fruits and cakes, the guys take the champagne to the hottub for a little mid-morning dip. After toweling off, Brandon rubs Jaxon's back thoroughly, and the content look on Jaxon's face says it all. But Brandon has one more trick up his sleeve. As Jaxon lays face down while Brandon rubs him down, the doorbell rings, and when Jaxon answers it, lo and behold, waiting for him is his gift- Cole Christensen, already unwrapped, wearing nothing but a bow. Tossing the bow aside, he lets Jaxon take a good long look at his offering, and Jaxon is more than ready to play with his new toy.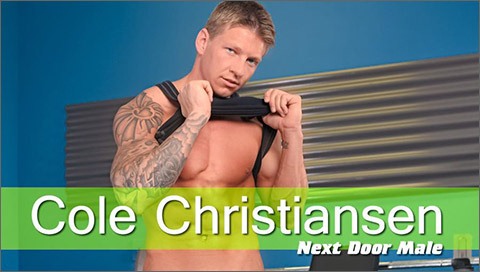 COLE CHRISTIANSEN SOLO
Cole Christiansen is letting it all hang out in the sun by the pool, taking it easy & getting comfortable. A laid back guy, Cole's intensity picks up when he's at the gym, where he puts in a few hours a day maintaining his great looking body, but otherwise, he's a down to earth guy without a lot of complications. Obviously comfortable with himself, he begins to disrobe outside, stretching out and taking off his shirt to catch some rays. Moving to the gym, he spars on the punching bag for a while to work up a nice little sweat, and then leans back against the cage to cool off, toweling at his forehead and sliding off his shorts to reveal his package getting harder in the cool dank gym. Sliding his underwear around his ankles, he steps out of them and begins to fondle his rod, sliding his two fore-fingers around the shaft as it wags back and forth, before he drops down onto the mat and spreads his legs as wide as he can. Working his cock back and forth, he's ready to explode, but he puts it off momentarily, turning over onto his knees and rising his ass up in the air as he continues to stroke from underneath, before he stands up and lets his load fly all over the waiting mat below.
CLICK HERE TO GO TO HIS NEXT DOOR STUDIOS DETAILS
VIDEO ON-DEMAND: Cole Christiansen @ AEBN SMUTJUNKIES THEATER
NOW STREAMING: Next Door Studios @ NAKEDSWORD