Hunk American Gay Porn Star, Colby Jansen
Known Aliases:
Years Active: 2012 – 2021
MEN.COM INFO:
Hair Color: Blond
Sign: Pisces
Eye Color: Blue
Dick: 7″ cut
Height: 6'1″
Weight: 225
Sexual Positions: Top
About
Favorite Foods: Steak, eggs, pizza, peanut butter.
Favorite Movie: The Big Lebowski, Braveheart.
Favorite City: Washington, D.C.
Hobbies: Rugby, weight training, reading sci-fi and fantasy comics.
What I like The Most: Playing rugby.
What I Don't Like: Fake people and shit talkers.
Best Thing About Me: Loyalty and honor.
Worst Thing About Me: My aggressiveness gets me in trouble.
How To Make Me Happy: Buy me a beer, suck my dick.
Favorite Quote: Never forget what you are, for surely the world will not. Make it your strength. Then it can never be your weakness. Armour yourself in it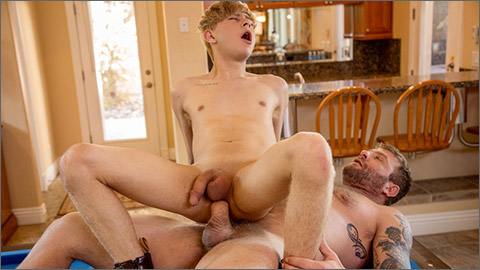 BORROWING HIS TOOL: Colby Jansen fucks Daniel Hausser
Daniel Hausser has been fantasizing about his big straight next-door neighbor Colby Jensen for a while now. He's been trying to think of an excuse to go over and talk to him. Danniell goes over to borrow a screwdriver but what he really wants is to get screwed. Colby is no dummy I can see right through the young man's game. Pretty soon Colby is jamming his straight dick down Daniel's throat and up his tight young ass.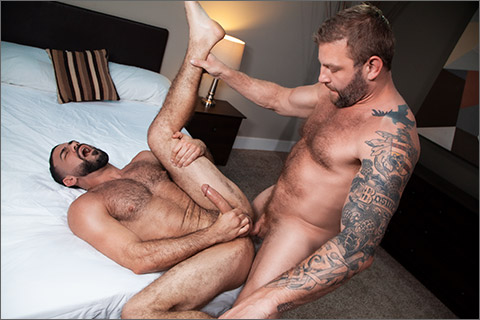 HOT, RAW AND READY!: Colby Jansen fucks Ricky Larkin
Ricky Larkin & Colby Jansen take their time exploring each other's bodies until Colby is ready to suck some dick. He works his way down Ricky's hard, hairy body until he gets Ricky's stiff cock in his mouth. He services the hung stud with ease until Ricky is ready for some cock of his own. The two switch it up and Ricky gets on the floor to taste the monster dangling between Colby's legs. Ricky's mouth is all Colby needs to take it to the next level. He bends Ricky over to open him up with his tongue before sliding his dick deep into Ricky's hole for his bareback bottoming debut. Colby pounds the new raw bottom hard, making Ricky grunt and groan with every plunge from his extra thick cock. Ricky wants to watch Colby fucking him and shifts onto his back as Colby keeps up the pounding. After a nice hard session, Ricky is ready to blow. With Colby still deep inside his hole, Ricky gives a final guttural moan and blasts a load onto his hairy and heaving abs. That gives Colby the permission he needs and he pulls out to slather Ricky's hairy balls and busted hole with a massive load of cream.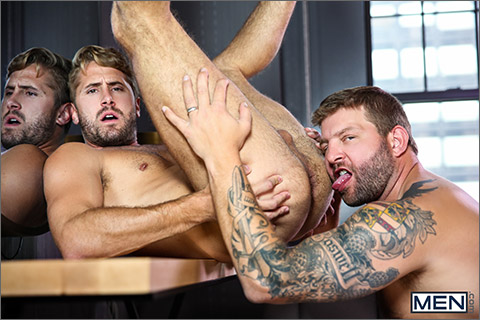 SPYMASTER – PART 2
Colby Jansen is determined to break-up boyfriends Wesley Woods and Tommy Regan. Listening in and hearing Wesley's urge to bottom, Colby makes his way over to his apartment and works on stretching Wesley wide open. Colby fucks his hole deep before cumming in Wesley's welcoming mouth.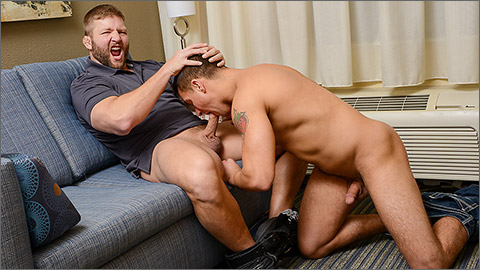 STRAIGHT CLASSIFIEDS – PART 1
Jordan Boss is a legend when it comes to hooking up with straight guys as he proves once again with sexy stud Colby Jansen.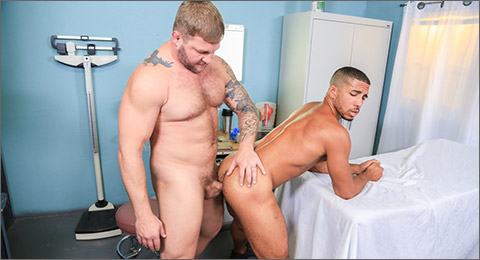 DOC, MY ASS IS NUMB!
Mike has come to see the doctor because he has discovered that his ass is numb as the result of getting fucked recently by a big cock. Dr. Jansen conducts an exam on him and while inserting his fingers discovers that Mike is getting turned on. The exam takes a more erotic turn when Colby begins massaging Mike's balls and cock. Soon both are stroking each other and then sucking each other. Colby then lies back on the exam table and Mike climbs on and rides his cock deep into his ass. Colby then bends Mike over the table and fucks him harder. He then flips him on his back and fucks the cum out of him. They both kiss and before they leave Mike tells his Doc that he will see him back at home and Colby also mentions that he loves playing out these fantasies.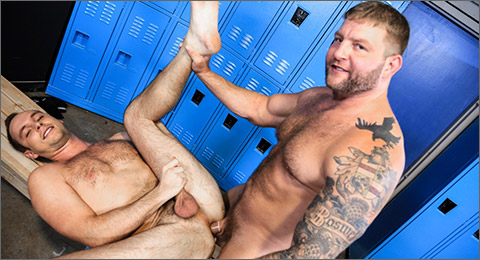 I WANT TO PLAY!
Colby and Devin are back in the locker room after their latest scrimmage match of their Adult League Rugby Team. Devin is upset because he is not getting to play and frustrated because after all, this is supposed to be a 'fun league for adults!' Colby assures him he will get time, he just has to pay his dues. He then plants a big wet kiss on Devin who does not resist. Soon both are fondling each other and then Devin drops to his knees and sucks Colby. Colby returns the favor and sucks Devin for a while before turning him around and fucking him up against the lockers. Colby fucks him slow at first, but the intensity builds as he moves Devin to the bench. Once Devin is on his back Colby fucks the cum out of him and then shoots his own load all over Devin.
CLICK HERE TO GO TO HIS PRIDE STUDIOS DETAILS
CLICK HERE TO GO TO HIS MEN.COM DETAILS
VIDEO ON-DEMAND: Colby Jansen @ AEBN SMUTJUNKIES THEATER
DVDs & ON-DEMAND: Colby Jansen @ TLA VIDEO