Southern CockyBoys & Webcam Gay Porn Star, Colby Chambers
Years Active: 2013 – 2015
TWITTER @ColbyChambersXX
FAB SCOUT INFO:
Age (2013): 26
Height: 5′ 9"
Weight: 150 lbs
Build: Swimmer's Build
Hari: Brown
Eyes: Hazel
Cock: 7" cut
Bisexual, Top
*Travels with his boyfriend.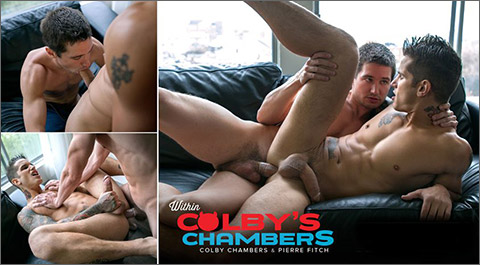 COLBY CHAMBERS FUCKS PIERRE FITCH
Colby Chambers has had a crush on Pierre Fitch since the day he turned 18. He admits that he's been watching his videos since then and that Pierre is the perfect man for all of his little fetishes so it was understandable that Colby was hard before Pierre had even walked into the room. Colby starts out with some light kisses on Pierre's big pecs because apparently a muscular chest is one of those little fetishes of his but he doesn't waste much time and makes his way down to Pierre's already rock hard cock. Without further ado Colby wraps his lips around Pierre's big cock and starts to suck and worship the thick piece of meat while Pierre fingers his hole. However, Pierre is clearly hungry for cock himself so he pulls Colby's pants down, gets down on his knees and immediately starts slobbering on that big dick. It's not long before Pierre finds himself leaning against the window with his ass up in the air and Colby's face shoved between his cheeks. Once the foreplay was over Pierr e knew it was time to get fucked. He lays down on the couch, lifts his leg up to show off his hole and without wasting any time Colby shoves his big cock right in and starts pounding away. Pierre can't seem to be able to stop begging to be fucked harder though so Colby literally fucks a load out of him while Pierre is on his back. But the fun doesn't end there. Pierre gets back on all hours to let Colby drill him from behind as hard as he can. After some rough pounding Colby clearly can't hold it anymore and shoots a massive load all over Pierre's back.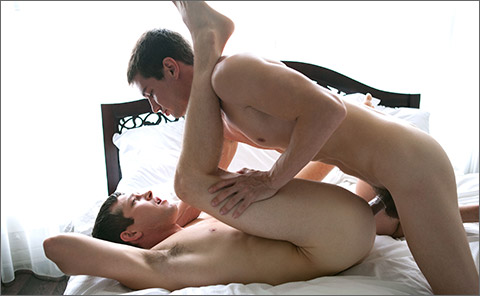 COLBY CHAMBERS & MICKEY KNOX FUCK
Colby Chambers and Mickey Knox are a real-life couple, literally head-over-heels in love with each other. Their sweet story starts before Mickey was even "out of the closet" growing up in the South. But that all changed when he met the confident, sexy, and very out-and-proud Colby. All it took was one look at each other in a bathroom urinal, and they became inseparable. As Colby says himself, he plans on them growing old together.
   Physically, they make for one extremely hot couple — they're both clean-cut, everyday kind of guys who take care of themselves and each other. They both have great bodies with smooth, bulging muscles and nicely hung, thick cut cocks. They first started making out delicately and sensually, with Mickey slowly pulling out Colby's dick and teasing the head with his tongue. He then went in for a deeper, more intense blowjob — Colby was moaning in no time!
   Colby flipped Mickey on all fours and rimmed him, and that's when it became clear that Colby reigns as the top in this relationship. After sucking off Mickey's equally impressive hard-on, Colby slid into Mickey's hole slowly at first and then picked up the pace. Every kiss, thrust, and moan flowed in the kind of perfect rhythm only well-practiced partners can make. Things really started heating up so Colby let Mickey ride him both forwards and backwards before Mickey exploded on Colby's torso. But for Colby's grand finale, Mickey positioned himself on all fours so Colby could jack-hammer him doggy-style and then shoot an impressive load on his back. Now that's true love!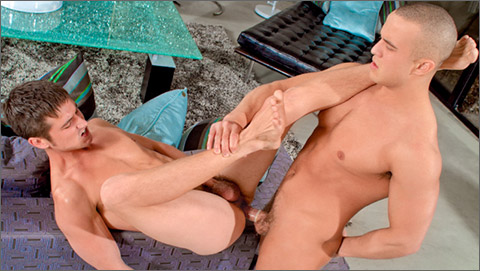 ROCK STAR!: Alex Graham fucks Colby Chambers
Studly concert promoter Colby Chambers and personal manager Alex Graham find it easier to negotiate with each other than with temperamental rock stars. The contracts covering the glass tabletop hide the huge boner that Alex has unleashed from his pants, but he knows when the I's are dotted and the T's are crossed, Colby is gonna see a new offer — one he hopefully won't refuse. As Alex hoped, Colby salivates and his knees hit the ground in record time so he can wrap his lips around that uncut sausage. Soon he's swallowing it all. There's a lot of choice meat on Alex's bones and Colby inspects every cut, licking here, sniffing there, poking his tongue in Alex's hole, gripping tight handfuls of butt. Colby finally pushes him away and tears his clothes off so he can get a taste of cock too. They head for the couch. Colby lays across it and lifts his legs. He has a beauty mark on each bun and Alex aims his cock right between them. Colby's lean, toned torso complements Alex's as Alex's cock dives in and out of Colby's hole. If you like spooge, Colby cums in thick puddles on Alex's tummy, soon matched by Alex's own spunk.
COLBY CHAMBERS & MICKEY KNOX FUCK
PHOTOSHOOT ROMANCE
HEAD SHOTS
WORKOUT VOYEUR
MILAN'S CHAMBERS
LAGOON LUST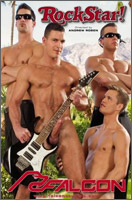 COCKYBOYS
FALCON STUDIOS
GAY ROOM
CLICK HERE TO GO TO HIS COCKYBOYS DETAILS