Corbin Fisher Amateur College Guy, Coen
Years Active: 2016
CORBIN FISHER INFO:
Age: 19
Waist: 30
Eyes: Blue
Height: 5′
Weight: 150 lbs
Hair: Blonde
Build: Athletic
Cock: 6.5″ cut
Shoe: 9.5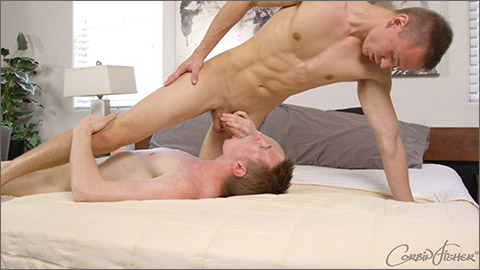 COEN'S FIRST TIME
From the start of the video you can see how bad Jon wants this to happen. What you don't see is that Jon worked on getting Coen to agree to m/m- and to let him be the one to break him in!
   Jon wastes no time helping to get Coen's clothes off so he can lick and kiss that toned body all over- then he sucks Coen's cock long and hard. Jon wants Coen so bad and he lets him know it. Jon moans as Coen drills into his ass and he pushes Coen to go harder and deeper. New or not, Jon is going to get the best fuck out of Coen.
   One leg over a chair with Coen pounding from behind, Jon's coaching pays off as they both make a creamy cum-filled mess- that neither are sorry about!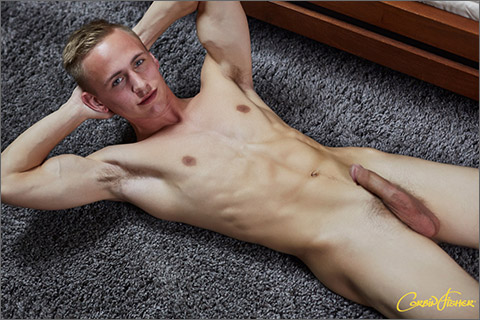 COEN SOLO
With as hot of a release that we had yesterday, I knew we'd need to have something good to follow it up. Lucky for me, we already had the perfect follow-up in the building!
   Looking like he's been specially ordered from an All-American college jock catalog, Coen comes to CF to show off all his assets and get into some fun. Blue eyes, blond hair, a body more ripped than a washboard, and a nice cock to boot aren't the only things this young buck has to offer- he's also packing a seriously funny and mischievous personality and an insatiable sexual appetite! He admits he's looking to getting off as much as he can and I can think of quite of number of ways we can make that happen.
   First, lets start with a seeing what he can do solo… then work from there!