Kink / Fetish Blond Uncut Sex Slut Gay Porn Star, Cody Winter
Known Aliases:
Years Active: 2016 – 2017
TWITTER @CodyWinterXXX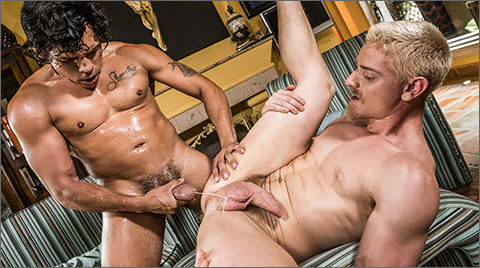 BOTTOM BOY BITCHES: Alejandro Castillo Pounds Cody Winter Rough And Raw
Cody Winter is attracted to all different kinds of men, but he has an affinity for hung Latin guys. Say no more, Cody: we have the perfect match for you. Alejandro Castillo is always on the lookout for a bottom guy he can use as his own personal sex toy, and Cody is more than happy to fulfill that need.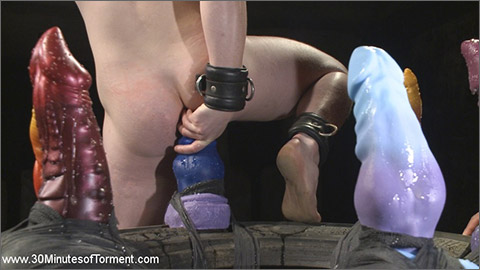 CODY WINTER DISCOVERS NEW TORMENTS AND LETS OUT HIS INNER PAINSLUT
THE CHAIR – Cody is secured to a wooden chair before Van beats his tight body. Cody's screams echo across the room, only to be drowned out by the loud smack of a crop hitting against his flesh. After such relentless corporal, can Cody handle the clover clamps gripping his balls and pulling at his nipples? THE PIT – Overhead ropes hold Cody in place atop a tire, and ball gag keeps him quiet while Van brutally flogs him from every direction. Cody's held himself together so far, but the addition of ball weights could send him over the edge. THE ASS STATION – For his final challenge, Cody takes a ride on the Bad Dragon Carousel. Each of the Bad Dragon Dildo's in this massive rotating buffet is larger than the one before it, and they're about to fill Cody's tight hole. Cody stands over the carousel, and takes each dildo up his ass, while Van helps him along with the help of a crop and some clothespins. With his body battered and ass stretched, Cody can finally blow his load.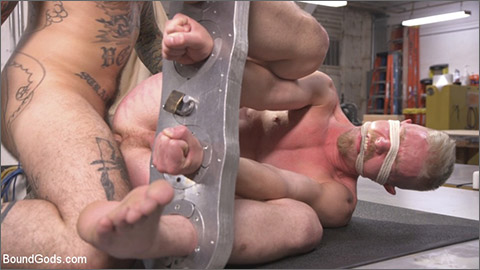 CONVICT SERIES – "IN PRISON, YOU'D BE MY BITCH!"
Getting a job is hard enough as an ex-convict, but luckily Ruckus was able to land a gig working in the wood shop. When his co-worker Cody keeps harassing him with questions, Ruckus decides to show him just what being a prison bitch is all about. Cody's shoved to the floor with a boot on his back as Ruckus beats his ass red. Painful clamps are placed all over Cody's chest and on his tongue to shut him up. Heavy tools are tied to his balls as Ruckus orders him to crawl over for some deepthroating. The tatted up convict lashes out with an intense flogging before locking his bitch up in a wrist and ankle stock. Cody's pale ass turns nice and red after enduring a caning before having his ass violated by his new master. Ruckus finally blasts a load in Cody's mouth and has him taste every drop off his raging hard cock.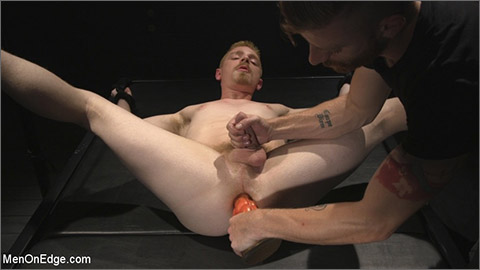 UNCUT STUD EDGED BEYOND HIS LIMIT IN STOCKS
Cody Winter is new to bondage, so Sebastian invites him over to Men on Edge for a hot session of restraint and cum denial. Sebastian leads Cody into a dark room and locks his hands, neck and ankles into vertical stocks. The rush of this new experience gets Cody's uncut dick pulsing with excitement as Sebastian plays with his foreskin. It doesn't take many strokes before Cody begs to cum. Sebastian only replies with nipple clamps and more edges. He takes out the fleshjack and makes Cody thrust into it if he really wants to cum so fucking bad– pulling it away right before he explodes into it. Sebastian decides Cody has too much freedom, so he adds two more stocks to hold Cody's torso and thighs in place for more painful edges. Sebastian pulls Cody down from the stocks and secures him to a table to get a closer look at his lean body and beautiful toes. He throws Cody's legs back and makes an entire Bad Dragon dildo disappear into Cody's hungry asshole. Sebastian rocks Cody's prostate with punches to the base of the dildo, giving another edge to the whimpering stud. At wits' end, Cody finally has permission to cum after pushing the entire dildo out of his ass. His dick bursts a bucketload of hot jizz– paid for with a painful tickling and apple polishing immediately after.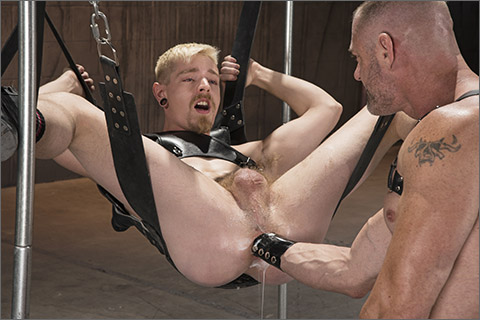 DEEP HOLE DUNGEON: D Arclyte fists Cody Winter
Blond and smooth, Cody Winter sprawls across a leather bench. His sir, D Arclyte, rubs his hands along Cody's lean body. Their shiny black harnesses squeak against the leather bench as Cody rips off his codpiece to reveal his throbbing, uncut cock. D expertly administers a blowjob to his boy, then flips him over to eat Cody's eager hole. Eager to please his daddy, Cody moves to a sling where he opens up his ass for D's fat fist. As D slides his knuckles past Cody's muscle ring, the sub's moans get more and more intense. Every movement of D's hand against Cody's guts elicits gasps and yelps of mind-blowing pleasure. Faster and faster, D pumps his fist into Cody's hole, passing his wrist. Passing his leg over D's arm, Cody faces forward and fucks himself on his sir's big fist. "You gonna cum for daddy?" asks D. "Oh yes please," replies Cody. With Cody's hole gaping, D wraps his hands around Cody's neck and constricts his airflow, and the feeling of being totally at the mercy of his sir impels Cody to shoot a massive, spurting load into the air. When Cody's orgasmic moans subside, D asks him, "You ready to take care of daddy?" "Yes sir!"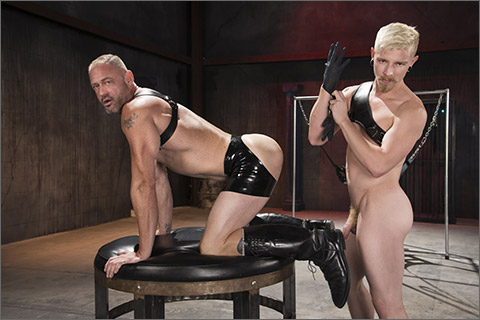 DEEP HOLE DUNGEON: Cody Winter fists D Arclyte
"Good boy!" D Arclyte leads his sub, Cody Winter, to the sling for a reciprocal session: "Show daddy how much you appreciate what I did for you!" "Yes sir," says Cody, inhaling D's thick, hard meat. D's fat balls slam into Cody's chin as he face-fucks his boy. D turns around and gives eager Cody a taste of his daddy hole. Cody rims D's ass like his life depends on it, burying his face in the crack and sliding his tongue up and down. Moving to a leather bench, Cody gloves up and works his fist into D's hole. As he buries his fist inside D, Cody's erect cock swells and bounces in the air; his veiny foreskin is so long that it completely covers his glans even when hard. Kneeling down to get an even more intense angle, Cody speeds up the motion of his fist inside D's man cave. Rolling onto his side, D encourages Cody to go even deeper, and his pleasure is evidenced by his grunting vocalizations. "You wanna help daddy cum?" "Aww fuck yeah!" explains Cody, eager to receive his sir's load. Crouching on all fours, Cody opens his mouth as D lets loose with blasts of hot white cum. With his face drenched in cum, all Cody can say is, "Daddy's so hot!"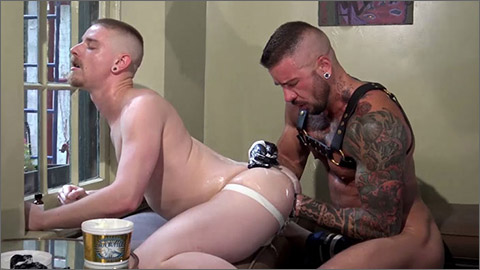 DOLF DIETRICH FISTS CODY WINTER
Dolf Dietrich is a bearded pig. Hairy, grim looking out and a muscular tattooed body which just bursts with vitality and joy.
   No wonder that the blonde 20something Cody is consumed by lust as he gets pushed by the mighty Dolf onto his cock. Cody swallows the cock so deep, that the young pretty pig is choking on it. Dolf keeps pushing Cody's face deeper on his cock. The blond boy is trying not to suffocate. But everything that does not kill you, only makes you harder and so Cody keeps deepthroating. Dolf shoots him a bolt of spit in the mouth that runs in thick strands from the face.
   Cody has no time to take a breath, because now he must lick the boots of his master. His pink tongue drools over the black leather and the smell rising into his nostrils ignites even more desire in him. There is nothing more than just the nude and animal lust.
   He stretches his perfect hairless ass into the air and Dolf attacks the vibrant pig tail on the willing asshole immediately.
   He hammers away on his juicy meaty ass. But pure fucking is not enough for the fuck pig and so he opens Cody rosette with his hand, pushing deep into the ever-widening cunt. After this session, Cody will be never again as he once was.
LUCAS ENTERTAINMENT
KINK MEN
HOT HOUSE CLUB INFERNO
RAGING STALLION FETISH FORCE
CAZZO FILM BERLIN
LUCAS ENTERTAINMENT
CLICK HERE TO GO TO HIS CAZZO FILM BERLIN DETAILS