American Gay Porn College Jock, Clyde / Elder Rex
Known Aliases: Elder Rex (Mormon Boyz), Rex (Dream Boy Bondage), VINNY DIAS (Randy Blue)
Years Active: 2012 – 2015

RAW: ALLEN & CLYDE
Clyde is still working on his cock sucking skills. He really has a pretty strong gag reflex. I was hoping letting him have free reign to move about and suck would help, but he still looks like he is getting dental x-rays.
   Allen hardly notices though, or at least his dick didn't. One thing we have learned about Clyde is that getting his ass eaten makes him hard. So Allen went to town on his back door, and sure enough Clyde boner-ed up! Allen flips him over an gives him his trademark sloppy blow job.
   Like you, I think the ass eating makes me think Clyde should bottom, but he has his hands firmly crossed on that. We will see, but he tends to be an "extra sensitive" guy, and there is quite a bit of fear there. Might not be able to overcome that.
   We continue to try play to everyone's strengths. I know Clyde likes to be ridden, and Allen likes to control the insert, so we start off with Allen riding Clyde. Clyde is a little wobbly so we get him upright and he got his momentum going.
   Speaking of momentum, truly Allen loves being fucked. His dick just loves having something in his ass! Clyde really can stay hard as long as he is fucking full-speed, and thankfully, Allen enjoyed it.
   I really wanted to do an undershot of Allen nutting, and it is pretty awesome to be underneath as Clyde slowly moves his dick around, making Allen shoot out giant jets of cum!
   Clyde was pretty close to cumming while fucking, but I think after Allen's intense cum shot, he was not up for Clyde fucking him till he nuts. So Clyde juices him instead, and overall, this match-up was stellar!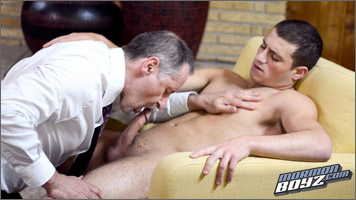 ELDER REX – EVALUATION
One never knows exactly what to expect when they are scheduled for an evaluation with the brethren.
   When Elder Rex met with Patriarch Smith he received an oral evaluation, but the only dialogue between them was grunts, groans and moaning.
   It would have been too difficult for the Patriarch to say anything else anyway with his mouth wrapped around the Missionaries hard cock.
   The muscular Elder Rex did not shirk while having his clothes removed and his body caressed and played with, the uncertainty of the situation seemed to get him excited.
   By the time the young man was stripped down to his undergarments, there was no hiding his tenting erection.
   The Patriarch wasted no time, and began rubbing his hands over his young body, squeezing his firm butt cheeks in the palm of his hand, and then tasting him with his tongue and mouth.
   Elder Rex enjoyed the feel of a wet tongue sliding over his balls and erection before being swallowed down a tight throat.
   Even the sensation of a stream of drool between the boys legs caused him to squirm and buck his hips in pleasure.
CHAOS MEN
MORMON BOYZ
DREAM BOY BONDAGE
ROPED STUDS