Corbin Fisher Amateur College Man, Chuck
Years Active: 2012 – 2016
CORBIN FISHER INFO:
Age: 24
Waist: 30
Eyes: Blue
Height: 5′ 10″
Weight: 175 lbs
Hair: Brown
Build: Athletic
Cock: 7.0″ cut
Shoe: 11
New freshman Chuck told Pete he was a little nervous, but he was eager to jerk off for us. Chuck has a nice tight body, and beautiful eyes. He used to play baseball, so I felt confident once he got his bat in his hand, he'd hit a home run!
   Chuck hinted that he'd tried something with guys in his past, but didn't reveal too much. I love a mystery! He first had sex at 13 when he had a steady girlfriend. He laughed and said he's not sure he could call it sex the first time, but he says he came, so we'll count that.
   Chuck's favorite thing is oral, but he loves doggy-style as well. He's also had anal with a girl. Chuck jacks off at least once a day, and says when he's bored, he grabs some porn and whacks off. He likes to think about his past experiences when he stroking.
   Chuck strips off his shirt to show off his defined body. He has a great upper body, but loves leg workouts at the gym. It shows, he has some incredible legs!
   Pete had a surprise for Chuck – he's going to have Zeb suck Chuck off. Zeb leans down and takes Chuck's cock in his hand, then his mouth. Chuck leans his head back as Zeb blows him.
   Chuck's cock gets rock-hard in Zeb's mouth. Zeb bobs up and down on the thick head of Chuck's cock. He slaps Chuck's dick against his tongue and then swallows his cock again.
   Zeb licks the tip of Chuck's dick, stroking his hard cock as he does. Chuck moans that he's about to cum. He shoots his load into Zeb's mouth, who swallows it and then sucks the rest of it out of Chuck's cock.
   Chuck says Zeb was better than a lot of girls. Now that Chuck's gotten to second base, I'd love to see him hit a home run with one of our guys!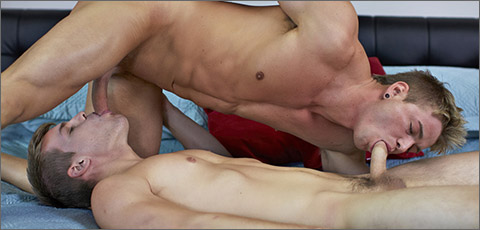 CHUCK SWALLOWS A LOAD
Around the studio, Chuck seems like a quiet reserved guy. Once he gets naked, he perks up, ready to fuck or get fucked! He's got such a great lean body and hot ass, that I figured it was time to get him pounded by one of our biggest stars – Connor!
   Connor takes it easy on Chuck at first, getting him warmed up with a great blowjob and by teasing Chuck's ass with his finger. Once he shoves his huge cock into Chuck, Chuck takes it in every position he can manage.
   Connor fucks a nice load out of Chuck, then feeds him his own cum – which Chuck eagerly sucks dry!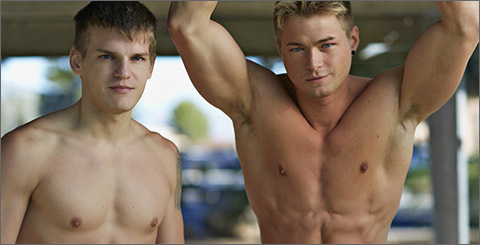 CHUCK & CONNOR'S FLIP FUCK
Hot baseball player Chuck hits a home run with both his and Connor's bats in some hot flip-flop action! Chuck is pretty reserved and quiet in the studio. You can feel his intensity though, especially once he gets naked. Chuck likes to fuck, and appreciates a guy with a great body. Connor, of course, has a great body and also an aggressive attitude. I knew these two would get off on each other- and they did.
   Chuck and Connor start out with some 69 action. Connor wants to fuck Chuck first, and fingers Chuck's hole. After pounding Chuck, he's ready to take Chuck's cock. Chuck slides into Connor's ass, pumping away until he makes Connor blow a load on his ripped abs. Chuck follows up with his own creamy load- right in Connor's mouth!