Seriously Sexy Randy Blue American Gay Porn Star Hunk, Chris Rockway
Known Aliases:
Years Active: 2006 – 2014
RANDY BLUE INFO:
Hometown: Middle america
Body type: 5′ 9″ / Athletic
Ethnicity: White / Caucasian
Zodiac Sign: Scorpio
Occupation: model
For almost a decade, Chris Rockway has consistently been the hottest gay porn star at Randy Blue if not in the entire world. This man looks like a movie star. He has a body that belongs to an olympic champion. A smile that belongs on a tooth paste commercial, and a thick meaty dick that cannot get enough of nice tight holes. He is a cocky free spirit that loves to play by his own rules. He is our resident go to power top. But he has given it up and bottomed a few times as well. Whether he is getting fucked, sucking a dick, or pounding away at a bubble butt, he looks like a million bucks. We have him playing with toys, doing a video circle jerk, threesomes, foursomes, you name it, he has done it. When you are looking for the best gay porn out there, it probably stars the one and only Mr. Rockway. And if you want a more personal experience, check him out in one of his hot live cam shows where you can tell him exactly what you want to see.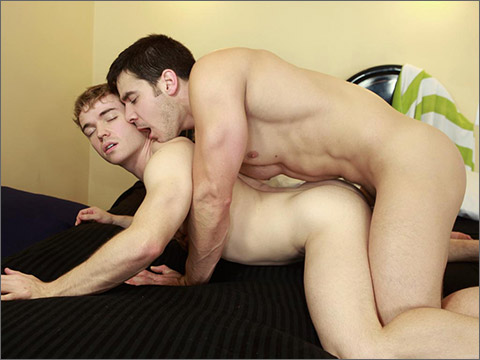 CHRIS ROCKWAY FUCKS GABRIEL CROSS
Chris Rockway is soaping up his sexy athletic body. Letting his hands roam over his rock hard pecs, chiseled abs and down to his thick meaty cock. Enter Gabriel Cross. Not expecting Chris to be naked he's surprised and excited. The two start deep kissing while Chris takes some time to get to know this new Randy Blue model in a most personal way. Gabriel looks amazing. He's every bit of the college muscle jock and that sexy British accent of his had Chris so hot before they even started the scene. Chris wraps his own musular frame around Gabriel and works his hard throbbing dick deep into Gabriel's hungry hole. Gabriel can't get enough of this horny stud and gives him a ride he won't soon forget. Then they take things up a notch by doing it doggy style and getting so hot and rough that Gabriel's practically howling at the moon. Chris shoots his big thick load all over Gabriel's back and once Gabriel is sure Chris is sat! isfied he jerks himself off and shoots his own load all over his smooth six-pack abs.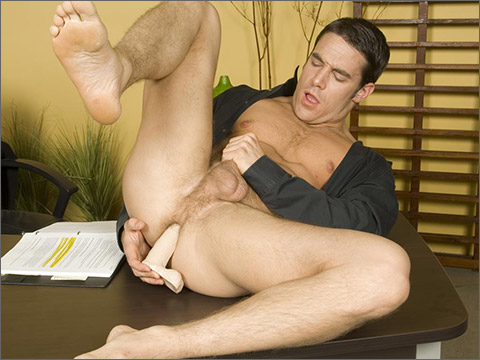 CHRIS ROCKWAY SOLO WITH TOY
If you are as in love with Chris as I am then you must really be anxious for this video. Big, beautiful Chris and his assortment of toys. This guy has an amazing ass and when he starts to put things up it you cant help but want to watch.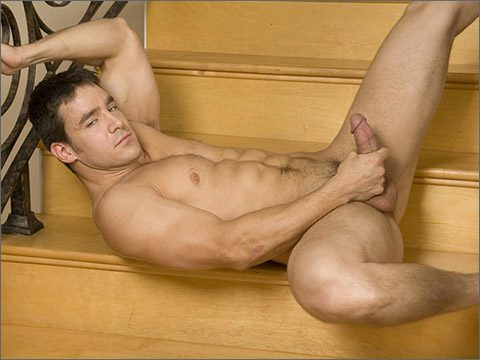 CHRIS ROCKWAY SOLO
Seriously, I don't know what I could write about this guy that the photos and video don't already tell you. Every day I get tons of emails from people either wanting to be on the site or friends and agents sending me pics of guys they think I should have on the site. It gets to be a tremendous amount of shifting thru and decision making for one single male. But sometimes you get a guy who just really stands out. Chris was referred to me by a mutual old friend of mine. He told me this guy was an amazing body and an even more amazing personality. Chris certainly is that guy. A lot of times on shoots you can have some guys that are just not that fun. They can be nervous or jet lagged or maybe just not all that outgoing but Chris was none of that. He made the shoot extremely fun and enjoyable for my assistant and I. I will be the first to admit I love this guys body. To me it is almost perfection. It's naturally built, and I do mean built and he has hair in all the right places. Hair on his chest his pits and in the crack of that amazing ass. He is solid and muscled all over with abs that are simply amazing and its all natural guys. This video was particular enjoyable because Chris really got into it. I don't know if it was because he was being paid, or because he had never done this before or maybe because he had an audience that motivated him to such a degree, but the boy was hard the entire time. That beautiful dick was rock hard and even better, he came twice. Not only do you get to see this amazing fucker cum once, you get to see it twice. There is no more to say, except you won't see him anywhere else for a while.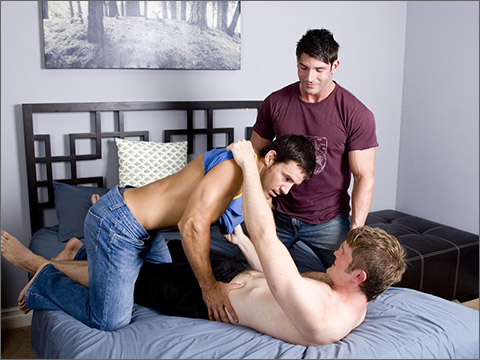 CHRIS ROCKWAY & JEREMY WALKER FUCKS COLBY KELLER
What could be hotter than a 3-way between Chris Rockway, Jeremy Walker and Colby Keller? Three of Randy Blue's hot, horny hunks thrown into a room and given one instruction… Colby is the bottom. I had a hunch it would go over well because Colby has been hanging out around the studio a lot lately and dropping hints about wanting to do a scene with either Jeremy or Chris. Well, you know me well enough by now to know that if one of my models wants to work with someone, I usually do my best to make it happen. However, I don't think Colby had any idea that I was going to throw both Chris and Jeremy at him in one scene. There are so many moments in this video that are just gold. Like Jeremy and Chris making out while Colby was alternating on their cocks. Jeremy hasn't had a chance to work with Chris yet, and seeing them kissing just shows you how hot things are going to get. Then, both of them started working on Colby's huge dick at once, both trying to outdo one another. And how about getting to watch Colby get rammed by Jeremy while sucking on Rockway's cock? Or Chris making his famous move where he lay Colby upside down and fucks his ass downward. I swear, every model who's seen him do it wants to try it. It's like the best ride at an amusement park. And when the guys couldn't contain themselves anymore, they shot their loads in one of the loudest climaxes I've heard. If you're watching this at work, turn down the sound. If you're watching from home, turn it up and have fun!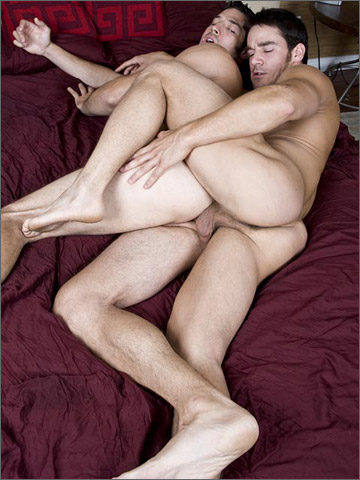 CHRIS ROCKWAY & JEREMY WALKER FUCKS COLBY KELLER
People have been asking me for months when Leo Giamani was going to do a scene with Chris Rockway. And as if the comments on the blog and PM's in the chat room weren't enough, people have actually been stopping me on the street asking me about when these two studs are going to get together. But when Chris called me up and said, "hey, when do I get to tap Leo's ass?" I knew it was time. I don't need to go on and on about how fucking amazing Chris Rockway is looking these days. Between his Men magazine shoots and his recent videos you all know how hot his body is. He takes very good care of himself and works out like crazy. And Leo always bring one hundred percent to the table. His incredible body and handsome features make his videos and photos among the most popular on the site. And when word of his humongous cock got back to Chris, he had to see it for himself… up close. The day of the shoot I was setting up the equipment and those two were like a couple of frat buddies, horsing around and being all touchy feely. I could tell they were prepared to make this one of the hottest scenes of the year. And you can tell in the way they both jump into things as soon as the scene starts, they were ready, willing and able. I love the way Chris' eyes nearly pop out of his head when he gets his frist look at the monster hanging between Leo's legs. I could tell he was taking this as a personal challenge. If he could get Leo to moan and squirm then he knew he'd be primed and ready for a good fucking. Chris used his talented mouth to get Leo to that place where he would do just about anything. Then he flipped him over and went to town on that hot ass of his. And while Leo may have a gigantic dick, Chris had a beast of his own and he knows how to use it. The look on Leo's face is evidence enough of that. Watching these two go at it is like watching two wild animals let loose from their cages, it's total animalistic passion unleashed.
FROM THE LIVE ARCHIVES: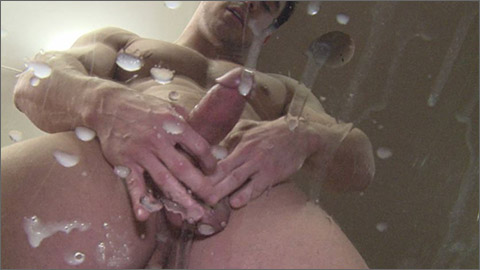 LIVE ARCHIVE – FEB 27, 2010: CHRIS ROCKWAY
Chris Rockway showed off his hot muscles and huge dick for the Randy Blue Live audience.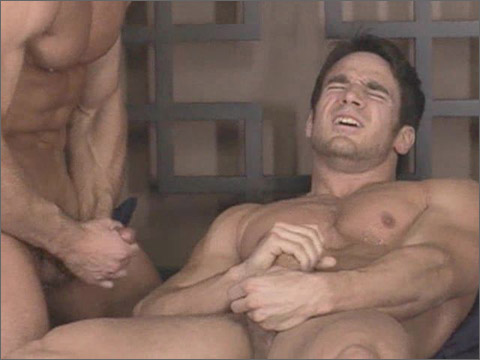 LIVE ARCHIVE – DEC 13, 2007: REESE RIDEOUT FUCKS CHRIS ROCKWAY
Chris Rockway and Reese Rideout appear together for the first time on Randy Blue Live!!!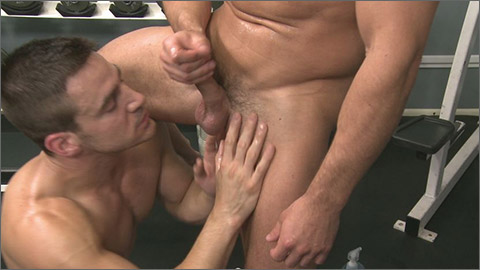 LIVE ARCHIVE – JAN 17, 2012: CHRIS ROCKWAY & REESE RIDEOUT
Chris Rockway and Reese Rideout reunite for a very special (and super hot) In The Studio. Jorge Fusco and Brett Swanson each make short cameo appearances.

MIGHTY MEN

CLICK HERE TO GO TO HIS RANDY BLUE DETAILS
VIDEO ON-DEMAND: Chris Rockway @ AEBN SMUTJUNKIES THEATER