Next Door Studios Gay Porn Star and Solo Performer, Chris Noxx
Years Active: 2015
FAB SCOUT INFO:
Age (2015): 20
Height: 6'
Dick: 6.5" Cut
Orientation: Gay4Pay
Position: Top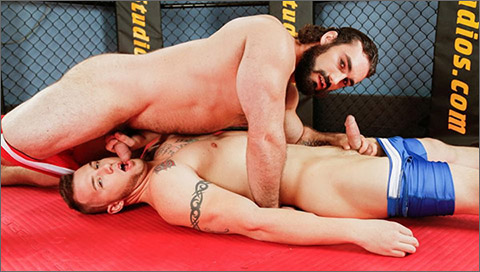 THE SINGLET LIFE
As Jaxton Wheeler & Chris Noxx spar on the wrestling mat, it becomes rather obvious immediately who has the upper hand. Jaxton, the bigger man of the two, conveys a swagger that conveys confidence and control, while Chris works for every opportunity available, only to have Jaxton use his brute strength to ultimately force his opponent into submission. Jaxton thrives on submission, and his need to control extends beyond just wrestling. So when he spies a hard on located in Chris' shorts, he seeks to dominate him there as well. Stripping him out of his singlet, Jackson hovers over Chris as he begins to take Jaxton's hard cock into his mouth. Jaxton puts his hand on the back of Chris' head and pulls him in closer, shoving his cock down Chris' throat before turning him over right there in the middle of the gym and having his way. Chris takes Jaxton's pounding like a good bottom boy, as Jaxton shows no mercy, bending Chris over up against a wall, and then flipping him over onto his back, pounding him without concern before dousing him with a victorious load that leaves Chris covered in cum and hell bent on besting his friend, even if it's the last thing he ever does.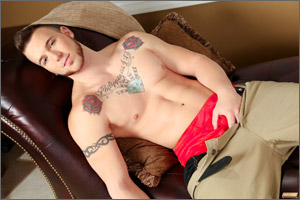 CHRIS NOXX NEXT DOOR MALE SOLO
Chris Noxx is a wild one from Tampa who has no reservations when it comes to shaking things up. Whether he's stripping down at his job as a go go dancer or getting freaky in front of the camera, this stud has got no time to let his inhibitions slow him down. We catch up to him reclining on a chaise lounge, naked and fully extended, cock in hand. He rubs himself semi-stiff, whacking his dick against his stomach in a low and satisfying thud, before he flogs the head, playing with the tip as it leaks out a bead of jizz as a promise of what's to cum. Ever the freak, Chris rolls over and inserts his index finger deep into his asshole, playing with the rim and squeezing his cheeks as he continues to beat himself off. Finger-fucking himself, he brings himself close to climax before rolling back over, spreading his legs wide as they can go, and launching his load all over himself as he throws his head back against the sofa.