SpunkWorthy American Gay Porn Amateur, Chase
Years Active: 2015
SPUNK WORTHY INFO:
Chase's stats:
Age: 26
Height: 5′ 9"
Weight: 160 lbs
Hair: Brown
Eyes: Hazel
Shoe: 9
Cock: 8″ x 5 1/2″ (cut)
Orientation: Straight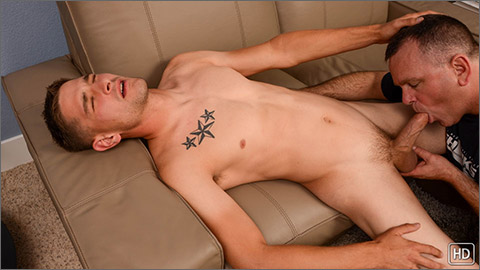 BLOWING CHASE
Chase loves getting head. Unfortunately (or fortunately, depending on the perspective), his girlfriend isn't that good at getting him off with blow-jobs. After his massage scene, though, he realized that guys really do know how to get the job done. So, when Chase's GF went out of town, recently, he sent a text asking about "getting together" again.
   Once the cameras were fired up, Chase almost laughed at how hard his dick was getting before his jeans came off. The bulge of his cock was pretty evident even when he first walked in the door.
   Chase mostly closed his eyes at first, going to his happy space and just enjoying the ride. But when I took his dick all the way in my mouth, he looked down with fascination at his 8-incher being deep-throated.
   Last time, I discovered that Chase really liked getting his ass played with. I pushed back his legs and rimmed his hole while he squirmed in ecstasy, jerking his cock. Up on all fours, bent over, the look on his face was priceless as my tongue worked its magic on his tight hole.
   After Chase stood up and slowly face-fucked me for a few minutes, I could tell he was getting ready to explode. He lay back on the sofa and got ready for the finale. I glanced up while working him up to the finish and saw Chase tweaking his nipples which seemed to push him right up to the edge. Within seconds he gasped that he was getting close and a monster load flew out of his cock, landing on the floor, the side of the couch, and all over his stomach.
BLOWING CHASE
CHASE'S MASSAGE
CHASE
CLICK HERE TO GO TO HIS SPUNK WORTHY DETAILS