Next Door Studios American Gay Porn Star, Chase Klein
Known Aliases / aka:
Years Active: 2016 – 2017
NEXT DOOR STUDIOS INFO:
Cock: 8″
Body Hair: Moderately hairy
Height: 6'0″
Hair Color: Black
Eye Color: Brown
Position: Top
Foreskin: Cut
Body Type: Muscular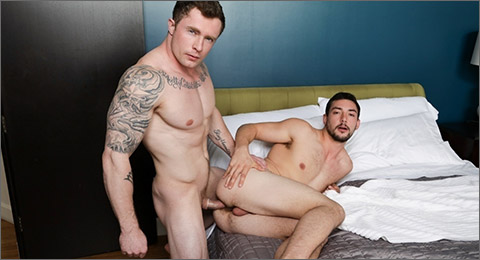 GAY TOGETHER
Faced with the sudden prospect of being cut off by his parents, Chase Klein wonders what he'll do for money and a place to live. Luckily, Markie More is here to help, but unfortunately for Chase, Markie's helpful ideas aren't really very comforting. After finding a promising lead for a modeling gig, Markie and Chase's hopes are dashed when they discover the job is for gay modeling. Chase assumes they're back to square one but Markie thinks the two of them can swing it, especially considering the rate of pay. Markie convinces Chase it's all a state of mind, and to prove it, he bets he can get Chase hard without even touching his dick. Skeptical, Chase obliges and Markie begins to gently caress his friend's chest, working his way down Chase's stomach before removing his towel and exposing Chase's hard cock. Chase is surprised that Markie was right, and decides he needs to carry out the act to the end to make sure he can do the job, so Markie continues to push, sucking Chase's cock before bending him over to break in his virgin ass. Chase asks him to take it slowly, but midway through discovers that he actually enjoys Markie's pounding, as he strokes himself off while Markie continues to fuck him from behind. He rolls over onto his back and works his load up before spitting it all over himself as Markie pulls out and soaks him with his nut. Laying there cum covered, both guys agree that they're ready to go make some of that sweet porn cash.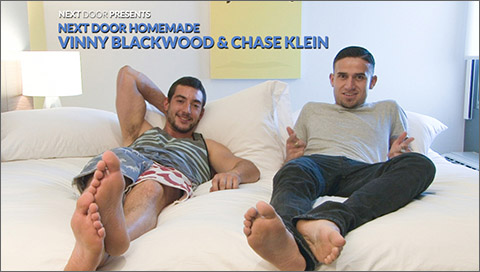 NEXTDOOR HOMEMADE: VINNY BLACKWOOD & CHASE KLEIN
This tape comes to us from a handsome and horny dude named Vinny Blackwood. Vinny recently has been hooking up with a very sexy guy named Chase Klein, whom he met through a good friend and long-time bartender at his favorite, hometown watering hole. Apparently, Vinny has been eager to video tape his own homemade sex scene for a while, but hadn't quite found the right partner…until now! Chase was a little reluctant at first, but as Vinny told us, a little sexual coaxing did the trick. At the time they recorded this extremely hot, totally candid video, the two were not an exclusive couple, but Vinny seemed to hint that Chase is definitely relationship material. Along with his smokin' hot body, gorgeous face, and voracious sexual appetite, Chase brought his own video cams to shoot the action. Wow, what a catch! A big thanks goes to Vinny for inviting us into his room to watch him get passionately fucked by this attractive guy. Let's hope he keeps us updated and submits more great stuff soon!
NEXT DOOR STUDIOS
BAIT BUDDIES
CLICK HERE TO GO TO HIS NEXT DOOR STUDIOS DETAILS