William Higgins Czech Gay Porn Star, Charli Lomoz
Known Aliases:
Years Active: 2015 – 2016
WILLIAM HIGGINS INFO:
Charli Lomoz is a 28 year old straight guy. He is self employed and enjoys soccer, fitness and sports generally. He looks very good indeed as he begins to remove his clothes. His massive, well developed chest is soon on show. Then Charli turns and lowers his underwear to show off a very sexy ass. Turning again, and removing the underwear he then reveals his cock and balls. They look very good indeed, in close up, but even better as Charli gets his cock rock hard and poses for the camera. He sits on the sofa and leans back, with his legs in the air to expose his tight ass hole. trapping his hard cock between his thick thighs as he does so. Then he turns over, onto his knees and displays that sexy ass again. To finish a very good shoot Charli poses some more, to show of that cock perfectly.
Age (2015): 28
Home Town: Prague
Height: 193cm/6'3″
Weight: 100kg/220lb
Foot Size: EU46/US9.3/UK8.7
Penis Size: 19cm/7.48″
Profession/Student of: Self-emloyed
Hobbies: Sport
Favorite Sports: Soccer
Active Sports: Fitness
Movie/Music/Sport Stars: Jean-Claude Van Damme
Visited Coutries: Scotland
Want to Visit Coutries: USA
Dream of My Life: I don't know.
Zodiac Sign: Virgo (August 23 – September 22)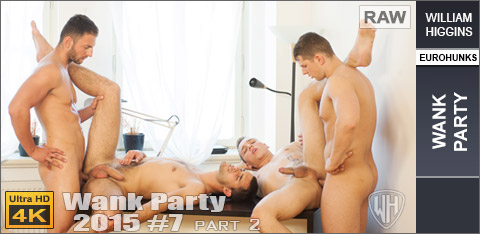 WANK PARTY 2015 #7 RAW
We have a great line-up for WANK PARTY 2015 #7, featuring Charli Lomoz, Alan Carly, Aron Ros and Marion Anel. In this first part we find the guys in the park. They are looking at some of the animals. Then, as they walk on they find a slide and have some fun on that. Then they go inside and following Marion's lead they start having fun with each other. Alan and Marion start to kiss and undress each other. Charli and Aron do the same, with Charli quickl to drop to his knees and suck on Aron's stiff cock. All of them are already hard as they get naked and they start wanking each other. Alan sits on the table for Marion to suck on his thick, hard, cock. Charli is sucking Aron at the same time. Both of the guys do a great job on their buddies' cocks. Then Alan stands and presents his cock ot Aron who eagerly takes it in his mouth. Marion and Charlie work together on Aron's throbbing cock. As they move again it is Alan on his knees, taking turns on each of the others' hard cocks. As Alan sucks Charlie and Marion kiss and Marion grabs Aron's cock to wank it. Then Alan sucks two cocks at the same time. Charli then lays on his back, on the table, with his legs in the air, with Marion bending over. That makes two sexy asses available, and Alan is quick to start rimming Charli's hole and sucking on his cock. Aron rims Marion's ass at the same time. They all enjoy the hot action as it builds up nicely for part 2.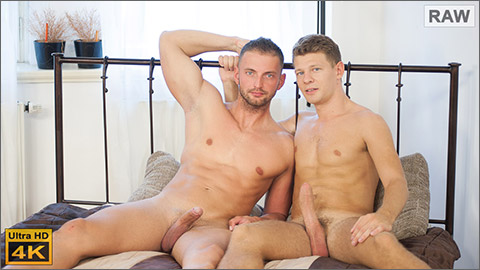 FULL CONTACT: CHARLI LOMOZ & ROSTA BENECKY SCREEN TEST RAW
In a great screentest we have newcomer Charli Lomoz a very sexy straight guy paired with the ever popular Rosta Benecky. Charli is laying, face down, on the bed with Rosta laying on top of him, kissing his way down Charli's body. As he works down the body Rosta pulls the underwear from Charli's sexy ass and kisses it. He massages Charli's ass cheeks and licks them too. He spreads the cheeks and starts to lick at Charli's hot hole. Then Rosta turns Charli over, pulling his underwear off. Charli's cock is rock hard and he moans as Rosta's lips enclose it. Rosta sucks on that throbbing cock as Charlie lays there enjoying the feeling. As Rosta sucks the cock he comes off it and swirls his tongue around the head too. Then Rosta moves to 69 with Charli. His cock is in Charli's mouth as his ass cheeks are parted by Charli's hands. The suck each other real well in that position. Then Rosta moves, to bend over and lean against the bedframe. Charli gets behind him and slides with stiff dick deep into Rosta's eager ass. Rosta moans loudly as Charlie fucks him deep and hard. The fucking speeds up, pounding at Rosta's ass. His own cock is big and swollen as he feels Charli's slamming into his hole. Charli spanks Rosta's ass as he fucks him deep. Moving into missionary position Charli continues to fuck that hot ass as Rosta wanks his own massive cock. Charli really works on that ass as Rosta's wanking speeds up. His dick is so big and hard as he wanks it faster and faster. As he wanks Rosta shoots his hot cum all over his belly with Charli's dick deep in his ass. Rosta milks his cock dry as Charli keeps pounding his hole. Rosta turns over, onto his knees, for Charli to fuck him some more. As he fucks that ass Charli cant hold back and shoot his load deep inside. He slowly pulls out of the ass and his cock continues to drip with cum. He spreads Rosta's ass cheeks to show the cum oozing out of the hole. Then after kissing each other the guys go to the shower to clean up.
CLICK HERE TO GO TO HIS WILLIAM HIGGINS BIO PAGE