Broke Straight Boys American Gay Porn Star Amateur, Chandler Scott
Years Active: 2015 – 2017
BROKE STRAIGHT BOYS INFO:
Age: 25
Height: 6.0 (183cm)
Weight: 155 (70 kg)
Shoe: 11 US (45 EU)
Cock: 8.0 (20cm) Cut
Chandler Scott, the perfect definition of a Broke Straight Boy: a lady's man trying to pay his way through college any way he can…and lucky for him, we're here to help! This 25-year-old stud is from small town Vermont and comes from a close-knit family. Although people often perceive him as being shy, he just actually likes to listen and learn about others but he's not so great at approaching them…maybe sex with random guys on camera will help break him out of his shell? Not only is this guy cute, he loves to bake and is famous for his cupcakes, but soon enough we think he'll be famous for his cock!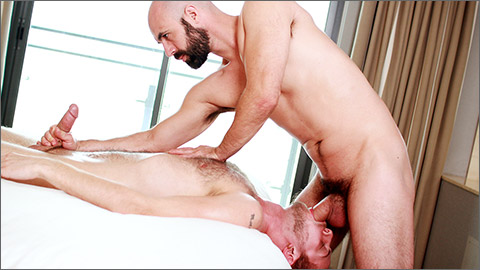 POUND MY OILED ASS
Hot daddy gives an oily, erotic massage and fucks his client's ass.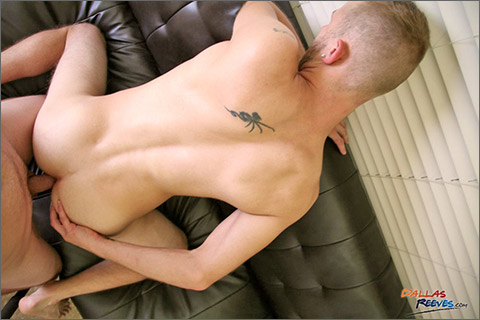 CHANDLER SCOTT GETS PLOWED
Chandler Scott is on the casting couch for an interview to do porn. He explains how he got into porn, which is focused mainly on finances. He also says that he is sexually active and enjoys sex a lot, so he doesn't mind doing porn at all. The casting director flatters Chandler briefly before moving on to the next part of the inquiry. Even though Chandler's answers come across as confident, his body language belies a bit of nerves. He definitely gets more comfortable, though, as his clothing comes off. After snapping some photos, the director asks Chandler to work it up on the couch. As Chandler jacks off, the casting guy mentions that he will be taking off his clothes as well, and asks Chandler if he is comfortable with that. Chandler says "Yes," and watches the director who is still behind the camera. By this point, it doesn't take long for the horny camera-man to have Chandler's lips wrapped around his cock. Chandler is adept at cock-sucking, and the camera-man's boner is standing at full attention! Chandler seems to love sucking dick, and he does an amazing job. As he blows his next meal ticket, he stays hard himself and plays with his own boner. Asked to show off his butt, Chandler gets on his knees on the couch and leans over, revealing a beautiful pink hole. The casting guy begins to finger him, and Chandler begins to let out some moans of pleasure. It's pretty obvious that Chandler likes ass-play. Without missing a beat, the camera guy shoves his cock deep inside our eager performer. With a nice cock sliding in and out of his hole bareback, Chandler complies submissively. The fucking intensifies, and soon Chandler is on his back getting plowed. After several minutes of slam-fucking, Chandler begins to ride the director, who is lying on the floor. He impales himself at a rapid pace as he gets close, and then Chandler shoots a huge load. Chandler rubs his own cum all over the camera-man's cock and jerks him off until he cums as well, right onto his tongue. Hot Bareback POV!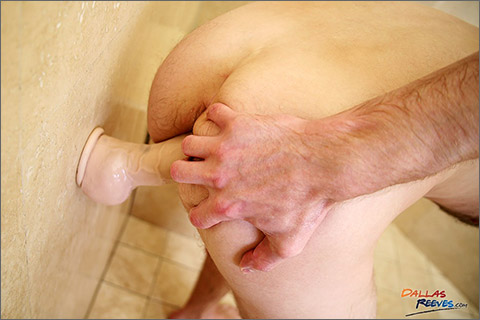 CHANDLER SCOTT HUGE TOY SOLO PLEASURE
Chandler Scott went to the bathroom for a cold shower after a rough day. He took off his towel, turned the shower knob on, and as soon as the water hit his chiseled body, he felt relaxed and the sensation got him on a playful mood. Chandler gently lathered his hairy chest, going down to his fab abs then on his cock and started rubbing it. It felt good but his wild fantasies got him so horned up that he thought of playing his huge sex toy placed at the side of the wall. With his attention caught up on his dick toy, he stick it on the bathroom's wall, got it lubed a bit, bent over to position his body and slowly slid his ass on it. The toy was big that he's having some hard time fitting it inside, but after a few minutes of sliding inside and out off his tight manhole, he finally got his rhythm and fucked it hard. However, his toy was slowly losing its grip on the wall so he took it off and just inserted it after he stood up. Plugging it in standing position, he drilled his big toy cock slowly as not to totally stretch his hole. He's having a great time fucking it but soon placed it on the floor and sat down to stroke his hard cock. Alternately using his hands in jerking, he went from slow pace to rapid one that soon got him cumming. His big dick suddenly erupted with huge load, exploding off his abs and jerking hand. Covered with his gooey jizz, he hit the shower again to clean up. It was a nice pleasure indeed and having that toy was well worth it.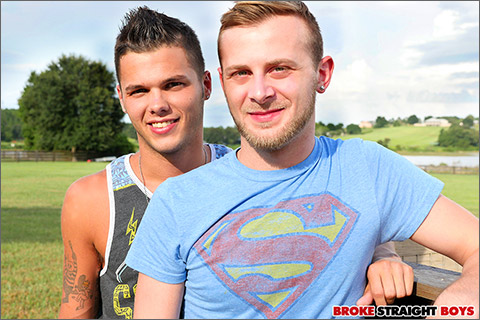 CHANDLER SCOTT FUCKS THE VERY SEXY GAGE OWENS BAREBACK
Some heavy kissing and intense making out opens up this sexy scene between Gage Owens and Chandler Scott as they get each other going with a little tongue-on-tongue action. They undress slowly with Gage making the move toward Chandler's cock first, unzipping his pants and kissing his way down to Chandler's already erect dick!
   Gage pulls back Chandler's boxers to reveal that fat meat and gets to work sucking Chandler's cock and balls, then undoing his own pants he offers his package to Chandlers as they 69. When the oral has gotten them hard as fuck, Chandler's ready for some ass and Gage gets them lubed up, straddling Chandler and lowering his tight hole onto Chandler's throbbing cock, riding reverse cowboy as Chandler enjoys the view! Chandler moves them to a different position, holding Gage's legs wide open as he fucks him deep and raw, taking it slow so that Gage can feel every inch of Chandler's long cock inside of him.
   Chandler's balls slap against Gage's nice ass as Gage strokes his own dick and moans with Chandler's deep thrusts until he can't hold back anymore and lets that cum fly! But Chandler isn't done with Gage's ass yet, he keeps on pumping, fucking his bottom bareback until he's ready to come, pulling out and shooting a massive load onto Gage's face!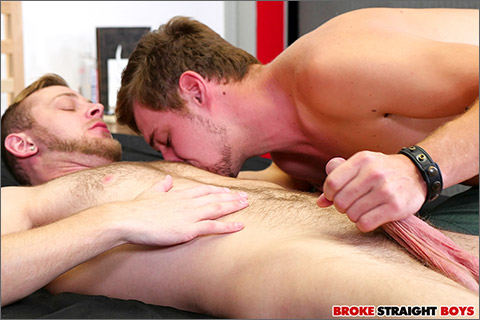 JOHN HENRY FUCKS CHANDLER SCOTT RAW
Chandler Scott doesn't get the opportunity to bottom too often, but since John Henry has been taking it up the ass more often than Chandler, we figure it's only fair to get Chandler's ass fucked this time! They get each other worked up with some light kisses, John teasing all the sensitive spots on Chandler's body with his tongue then getting Chandler's cock out and stroking it before getting head from Chandler.
   John lets a few moans escape as Chandler sucks John's sweet cock until John decides he'd rather have Chandler's ass around his cock than his mouth. He bends Chandler over the bed and give him a rimjob to loosen that asshole a little bit before he spreads Chandler apart and slides his bareback prick inside of him, taking him slow and steady at first before he loses some control and fucks him harder.
   Chandler's tight ass takes to John's long cock pretty well as he gets his hole stuffed full of raw dick while he yanks on his own meat until he shoots his thick load all over himself. John pounds Chandler's ass a few more times before he pulls out and finishes with a very impressive cumshot!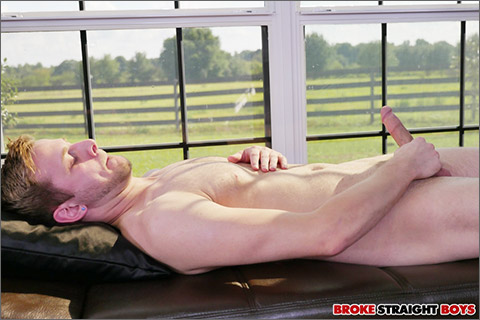 CHANDLER SCOTT GETS OFF & CUMS ON HIMSELF
Chandler Scott is a newbie here, an outdoors man from Vermont looking to get some extra cash to help him through college, so he's come to the right place to earn some easy money! All he's got to do for us today is massage his meat and shoot his load, and while he's never done that in front of a camera before, he doesn't seem too intimidated by the idea of it.
   He makes some sexy eye contact with the camera as he undresses, and when the last article of clothing is on the floor, he sits back and starts rubbing his dick. As he reclines in front of the window, we get to appreciate his toned body, sprinkled with hair in all the right places, and his long dick, growing larger with each stroke of his hand.
   He tweaks his nipple while he yanks his big prick, massaging his balls every once in a while. He closes his eyes and starts to work that dick faster now, his toes curling and muscles tensing as he gets closer to releasing his load. Finally, he covers himself with his hot cum, breathing fast and he enjoys the last traces of his orgasm…and his first ever solo scene!
GAY ROOM
DALLAS REEVES
BROKE STRAIGHT BOYS
CLICK HERE TO GO TO HIS BROKE STRAIGHT BOYS DETAILS
Hot or Not? Let us know.
[Total:

258

Average:

4.9

]