American Gay Amateur Porn Star, Chandler Hawk
Years Active: 2015
GUYS IN SWEATPANTS INFO:
Chandler, 19 years old and straight, recently came to us wanting to just jerk off on camera. After quite a bit of coaxing, we finally convinced him to get his first blowjob from a guy instead. After seeing his beautiful cock, I was determined! We set up the cameras and filmed his photoshoot, which also included some questions to get to know him a little better. While we were talking, I found out that not only was it his first blowjob from a guy, but it was his first blowjob EVER. But it gets better… he's a complete virgin (with both guys and girls). He was clearly extremely nervous, but also really enjoyed it. The look on his face when he came was a combination of "holy shit" and "wtf just happened?!" I'm not gonna say too much, but possibly look for a video in the coming weeks of him losing his virginity completely!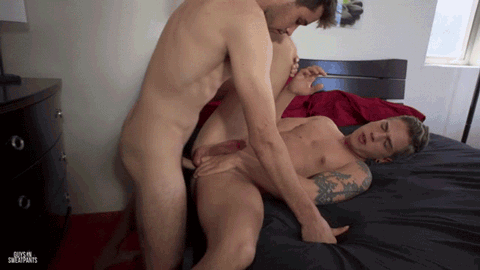 CHANDLER LOSES HIS VIRGINITY
A few weeks ago, Chandler came to us wanting to get his dick sucked. Little did we know, he was a complete virgin at the time! We still aren't sure if he came back just to lose his virginity, or so he could fuck another guy while losing his virginity. Either way, he came back and pumped his load into Lukas! Naturally, Chandler was super nervous, but he was rock hard the whole time as Lukas sucked and bounced on his cock. Lukas definitely took control of the situation, and even ends up cumming hands free as Chandler fucks the cum out of him! Watch until the end to see what Chandler has to say about his first time!