Handsome Uncut Buff Gay Porn Star, Cesar Rossi
Known Aliases / aka:
Years Active: 2016 – 2017
FAB SCOUT INFO:
Based in: Florida
Age: 29
Height: 5'8″
Cock Size: 7.5 Uncut
Position: top, versatile, bottom

SURPRISE BIG DICK THREEWAY
Cesar and Seth are at home in bed discussing their day when Seth tells Cesar he has a surprise for him and shows him a couple photos of Jay on his cell phone. Cesar is impressed with the size of Jay's big cock and Seth tells him that since they have discussed having a three-way for a while, he has invited Jay over to fuck them both. Seth brings Jay into the bedroom and after short introductions they are engaged in a three-way kiss. Soon Seth and Cesar have Jay's big cock out and they suck and share it between themselves. Jay then goes down and sucks both of their cocks for a while. Jay then rims Cesar while Cesar sucks Seth and Seth spreads his ass for Jay. Jay then fucks Cesar in doggy position for a while and then flips him on his back and fucks him while Seth sucks his cock. Jay then fucks Seth on his back and he fucks him so deep and hard that Seth shoots a huge load all over himself and he's amazed how big of a load he just shot out his dick. Jay pulls out and shoots his load all over Seth and Cesar also shoots his load on Seth leaving him covered in hot creamy cum.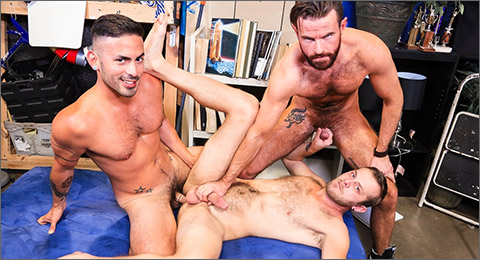 WHOREDERS
Chandler and Cesar are getting ready to move and they are cleaning out their garage. They are arguing a bit about the amount of stuff that Chandler seems to not want to part ways with when their friend Brendan shows up to help them. Noticing the tension between the two, Brendan gets them to hug each other and he joins in. Soon none of them are concerned with the move, but rather getting down to some hot sex! They all engage in a hot oral session sharing each other's cocks and it ends with Brendan sucking both of them. They then move into rimming each other's asses in a nice train on the couch and then flipping around the opposite direction. Chandler fucks Brendan first while he sucks Cesar's cock. Cesar then rides Brendan's cock while he sucks Chandler. They finish with Cesar fucking Chandler until all three shoot their big creamy loads.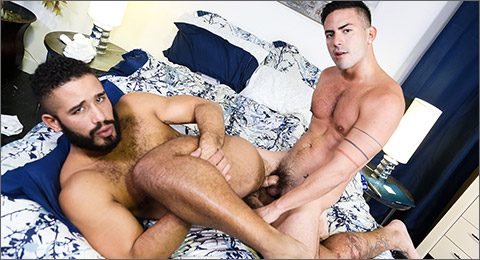 THE COUPLE THAT WATCHES PORN TOGETHER STAYS TOGETHER
Trey and Cesar are sitting in their bed wearing nothing but underwear and watching a porn scene together. They are groping each other through the underwear as they get turned on by what they see. Soon they are extremely horny and decide to close the laptop and Cesar starts sucking Trey and doing his best to deep throat his huge thick cock. They move into a 69 and both suck like champs! Trey then begins rimming Cesar's hairy ass to the delight of Cesar. He then fucks Cesar long and deep as Cesar rides that fat throbbing cock up and down. After a while he tells Cesar that he wants to get fucked too and Cesar then fucks Trey doggy style. Trey lies on his side as Cesar continues to fuck him and stroke Trey's cock at the same time. Trey then says he is not done with Cesar yet and pulls him to the edge of the bed where he continues to fuck Cesar hard and deep until Cesar cannot hold back and he shoots some large thick streams of cum everywhere. Trey sucks the last drops out of Cesar's cock and then shoots his own load all over him.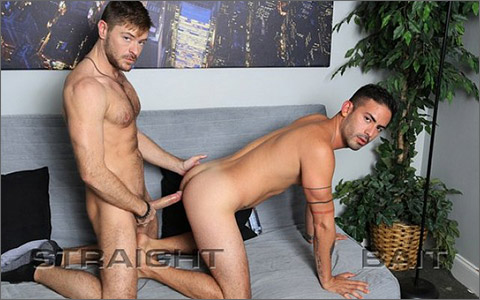 CESAR ROSSI BAITS JACK ANDY
Cesar Rossi is finally back in town and back in the studio! He left for a short period to travel and spread his wings. Now, he's back and in search of another straight guy to trick into having gay sex. Oh, and he has one request… A big dick!
   Jack is this week's straight guy. He's very hot, ripped, and has a massive 9 inch cock! At 33 and single, Jack has had his fair share of hot girls but he wants more. So, that's how he ended up here.
   Caruso has both guys stand up and strip down. You can't miss Jack's huge cock. It's not even hard yet and it's huge! Cesar has a nice fat cock too and it gets even fatter as he stares at Jack's big dick!
   Caruso leaves the room and returns with bad news. The girl isn't going to be able to make it today but there is still a way for everyone to make money. Caruso offers double the money if both guys will have sex with each other. It takes a little while to convince Jack but once he finally agrees, Cesar moves in and gobbles down his cock!
PRIDE STUDIOS
GIO CARUSO'S BAIT BUDDIES
CLICK HERE TO GO TO HIS PRIDE STUDIOS DETAILS
VIDEO ON-DEMAND: Cesar Rossi @ AEBN SMUTJUNKIES THEATER
DVDs & ON-DEMAND: Cesar Rossi @ TLA VIDEO