Helix Studios American Gay Porn Twink, Calvin Banks
Years Active: 2016 – 2020
COCKYBOYS INFO:
Calvin Banks is a fun and hung ball of energy with a beaming smile that will make your knees weak! With a mop of curly blond hair, a nicely toned body, and those big blue eyes, he's just as much of a firecracker in the bed sheets as he is outside of them. Sexually versatile, Calvin came to CockyBoys through his good friend, mentor, and fellow Banks brother, Boomer. Together, they call themselves "Haus of Banks" and it's easy to see why. Calvin makes himself property. In his debut scene at CockyBoys, Calvin and Boomer indulge in a mind-boggling flip fuck showcasing an indescribable chemistry. A fun-loving guy all around, Calvin has a real compassionate side to him and it shows… not only through his personality but also in the way he fucks! He's a real nurturer, willing to give any lucky guy his complete affection. Whether you want to fuck, get fucked, or flip, Calvin's your man!
HELIX STUDIOS INFO:
Introducing, Calvin Banks. Calvin is a well built & blue eyed beautiful piece of Mass. Recently, he met up at San Diego's Balboa Park with Helix Superstar & exceptionally skilled bottom, Tyler Hill for his opening interview before popping his porn cherry. The two Balboa bad boys talked coming out, first times & best times before taking it behind closed doors. Watch as Tyler's world famous fuck rump conjure a fat load from Calvin's wide 8.5 inch wand and see why the dominant dude from the Bay State might be a Massachusetts native, but today he'd rather be in Tyler Hill.
Age: 18
Height: 5′ 11
Weight: 160 lbs
Waist: 32
Ethnicity: American
Hair Color: Brown
Eye Color: Blue
Cock Size: 8.5
Orientation: Gay
Role: Top
Hey! I'm an 18 year old fun loving and energetic guy. Health and fitness have always been a big part of my life. When I'm not at the gym, you can find me tearing up the slopes on my snowboard or soaking up sun on the beach. I'm ALWAYS down for a good time.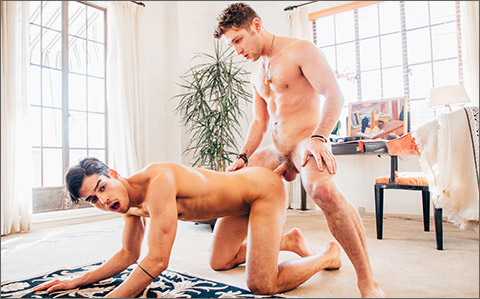 HOLLYWOOD & VINE: Calvin Banks fucks Nick Leon
Calvin Banks enters the picture as offbeat sex therapist Harmony Gold, hired to help movie star Nick Leon (Nico Leon) and his relationship with lover & personal assistant Leo Grand. They're happy to put Nick in the therapist's hands… once Harmony (Calvin) signs a non-disclosure agreement, that is. Once Leo leaves, the first session begins.
   Harmony (Calvin) begins with the gentle caressing of a half-naked Nick (Nico) and soothing words, which include details on his "unique" tantric methods. Soon Harmony (Calvin) has Nick (Nico) bent over as his hands gently massage his body, while he rubs his crotch against his crack. And once Harmony (Calvin) slips off his briefs he tongues Nick's (Nico) hole and fingers him into moaning submission.
   Harmony (Calvin) attends to another "muscle" as he turns Nick (Nico) on his back and sucks & strokes him into increasing vocal sexual ecstasy. After an intense edging Harmony (Calvin) unveils his cock and guides Nick (Nico) in the art of sucking him. With his instruction Nick (Nico) learns to deep-throat his hung therapist and Harmony (Calvin) is ready to take him to the next level.Harmony (Calvin) slides his cock into Nick (Nico) and soon he fucks him deep…with proper breathing and relaxing.
   Harmony (Calvin) then puts Nick (Nico) to the floor on all fours to plow him and teach him how to fuck himself on his big dick. Before long Harmony (Calvin) has Nick (Nico) pinned to the floor taking all his deep thrusts. The intensity builds until Harmony (Calvin) pulls out and shoots a massive load all over Nick's (Nico) hole and breeds him with it. Harmony (Calvin) then helps Nick (Nico)to shoot his own load and he milks him into trance-like state. Lesson one done: Nick (Nico) learns to love himself.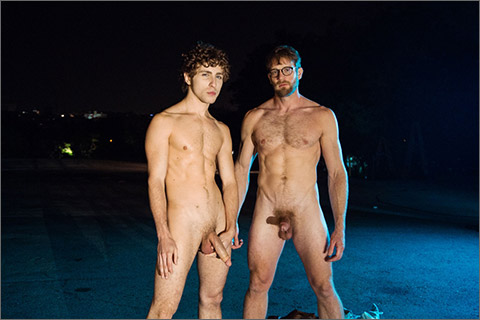 BRUCE LABRUCE'S FLEA PIT: BRUCE LABRUCE'S UBER MENSCHEN
Calvin Banks & Colby Keller
A chance encounter on a hot summer day in Madrid alters the lives of two men: Mariano (Colby Keller) a professor (last seen in Diablo In Madrid) on sabbatical and Arturo (Calvin Banks), a taxi driver who takes his fare on a fateful trip. It begins at a busy sidewalk cafe where everyone is lively, except for Mariano who sits alone reading and contemplating his drink. Arturo arrives to take Mariano to the Segovia Viaduct and on the way the chatty driver purposely engages the sullen and distracted professor in conversation.
   Even after Arturo drops off his fare, the seemingly pesky and nosy young man winds up following Mariano to the top of the viaduct as dusk descends. Arturo persists in chatting with Mariano until he finally convinces the professor to join him on a tour of the city. Later that night the tour ends parked at Arturo's favorite place, a remote spot overlooking the city. It's here that the veil of truth is partially lifted and the two men begin to make out. However it's outside the car on top of a blanket in front of the headlights that they let loose.
   Passionate kissing leads to Arturo (Calvin Banks) going down on Mariano (Colby Keller) and sucking him completely. A newly unfettered Mariano returns the favor with equal fervor and takes the reins as he fucks Arturo from behind. It's Arturo though who brings their late night outdoor sex to a sweat-soaked climax as he rides Mariano's cock and spurts over his semi-hairy torso. And, after he dismounts Arturo's face and mouth are there at Mariano's cock as he erupts in a thick volcanic load. A cummy kiss ends their encounter…but what's the next stop for this spontaneous coupling?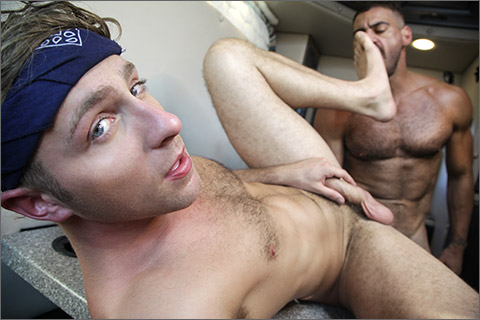 THE GAY SIMPLE LIFE: DAY 1: BIG RIG DRIVING CHALLENGE: Ricky Larkin fucks Calvin Banks
Josh Moore and Calvin Banks are sound asleep in their shared country bedroom when the camera crew and sexy, nearly naked, porn star Ricky Larkin wake them for the first day's task, the Big Rig Driving Challenge! The boys 'gay-up' the drab overalls they were given and hit the road to a red-neck nudist campground in Sparks, Oklahoma. The owner Robert, his mutt, and truck driver Cowboy Clay show the guys the lay of the land. After some heavy petting with the donkeys and a not-so-friendly emu, they come face-to-face with an 18-wheeler big-rig truck. Calvin, having the worst driving record in the history of porn, and Josh, being from the UK where they drive on the opposite side of the road, accept the challenge! While Josh is taking his stab at the wheel, Calvin cozies up to guest star Ricky and demands cocktails. Josh and cowboy Clay head out of the cab on the search for margaritas while Calvin seduces Ricky into pounding his hot, ass bareback in the sleeper cabin. Fully aware of Ricky's foot fetish, Calvin offers up his size 13 feet for some licking and toe sucking which makes Ricky's cock rock hard. Calvin goes down on Ricky then surrenders his hot hole. Finding every way possible to drill his huge cock into Calvin's eager hole in the confined space, Ricky bangs Calvin raw until they're both glistening with sweat. Ricky sprays a hefty load onto Calvin's back before fucking the jizz back in is butt, until Calvin can't hold back any longer and unleashes a cum bath from his massive dick all over Ricky's face. Driving a big rig might be scary as fuck, but taking Ricky's big cock and hot load… not a problem at all for Calvin! Day 1 is complete and somehow everyone is still alive, wondering what will be the challenge for day 2?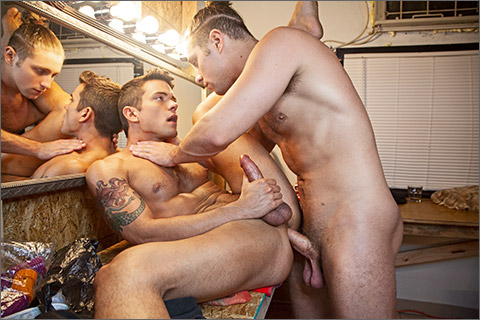 THE GAY SIMPLE LIFE: TULSA DRAG BAR CHALLENGE – Calvin Banks fucks Dakota Payne
Thinking they have the day off, Josh Moore & Calvin Banks are snuggled on the couch in their PJ's enjoying a lazy afternoon – but there is no rest for these city boys in 'The Gay Simple Life.' Dakota Payne shows up with an ad for a meet and greet that night at LaRue's, the local gay Bar. Dakota leads them to the living room where they're met by a display of wigs, costumes, makeup and Tulsa's local Diva, Fanny McCraken, aka David, who announces the Tulsa Drag Bar Challenge! Yep, the boys will be doing DRAG for the first time their lives. In Tulsa. Oklahoma. Josh is shook, describing it as his "biggest fear ever!" but the crew wastes no time beginning the transformation of these hot, masculine porn stars into beautiful queens. Fanny jumps in to give them a crash course, as seasoned drag queens and professional make-up artists Dakota Payne and NakedSword cameraman Leo Forte transform our superstars. Five hours later, the boys are painted to perfection, ready to face their biggest challenge of all! Calvin Banks aka "Paris Perfect" and Josh Moore "Nicole Bitchy" sashay into LaRue's where the owner Dominique, Fanny, and the local girls are more than excited to welcome these virgin queens into the night's lineup. After a few shots of liquid courage, it's showtime! Paris & Nicole (Calvin & Josh) blow the crowd away with their drag debut performance and bask in the glow of a standing ovation! With good times and shots flowing, Calvin and Dakota sneak back to the dressing room for a little 'meat' and greet of their own. With Calvin out of drag and hot as ever, Dakota wastes no time diving into his big untucked cock. Dakota slurps down Calvin's dick, then bends over the dressing room table to have his ass eaten, fingered and teased with the head of Calvin's big dick. With Dakota's ass primed and eager, Calvin slams his monster all the way in to his big low-hanging balls. For maximum bareback drilling, Dakota sits up on the makeup table and lifts his leg in the air to let Calvin get even further inside his hot ass. Calvin's hitting all of Dakota's spots, causing him to erupt a geyser of cum and setting off a chain reaction with Calvin almost immediately pulling out and painting Dakota's balls and hole with a huge load. Calvin thinks a hot quickie in the dressing room following the best night ever is the icing on the cake for this fabulous Tulsa adventure just as Josh barges in with the Chihuahuas in hand. "Omfg Calvin, our flight is in 2 hours… let's go!" As the superstars emerge out of the now-empty bar, the sun has come up, and their adventure has come to an end.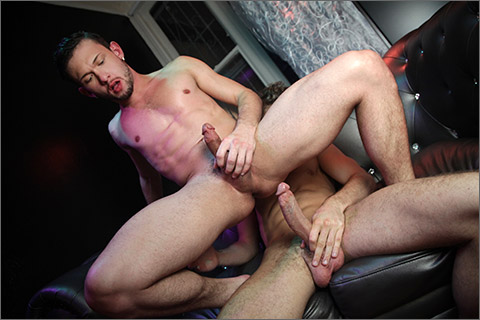 THE TEN SPOT: Calvin Banks fucks Micky Jr
Brandon Wilde meets Falcon Exclusive Woody Fox and they head up to Woody's place. Just as Woody starts to tell Brandon about The Ten Spot their conversation is interrupted by a buzz at the door. Calvin Banks and Micky Jr are looking for place to fuck. As Calvin and Micky get started Woody moves some photos hanging on the wall to reveal two strategically placed peepholes and the show begins. Calvin and Micky make out and within seconds Micky has Calvin's giant cock in his mouth. Woody flips Micky Jr over to eat his ass before shoving his rock hard dick deep in his hole. Calvin pounds the hell out of Micky (including a reverse pushup powerfuck move like you've never seen before!). Micky jumps up on Calvin's dick and pumps a load out of his own cock then gets down and sucks Calvin's off until he shoots all over Micky's face.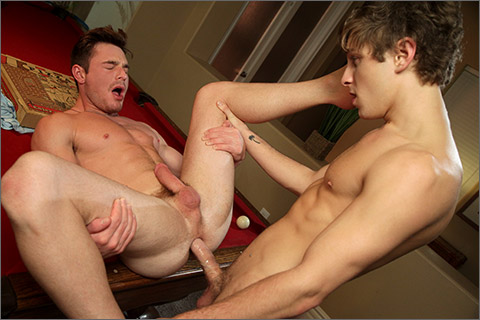 ULTRA FAN: Brent Corrigan & Calvin Banks flip-fuck
After years of being stuck in a webcam rut, adult mega-star Brent Corrigan has promised something completely different to his fans, his beloved 'LoverBees.' Little does he know that a twisted Ultra Fan has incriminating evidence and will use it to hijack his live show. A series of orchestrated events go from mild to wild to downright dangerous, all in an attempt to bring Brent back into the business. Who is behind this master plan and how far will they go? The real question is how far will Brent go to save someone he loves? Find out in Ultra Fan!
CLICK HERE TO GO TO HIS COCKYBOYS DETAILS
CLICK HERE TO GO TO HIS HELIX STUDIOS DETAILS
CLICK HERE TO GO TO HIS NAKEDSWORD DETAILS
VIDEO ON-DEMAND: Calvin Banks @ AEBN SMUTJUNKIES THEATER
DVDs & ON-DEMAND: Calvin Banks @ TLA VIDEO
Hot or Not? Let us know.
[Total:

121

Average:

3.7

]