Ripped Uncut Canadian Gay Porn Star, Caleb King
Years Active: 2015 – 2017
TWITTER @CalebKingXXX
COCKYBOYS INFO:
Caleb King might seem like a straight-laced nice guy when you first meet him, but when he's horny and takes his clothes off, he turns into a raunchy sex beast. For starters, he's got an amazing body with both of his nipples pierced. And then there's his enormous uncut cock that demands attention… and he knows how to use it! He's proudly queer and sexually versatile, so you'll see him both giving and taking it like a pro. The best thing about his fucking skills is how vocal he is whenever he gives or takes it. When he's turned on, he has no problem making it known!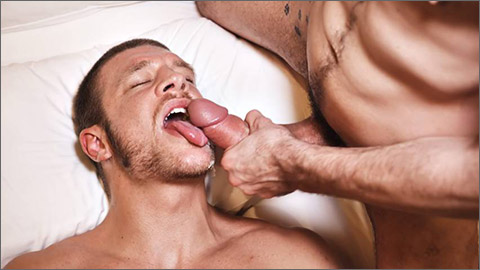 KOLDO GORAN BAREBACKS CALEB KING
Our Canadian golden beast Caleb King meets the Spanish bareback fucker by excellence Koldo Goran. Two Timtales Exclusives in this scene of deep raw hole breeding. "Fuck me!" says Caleb repeatedly while Koldo gladly answers the call with his patented raw strokes. That massive thick cock definitely impressed Caleb inside and out!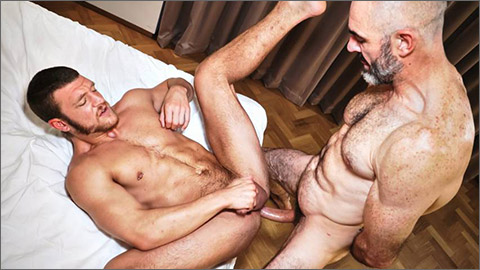 JAY RED BAREFUCKS CALEB KING
Timtales Exclusive Canadian Caleb King gets barebacked by a hot British muscle daddy, Jay Red. We met this sexy beef daddy back in London Town. Mature, hairy, muscular with a big British uncut cock and ready to pound a young smooth hole.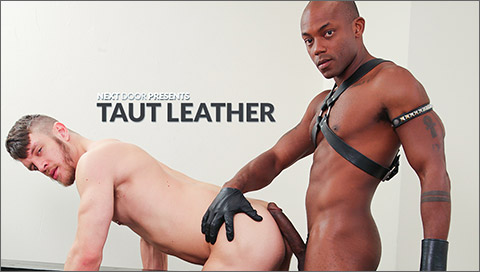 TAUT LEATHER
Here's a wicked tale of sex, leather, and explosive passion. Caleb King has given himself to be toyed with at the mercy of Osiris Blade, dungeon master.
   Caleb loves to be harshly treated, bound by restrictive clothing, and of course, fucked in the ass very, very hard. These are all things at which Osiris Blade is quite adept. Caleb knows Blade's reputation and is prepared for a good, solid pounding.
   They start by kidding hard and with intensity. Soon Caleb is sucking Osiris's stiff cock, hoping to please the dungeon master. Although the erection is massive, Caleb knows he must do everything in his power to give Osiris pleasure. He takes the enormous dick good and deep down his throat.
   Osiris is indeed pleased by this and so he reciprocates, slurping on Caleb's large member. Caleb likes this very much. Next, Osiris is unzipping Caleb's pants to expose his tight asshole. He licks and flicks his tongue around the eager hole, teasing it.
   It's not long before Osiris is sliding his fat, pulsating cock into Caleb's tender ass. Join this sadistic pair as they don't hold anything back, fucking hard in this gritty, dungeon dick-down.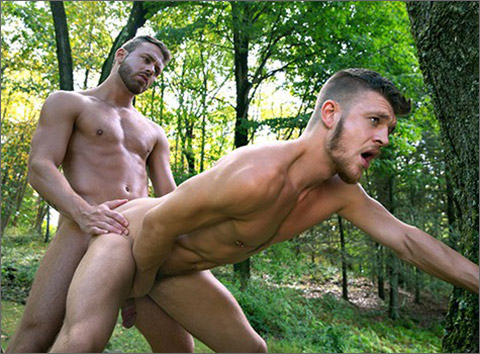 CALEB KING & LOGAN MOORE FLIP-FUCK!
Sexual chemistry is a wonderful thing, and when it comes to Caleb King and Logan Moore, the chemistry doesn't get much hotter. They're both tall, muscular, a bit scruffy with a few tattoos and piercings, and sexually versatile (both leaning toward top). So you know you're going to get some good old fashioned rough fucking with these guys — in a natural outdoor setting no less — and the only thing you're left wondering is which one will reign as the dominant top?
   Caleb was pretty confident about the brutal ass pounding he was going to serve Logan. He's done that to many CockyBoys in the past after all… but as soon as he locked lips with Logan, he suddenly fell to his knees and swiftly took all of Logan's cock in his mouth. The only time he paused was to look up into Logan's eyes and tell him what a beautiful cock he has. Logan then bowed down and gave Caleb an equally impressive blowjob, but it was clear that Caleb may have had a slight change of heart in terms of topping. Moments later, Caleb's ass was in the air ready for Logan to rim and prime him for the hot fucking he really wanted. If one thing's for sure, Caleb loves to be in control — even when he bottoms.
   With Logan backed against a tree, Caleb positioned his ass comfortably around Logan's thick dick and began pumping. But this only made Logan more aggressive — he soon gripped Caleb's meaty butt and showed him who was really in charge. Caleb then told Logan to sit on a rock so he could ride him, but just as he was getting close, Caleb flipped the switch and rather abruptly told Logan, "I'm gonna fuck you now." It was like Caleb had the whole thing planned out — within a matter of minutes, he had Logan bobbing up and down on his cock, then sprawled against the same tree getting rimmed, then getting railed like a jackhammer. In what must have been a dizzy blur for him, Logan quickly shot his load with Caleb still thrusting away. Caleb then flipped Logan around so he could blow a huge cumshot on his pecs! Two hot guys, a beautiful setting, and one hot twist of an ending for sure!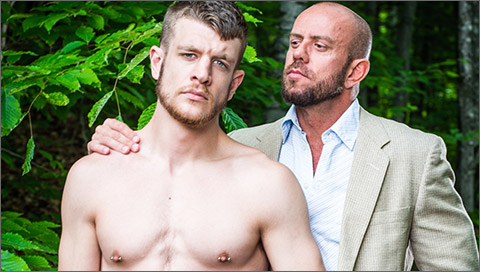 THE STEPFATHER 2: Matt Stevens fucks the step-son Caleb King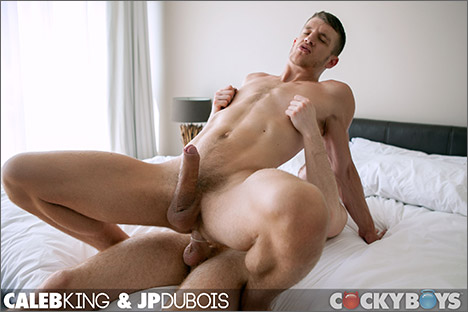 CALEB KING & JP DUBOIS FLIP-FUCK
If you enjoy intense animalistic sex then this is the scene for you! Right from the start these boys cannot keep their hands off of each other. They both have sensitive nipples, big cocks, and a hungry sexual appetite that makes this scene extra special.
   JP has a juicy bubble butt that Caleb wastes no time in devouring to get it ready for a hard pounding. Itís hot to watch JP feeding Caleb his ass and Caleb giving him everything that he wants. They switch off and prove they can be great in both roles.
   Watch how Caleb, while riding JPís ìthick piece,î involuntarily cums at first because of how perfectly JP is hitting his prostate. JP and Caleb have such explosive chemistry that you may want to plug in your headphones just in case.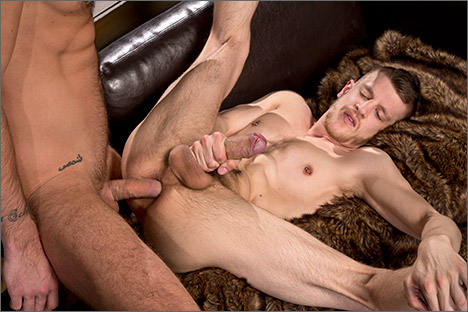 FUCK YEAH! – Theo Ford fucks Caleb King
Tall, dark and handsome Theo Ford explores Caleb King's milky flesh. As their cocks throb against each other passionately, Theo's dick gets thicker and harder with every stroke. It's not long before the back of Caleb's throat is being punished by Theo's meaty tool. Caleb wants Theo's cock in every way, so he plays with Theo's foreskin until Theo asks if he can have Caleb's ass. Starting out with a thumb in Caleb's ass, Theo lubes Caleb's hole up with some spit and shoves his fingers in. Theo drives his cock in, and all Caleb can think is "Fuck Yeah!" as his low-hangers sway back and forth. Caleb is overcome with ecstasy, loudly exclaiming his satisfaction. Theo flips Caleb onto his back and puts all of his weight behind his long fulfilling strokes. Unable to edge any longer, Theo pulls out and coats Caleb's abs, which spurs Caleb to release a thick load across his thighs.
TIM TALES
COCKYBOYS
TITAN MEDIA
RAGING STALLION
ICONMALE
CLICK HERE TO GO TO HIS COCKYBOYS DETAILS
CALEB KING & JP DUBOIS FLIP-FUCK
COLTON GREY & CALEB KING FLIP-FUCK
CALEB KING FUCKS MICKEY TAYLOR
SONNY STEWART FUCKS CALEB KING!
CALEB KING FUCKS BRANDON JONES!