Smooth Ripped Muscle American Gay Porn Star, Cade Maddox
Known Aliases / aka:
Years Active: 2017 – 2022
COCKYBOYS INFO:
A tall & handsome Southern gentleman with a near-perfect sculpted physique Cade Maddox is a lot more playful than his serious look intimates. You can see this in his eyes and charming smile and spontaneity. A man who enjoys physical contact Cade can be passionate & romantic as well as aggressive & rough depending on who he's with. Above all else keep this in mind, in his own words, "I am the exception to every rule."
CADE MADDOX LIFECAST DILDO
MADE WITH THE HIGHEST QUALITY,
PLATINUM CURED SILICONE.
Known as one of gay porn's hottest tops, Cade Maddox's best features go beyond just a perfect jawline and ripped muscular build – his incredibly long and girthy cock is guaranteed to get you off. Made with the highest quality, platinum cured silicone, this Fleshjack Boy's dick can now be yours!
TAKE YOUR FANTASIES TO NEW HEIGHTS
WITH THIS REPLICA OF CADE'S GORGEOUS COCK.
Specifications:
Length from base to tip: 9", including balls.
Insertable length: 7.25" excluding balls.
Circumference at base of shaft: 6.75."
CLICK HERE FOR MORE INFORMATION

ENDURING DADDY'S DISCIPLINE: Cade Maddox Dominates Little-Bro Dakota Payne
It's an unwritten rule that big bros are supposed to rough up their little bros so they grow up to be strong men, but Cade Maddox takes is further. And who wouldn't want him to? Cade is a gorgeous young man with an incredible body and a huge, fully engorged cock. When Cade Maddox gets Dakota Payne alone in the bedroom, Dakota quickly learns who is in charge. Cade brutalizes Dakota's ass by fucking him raw, and goes further by sodomizing him with a huge dildo.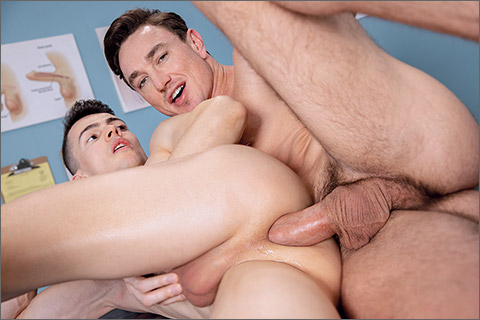 DIRTY INTERN: Cade Maddox fucks Eric Rey
After Cade Maddox shows up to the doctor's office for his appointment, he gets restless waiting and sneaks off to one of the exam rooms. Surprisingly, Cade walks in on Eric Rey, who mistakenly thinks Cade is the doctor. Deciding to take advantage of the situation, Cade grabs a lab coat and starts to examine Eric. While examining Eric's ass, Cade sneaks a finger in Eric's hole, which is quickly replaced with Cade's tongue. After loosening Eric up with a deep tongue drilling, Eric turns around on the table to get the fake doctor rock-hard with his mouth. Now that "doctor" Cade is throbbing, Eric bends over and feels the instant stretching from Cade's inches in his ass bareback. Switching on his back, Eric holds his legs up while Cade pounds his smooth ass hard. When Eric wants control, he climbs on top of Cade and rides his cock hard and raw until Cade shoots a thick load all over his ass. Eric sits back on Cade's spent cock one last time and rides it until he shoots his own load that covers Cade's abs.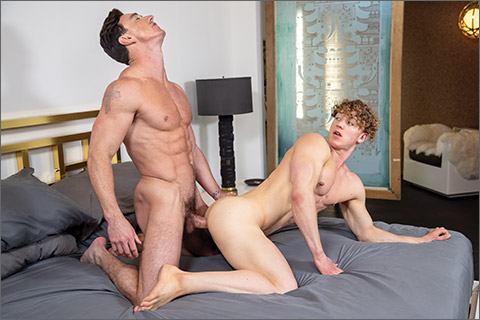 CAPITOL AFFAIRS: Cade Maddox fucks Felix Fox
After the inauguration, Cade Maddox is waiting for Felix Fox to finish his shower to tell him the good news. After hearing he gets to stay with Cade as long as he likes, Felix climbs on the bed and Cade rips off his towel. After some passionate petting, Felix heads south to wrap his lips around Cade's thick cock. When Cade wants a taste, Felix bends over to present his smooth, pink hole for Cade to tongue-fuck. During his tongue bath, Felix starts begging for Cade's pole inside his ass, so Cade gives his man what he wants and sticks him deep and deep. Felix lays down and takes the brunt of Cade's force inside of him, somehow still begging for more. When Cade flips the stud over, Felix's moans get louder and more intense as Cade continues to drill Felix's prostate bareback. Felix takes control and climbs on top, but Cade's cock proves to be too euphoric is his ass, so Felix erupts with a thick load all over the bed while Cade slathers Felix's ass with his cum.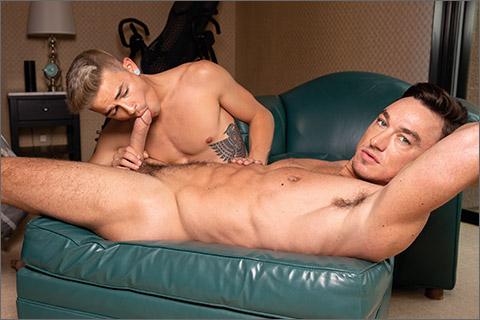 TOWEL BOY: Cade Maddox fucks Andy Taylor
Andy Taylor is helping Cade Maddox work out some kinks in his defined, muscled back with some deep massage. When it's time to work on his front side, Cade flips over to reveal his rock-hard cock swinging in Andy's face. Without hesitating, Andy smiles and wraps his lips around Cade's girthy pole, working it down to the base. Cade gives Andy's throat a break and bends the smooth twunk over to massage his hairless hole with his tongue. When Andy takes a few fingers with ease, Cade knows it's time Andy's ass can take what he has to deliver. With only spit for lube, Cade glides his thick pole deep into Andy bareback and doggy style. Andy takes a deep, prostate drilling from Cade's hefty meat before ending up on his back, getting his load fucked out of him. With Andy covered in jizz, Cade shoots his cum all over Andy's spent ass and slides his huge cock back in again.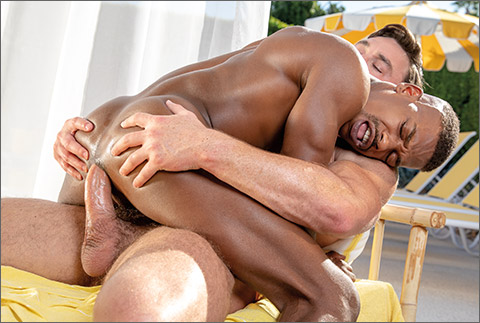 BORN TO PORN: Cade Maddox fucks Adrian Hart
Cade Maddox is sitting poolside while getting his girthy cock sucked by Adrian Hart. While the cameras roll, Adrian works Cade's massive dick with his mouth, savoring every last inch. After getting his taste of cock, Adrian gets bent over and rimmed deep by Cade's hungry tongue. CUT! Switching positions, they move from the pool and Cade inserts his fat cock deep into Adrian's ass. Adrian gets pumped bareback full of Cade's award-winning cock. Cade paints Adrian's hole with his milk and rams his cock back in until his massive dick hits Adrian's prostate just right, and Adrian blows a load all over his rock-hard abs.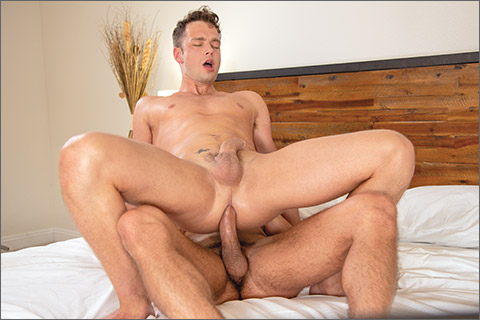 CASUAL CONNECTIONS: Cade Maddox fucks Damon Heart
While Cade Maddox is naked and shaving his face, Damon Heart comes in and starts to caress Cade's chiseled physique. Damon quickly works his tongue down Cade's body until he's on his knees. Turning Cade around, Damon's lined up to meet Cade's massive dick. Without hesitating, Damon opens wide and engulfs Cade's swollen member down his throat – all the way down to the base. After Damon has had his fill of cock in his mouth, he leads Cade to the bed and bends over to give Cade total access to his raw hole. Cade dives right in and works his tongue in and around Damon's eager hole, getting it prepped for what's to come. Damon is eager for more, so Cade stands up and drills the hunks hungry hole with his bare, stiff dick. Damon reaches back to lock lips with Cade before Cade pushes his head down and drills his meat in deeper. Damon wants to see just how deep Cade's cock will go and gets on top of the ripped hunk to ride his cock bareback. He keeps a steady stroke on his own meat while riding Cade's thick pole. Proving he wants it all, Damon gets on his back with his legs in the air to give Cade full control to pound his prostate. As Cade stretches his hole out to the max, Damon lets out a powerful shot of thick ropes that land all over his abs. The sight of Damon wearing his own load sends Cade over the edge and he dumps his cum onto Damon's spent hole before shoving it back in.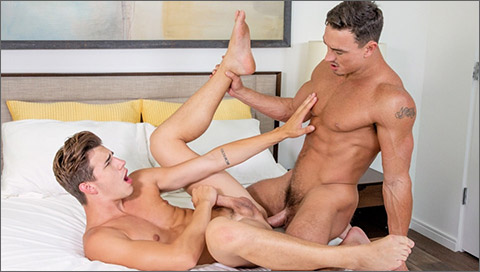 AFTERNOON AFFAIRS: Cade Maddox fucks Küper
When Cade Maddox comes down the stairs and notices his sexy pool boy, Küper, cleaning up, he steps outside and gets in a lounge chair. Turned on by Küper, Cade starts rubbing his cock that's already bulging thru his speedo. When Küper notices the throbbing meat, Cade signals him inside to the couch. Without hesitation, Küper heads straight for Cade's thick cock with his lips. Cade feeds the willing pool boy his meat, making Küper gag on his thick pole. To show his appreciation, Cade puts the Küper's cock in his mouth while continuing to stroke his dick. Küper gets on all fours on the couch to give Cade total access to his hairless hole. Cade spreads Küper's cheeks and gets to work with his fingers and tongue, opening up the pool boy's ass. When Cade has Küper's hole nice and prepped for what's to come, he picks the stud up and carries him to the bedroom. Once on the bed, Cade takes a few more licks on Küper's hole before sliding his bare cock into the willing stud. On his back with his legs in the air, Küper grabs ahold of his cock and strokes it while Cade works the hole over with his cock. Switching positions, Küper rolls over and takes Cade's meat doggy-style. Cade continues the bareback pounding of the horny stud until Küper gets on top and rides Cade's cock. After Küper's ride, Cade throws Küper back on his backside and thrusts his full weight on top of Küper. While Cade is stretching out his hole, Küper lays back and works his load out of throbbing cock onto his abs. Seeing Küper bust his nut makes Cade let loose and shoot a thick load on Küper's ass. After swirling the load around with his cock, Cade slides back into Küper one last time.

DIRTY DOCTOR: Cade Maddox fucks Zario Travezz
Construction worker Cade Maddox takes his injured co-worker, Zario Travezz, over to the clinic to get some help. Once they're all checked in, Cade and Zario can hear loud moans from inside one of the patient's room. While sitting in the waiting room, Zario and Cade decide to have some fun of their own. Zario pulls out Cade's thick cock from his pants and sinks to his knees to wrap his lips around the veiny pole. Zario works his lips up and down Cade's shaft before standing up and letting Cade return the favor with a sopping-wet hummer. After deepthroating Zario's cock, Cade bends his buddy over a desk and opens up his hairy hole with his probing tongue. With Zario's hole slick with spit, Cade keeps him bent over and slides his massive cock deep into Zario's crack. Zario bears down and braces himself on the desk to take all of Cade's big raw dick opening him up. They move back to the seating area where Zario hops on top and rides Cade's dick bareback to deeper depths. When Cade wants control over his co-worker again, he lays him back on the desk to continue pounding his tight ass until Zario shoots his pent-up load all over his gleaming abs. After Zario busts his nut, Cade keeps pounding until he can't hold back any longer and he paints Zario's hole with his fresh load. Making sure it doesn't go to waste, Cade scoops it up with the tip of his cock and slides it back into Zario's hole. Just as they finish, they get busted by the RN!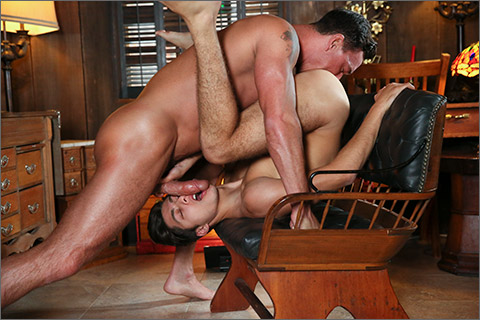 A MURDERED HEART: Cade Maddox fucks Angel Rivera
The pastor's assistant is frantically looking for Charlie (Colton Reece) and Phillip (Ty Mitchell) – he realizes they have escaped, and he starts blowing his whistle. The pastor rushes out to the field. Joseph (Angel Rivera) assures everyone that they haven't gone missing. They've gone home. The pastor grabs Joseph by his shirt collar and throws him to the ground. He demands his assistant (Cade Maddox) to put Joseph in isolation. Cade tosses Joseph into the cold room and starts to discipline him. After a barrage of accusation from Cade, Joseph leans forward and kisses him. Cade pushes Joseph back, and he hits the wall hard. "Keep pushing it away. You can run forever but, in the end, there you will be. At least I'm brave enough to stand up and admit it. If God makes no mistakes, then stop trying to correct him." The assistant lunges forward and kisses Joseph. In no time, Cade has Joseph upside down and eats his ass. That's all it takes for Joseph to hop on top of Cade and ride his fat cock down to the balls. After having his hole reamed, the two 69 in an old chair before Joseph gets bent over and plowed doggy style in it. After a deep hole drilling from Cade, Joseph kneels to take Cade's load all over his face. Disgusted with what he just did, Cade quickly gets dressed and rushes out to his car.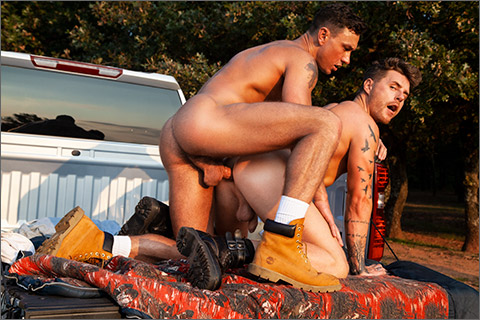 THE GAY SIMPLE LIFE: DAY 2 – GONE FISHIN' CHALLENGE – Cade Maddox fucks Josh Moore
It's time to rise and shine for Day 2 of 'The Gay Simple Life!' Josh Moore and Calvin Banks are coaxed out of bed up by muscular Cade Maddox and told to dress in their country finest but be ready to get dirty. Calvin and Josh decide today calls for a splash of pink and their mini Chihuahuas, Molly and Poop. The glitzy city boys appear on the front porch ready for the Fishing Challenge. Cade pulls up in a shiny silver king-cab truck and they head out, driving across the open Tulsa planes on the way to their next challenge location: Sparks America Campground. After stopping for bait, they follow Robert and his pack of mutts down to the fishin' hole. While Calvin explores his fashion opportunities, Josh and Cade cuddle up to the tub of worms and cast their lines. Josh excitedly catches a fish, but the excitement wears off, and Calvin takes off in a golf cart to hunt down a margarita. Finally left alone, Josh sits up on the back of the truck, feet dangling staring dreamily into Cade's eyes. Cade takes the bait and kisses Josh gently. The kisses quickly become steamier, more aggressive, clothes go flying off exposing ripped bodies, and Josh falls down on his knees to swallow Cade's massive cock. After Josh had has his mouth full of cock, he gets on all fours in the back of the pickup truck to get his ass eaten before Cade slides his humongous, raw dick into Josh's tight, hungry hole. Cade starts out gentle with Josh bent over the tailgate, but then flips him over on his back, and drills away until his cum juices fly. Cade pulls out lubes up with Josh's load and then unleashes a hefty spray on Josh's balls as the sun sets over the Oklahoma plains. Right as they finish, Calvin returns ready to leave, but Josh insists on taking a moment to kick-back on the tailgate, appreciate life and honor the sunset on a glorious day after dropping his load. Maybe the Gay Simple Life ain't that bad?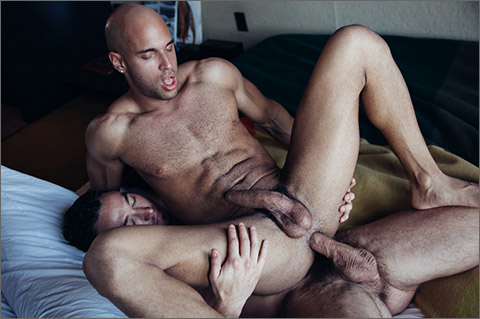 SEAN ZEVRAN BOTTOMS RAW FOR THE FIRST TIME WITH CADE MADDOX
Another first! Sean Zevran in his first condom-free scene with Cade Maddox in his first raw scene here at Cocky Boys! In his own words Sean sets the record straight on his total versatility before getting into his raw scene with sexual powerhouse Cade. This uninhibited duo get naked and make out in bed and go right into sucking each other's big cocks. Cade sensually sucks Sean who in turn goes all in, deep-sucking him and turning Cade's big cock into a huge thick monster.
   Cade excitedly gets Sean into a 69 so he can eat out his big muscular ass and this makes Sean sit up and ride Cade's face. They both want to go all the way and soon dirty-talking Cade had Sean on all fours showing him his hot ass. After a little finger-probing Cade gives Sean a test run of his raw cock, fucking him deep. As Sean lies down Cade pulls out to lovingly kiss his muscular body and hump his ass before resuming fucking his raised up bubble butt. And soon Sean is thrusting his hole on Cade's cock
   Sean continues with unleashed sexual energy when his sits on Cade's thrusting cock. Their uninhibited dynamic keeps going uninterrupted when they shift to a reverse cowboy and when Sean leans back against Cade's hard body. Cade finally gets Sean on his back to fuck his rippling muscle body with furniture rattling energy until he shoots a load of thick cum over himself. A happily spent Sean sits up to make out with Cade as he strokes his cock to a cum eruption over Sean's torso. As they kiss, total satisfaction is written on their lips.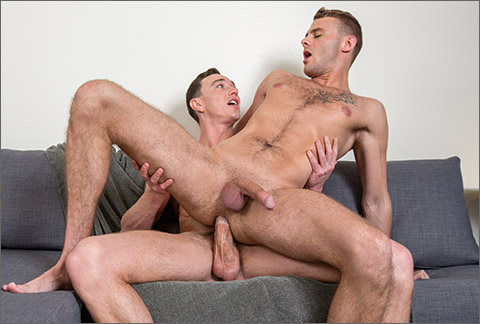 MAX IN THE CITY: Cade Maddox fucks Dave Slick
Dave Slick is a real estate agent showing Cade Maddox a new place in San Francisco that Cade can't really afford. In hopes of getting the price down, Cade offers his services and reaches into Dave's pants to discover an extra-large and throbbing dick just waiting to get serviced. Cade gets down between Dave's legs and takes him into his mouth. He works the giant pole down to the base and takes it all the way down his throat. With a backdrop of the Bay behind them, the two studs get naked and Dave catches a glimpse of what Cade has to offer. He can't help himself and takes Cade's big monster in his mouth. It barely fits down Dave's throat but he has an idea of where it will be a better fit. He lubes Cade's thick dick up and takes a seat, riding it as deep as it can possibly go. Cade pounds away from behind as Dave jacks his own big rod until Cade wants a better view of his hunky real estate agent. Cade flips the stud onto his back and continues his relentless pounding until Dave shoots a giant load that flies out onto his chest and runs down his side. Cade can't hold off any longer and pulls out to blast Dave's face and add to the pool of cum that's covering Dave's body. Hopefully that will get Cade the deal to afford the second best view in the Bay next to Dave's tight ass.
CLICK HERE TO GO TO HIS COCKYBOYS DETAILS
CLICK HERE TO GO TO HIS FALCON STUDIOS DETAILS
VIDEO ON-DEMAND: Cade Maddox @ AEBN SMUTJUNKIES THEATER
NOW STREAMING: Cade Maddox @ NAKEDSWORD