Handsome American Gay Porn Star, Brenner Bolton / Dalton Pierce
Known Aliases: Dalton Pierce (Men.com), Brenner (ChaosMen)
Years Active: 2014 – 2016
TWITTER @Brenner_BoltonX
ChaosMen Debut: August 25, 2014
Age: 25
Height: 6′
Weight: 185 lbs
Cock: 6″ Uncut
ChaosMen INFO:
Brenner wrote to me about doing video work. He indicated he was mostly straight in his first email, but had really been getting into guys lately. Suuuure!
   After talking to him a bit, it became pretty clear he was going to be into guys, though he does seem a bit omnivorous when talking about sex. He tends to like all kinds of sex. Guys, girls and everyone in between! He watched straight porn for his solo.
   As he indicates at the start of the video, he is all about dudes right now. He loves to rim and deep throat a huge cock, and swallowing a load, even if it is his own, is a taste treat. If you like watching guys eat their own cum, make sure you stay for the aftermath, because it is finger licking good!
   He is very sexual, and though the gets a bit nervous when his cock doesn't spring to life right away, he gets his groove on once he is up and running. Brenner is making all kinds of noise, jerking his uncut cock, writhing around while playing with his ass hole! Every time his fingers stray down to his butt hole, his cock would get extra firm. All signs point to a major bottom boy!
   He mentioned SEVERAL times that he is fascinated with extra big cocks, so I have Troi set to play with him next week. Somehow, I don't think it will be Troi doing the Servicing. It's more likely Brenner will be Edging Troi!
   Brenner's hole sure seems like it needs filling!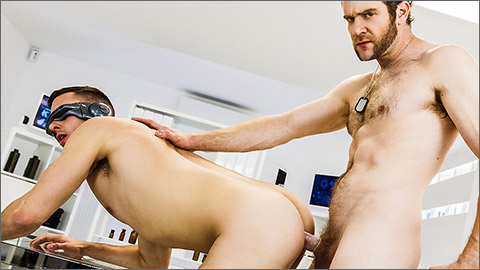 PART 1: Brenner Bolton, Colby Keller
Wolverine and Cyclops relieve some of the stress that comes with saving the world in Part 1 of X-Men: A Gay XXX Parody. Wolverine fits his huge pulsing cock inside of Cyclops and fucks him with all his might before pulling out and bursting his superhuman semen all over his comrade's face.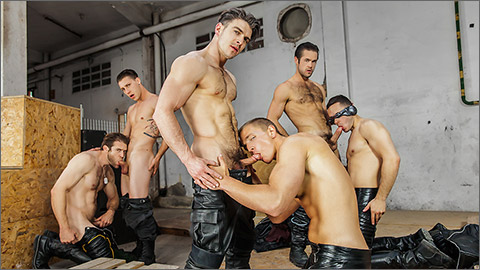 PART 4: Brenner Bolton, Colby Keller, Landon Mycles, Mike De Marko, Paddy O'Brian, Paul Canon
Cum will be spilt in Part 4, as the battle between the X-Men reaches a fever pitch. There will be more than one climax in this conclusion, as these six superheroes work out their differences with a mouth-watering jizz orgy that penetrates deep into their powerful orifices. The boys take turns sucking and fucking each other. Magneto rides Wolverine's cock as the rest of the X-Men jerk themselves off to completion into his open inviting hands.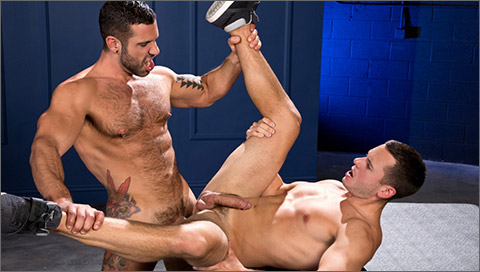 TEMPTATION: Letterio Amadeo fucks Brenner Bolton
Letterio face-fucks him with and thrusting rhythm, as spit drips down onto his thick cock for lube. Spearing Brenner's ass with two fingers of each hand, Letterio spreads and stretches the walls of Brenner's hole until his tongue can slip in easily. Letterio's tongue paves the way to loosen up Brenner's ass to get it ready for Letterio's massive uncut cock to slide in. Groans of pleasure echo through the room as fireworks of cum burst from Brenner's cock. As sweet as Brenner's hole is, Letterio saves his load for Brenner's mouth.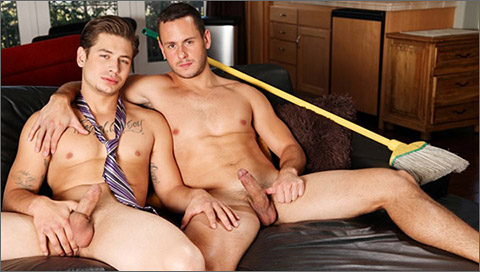 THE SALESMAN
Julian if he doesn't figure something out soon. Luckily for him, there is a sucker born every minute, and Julian has just found his personal sucker. Brenner Bolton has been at home slaving away doing some household cleaning, and developing all the aches and pains that go along with that sort of work, so when Julian knocks on his door unsuspectingly offering his relaxation services, Brenner's eager anticipation is palpable. Laying out on the sofa with his ass covered only in a towel, Brenner closes his eyes as Julian rubs his aching back and sore shoulders, and Brenner is viusally aroused. Showing a little chub, Brenner finds himself ready to serve his suitor, and so he helps Julian out of his clothes and begins gagging on Julian's cock. Julian shoves Brenner's head deeper onto his shaft, choking Brenner as the tip of his head tickles Brenner's throat. Then Julian, snapping back into form, reminds Brenner that he's here to help him relax, so Brenner lays back as Julian shows him some advanced relaxation techniques. Brenner is feeling nice and comfortable now, and ready to go all the way, so he mounts Julian's stake and rides him like a horse until he's ready to spit his pent up load, reclining afterwards with all stresses melted away, as Julian begins the paperwork for Brenner's continued patronage.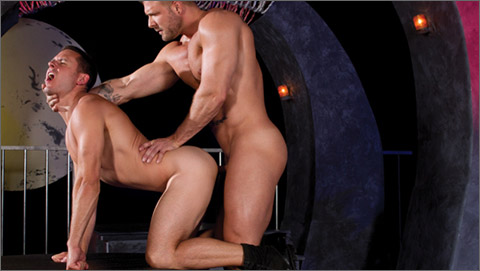 MAGNITUDE: Austin Wolf fucks Brenner Bolton
Austin Wolf has a three-day beard and a deep chest sprinkled with hair. Brenner Bolton is smooth and toned. His face gets buried between Austin's strong pecs. Brenner licks Austin's nipples, then tours his armpits with his tongue. Austin squeezes Brenner's ass, stretching his hole and teasing it with his fingers. Continuing his tongue bath of Austin, Brenner ends at his cock, which he swallows deeply Austin adds his spit as more lube for the blow job until Austin's balls won't let him go any further. Stroking his wet cock, Austin pushes his face into the cleft between Brenner's ass cheeks, drilling him with his tongue and fingers. Brenner's ass is heated up, and he heats up Austin's in return when like an afternoon in the desert. Austin plants his hole on Brenner's face. Showing off his sexual prowess, Austin takes Brenner through a two-position fuck that culminates in high arcs of cum erupting from Brenner's cock. Austin scoops it up and feeds it to him, aiming his own load at Brenner's mouth. Exhausted and relieved, they share a cum-filled kiss.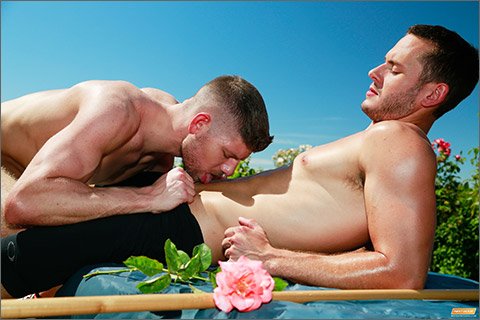 GARDENER'S PRICK
As groundskeeper, Brenner Bolton has some talented hands. Raking and trimming on a hot summer day, Brenner loses his shirt as a secret admirer watches from the house. Making his way out to the garden, Connor keeps his eyes locked on an unsuspecting Brenner, until Brenner makes him lurking in the bushes. Brenner is startled and accidentally pricks his finger on a thorn. As his finger stings, Connor springs into action, soothing Brenner's wound and sucking his finger clean. With one look, Brenner and Connor are on the ground making out, then moving over to a patio table, Connor strips Brenner of his clothes and begins to work on another prick, this one slightly larger and ready to shoot. Connor gags on Brenner's cock before turning him over and eating him out, moistening Brenner up for Connor to slide in from behind. Doing so, Brenner clutches the side of the table as Connor begins to pound from behind, before they switch, and Brenner mounts Connor, riding him reverse as he strokes his own cock, cumming all over Connor before Connor returns the favor, shooting his load and wondering why he doesn't do this with the help more often.
NEXT DOOR WORLD
CHAOS MEN
MEN.COM
DALLAS REEVES
FALCON STUDIOS / FALCON EDGE
RAGING STALLION
RANDY BLUE LIVE CHAT & PRIVATE SHOWS
GARDENER'S PRICK
SPRING FEVER – PART 3
SPRING FEVER – PART 4
THICK DICK LATINO
ORGY BOOTS AND LOTS OF BAREBACK
DALTON PIERCE FUCKS DONNY FORZA AND JOHNNY FORZA
JOHNNY FORZA & DALTON PIERCE BAREBACK AFTER MASSAGE