Randy Blue American Gay Porn Star, Brendan Phillips
Years Active: 2015 – 2017
TWITTER @bphillipsxxx
RANDY BLUE INFO:
Brendan has the biggest smile you have ever seen. He reminds me of a Mormon boy coming to your door to tell you about Jesus. However, instead of Jesus, he actually wants you to take your big cock and shove it inside his hungry hole. Brendan is a personal trainer. And he has the body to prove it. His abs and pecs are utter perfection. And his ass must be from another world. Because it is unreal. He loves to get fucked, and this gay guy loves to be dominated. He is so fucking cute, that you will not know whether to cuddle him or fuck him senseless. So just do both.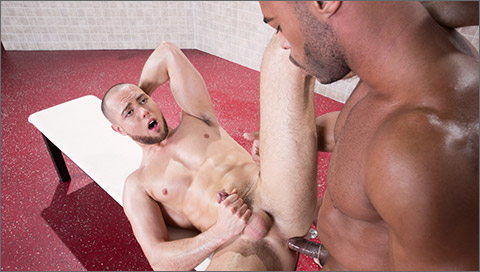 DEPTHS OF FOCUS: Micah Brandt fucks Brendan Phillips
Brendan Phillips hits the communal bathhouse showers to get cleaned up. Micah Brandt is already there, stroking himself under the water. Turning around, Brendan shows Micah a flash of his tight, pink asshole. With a devilish grin, Micah pulls Brendan close for a deep, passionate kiss. Getting down on his knees, Brendan gets a throat full of Micah's hard, thick cock. Bending over a bench, Brendan shows off his tasty ass to Micah, who dives in tongue first for a spit-fueled rim job. Putting his legs in the air, Brendan strokes his cock as Micah eats his ass, depositing plenty of thick spit. Sliding his cock into Brendan's ass, Micah delivers a pounding fuck that stretches Brendan's hole. Doggy style gives Micah even more power to his intense thrusting. With Brendan's tight ass on his cock, Micah goes over the edge and shoots a huge load onto Brendan's ass cheeks. Micah uses his cock to smear his load around on Brendan's ass, then kneels down to get a taste of Brendan's load. Micah's finger in his ass, Brendan lets loose with his hot, white load, which Micah laps up eagerly. Running his tongue along Brendan's body, Micah works his way upwards until their lips meet and they taste Brendan's cum together.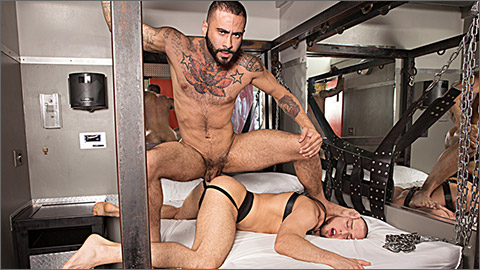 THE STEAM ROOM: Rikk York fucks Brendan Phillips
Rikk York and Brendan Phillips bring us back the kink we were all missing in our lives. Rikk takes charge and uses Brendan like the plaything he is, shoving his massive cock all the way to the back of Brendan's head, then flipping him around, and ramming it raw and hard inside Brendan's hot ass.

DEEP RELEASE (FVP-265): JJ Knight fucks Brendan Phillips
After relaxing in the hot tub, Brendan Phillips arrives to give JJ Knight a rejuvenating salt scrub. When he turns over, JJ's massive cock throbs. As Brendan runs his hands along JJ's body, he gets closer and closer to JJ's meat. When Brendan works out a particular's tight area on JJ's thigh, JJ's cock swells and jumps with excitement. When JJ stands up to rinse off in the shower, he unexpectedly pulls Brendan in with him, pressing his lips against Brendan's with passionate kissing. Stripping off Brendan's wet clothes, JJ presses his enormous cock into Brendan's hand. Dropping to his knees, Brendan gets a taste of JJ's cock stretching his mouth as wide as it can go to accommodate JJ's girth. Out of the shower, Brendan straddles the massage table and opens up his ass for JJ's tongue. When Brendan's hole is lubed and ready, JJ grabs some lube and slides his gigantic cock into Brendan's ass. The intense penetration has Brendan gasping in awe as JJ rams his meat deep down into Brendan's fuckhole. When JJ reclines on his back, Brendan climbs up and lowers himself down on JJ's cock, raising and lowering himself to go on a wild ride. Flipping on his back, Brendan jerks his cock while taking JJ's meat in missionary position. The power of JJ's pounding causes Brendan to shoot a gushing load that spills across his washboard abs. Pulling out, JJ strokes his cock until he blows his load in a series of enormous spurts that shoot across Brendan's torso.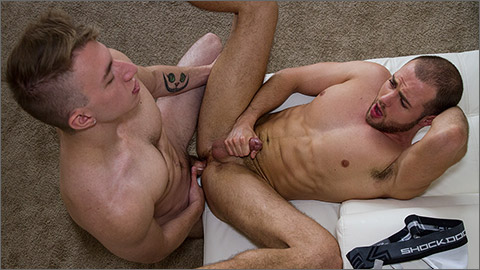 BRENDAN TAKES MILES' LOAD
If you were curious about Brendan's diet plan that keeps him in great shape, you're in luck because he talks about that here. If you were curious what Miles' cum looks like dripping off and in Brendan's hole, you're also in luck! Brendan loves taking cock, and Miles was happy to lube his up and slide it in his hole. You could play it on mute, and still feel the hunger for cock in Brendan's eyes. Other than taking a load all the way inside, there's nothing better than a guy blowing his load on your hole, and shoving it back in as it drips off your ass.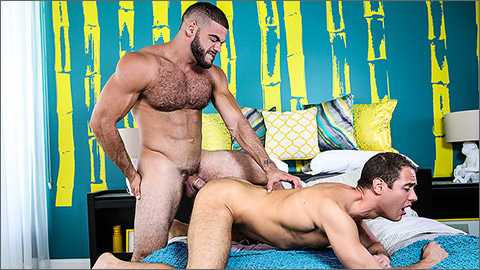 MIAMI BEAT – PART 1
Brendan Phillips has just arrived to Miami and he is determined to land the hottest guy on the beach. When he spots hairy hunk Ricky Larkin, he comes up with the perfect plan to draw his attention to his sweet ass.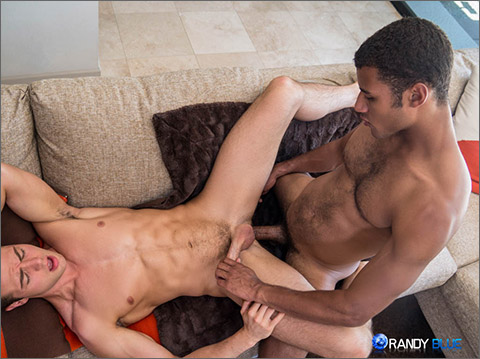 BRENDAN PHILLIPS AND DOMINIC SANTOS TAKE TURNS BAREBACKING THEIR HOT ASSES
Brendan Phillips loves sex. Anywhere, anytime, he is ready. And he knew about Dominic and his flexible abilities and huge cock. After rough housing in the pool, they decided to move the action inside. Brendan blows Dominic and he shows off his self sucking skills. Then Dominic sucks off Brendan and rims his ass. He then takes that huge black cock and slides it deep into Brendan. Dominic fucks this gay muscle hunk every which way until finally Brendan rides him while Dominic sucks him off. Brendan gives Dominic a facial which is then followed by Dominic cumming inside of Brendan. Hot stuff here. Be sure to check out the free gay porn trailer of the bareback action here at Randy Blue.
FALCON STUDIOS
GUYS IN SWEATPANTS
BROMO
MEN.COM
RANDY BLUE
HOT HOUSE
NAKEDSWORD
NEXT DOOR STUDIOS
CLICK HERE TO GO TO HIS RANDY BLUE DETAILS