Handsome American Daddy Gay Porn Star, Brendan Patrick
Years Active: 2014 – 2019
MEN.COM INFO:
Hair Color: Red
Sign: Sagittarius
Eye Color: Green
Dick Size: 7″ uncut
Height: 5′ 9″
Weight: 154
Sexual Positions: Versatile
ABOUT:
Favorite Foods: Japanese
Favorite Movie: Mullholland drive
Favorite City: Singapore
Hobbies: Reading, gym,movie buff
What I like The Most: Kindness
What I Don't Like: Big egos
Best Thing About Me: I'm easy to get along with
Worst Thing About Me: I'm distracted easily
How To Make Me Happy: Bring me cake
Favorite Quote: Here is the world; beautiful and terrible things will happen. Do not be afraid.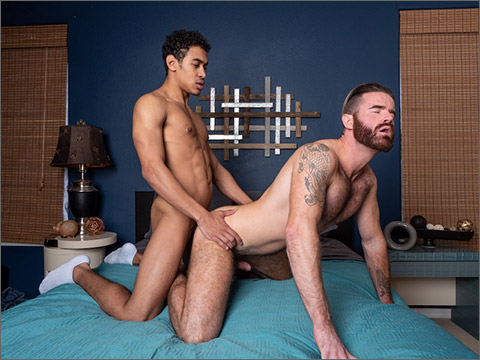 FUCKING DADDIES: Mateo Fernandez fucks Brendan Patrick
Brimming. To be full to the point of overflowing. As in, brimming with cock. Which is precisely what Brendan Patrick is about to do in this scene with Mateo Fernandez. The handsome, bearded bottom daddy gets a huge surprise when Mateo reveals his monster cock. And from the moment Brendan starts sucking the thick slab of fresh young meat, he's brimming. Mateo barely fits in his mouth! Mateo returns the favor but soon buries his face in Brendan's ass. Mateo rims the hairy, puckered entrance then pushes up against bearded daddy Brendan. Slowly but surely, Mateo stretches Brendan open and starts pumping. Mateo fucks tattooed Brendan bareback on all fours, like a dog, then flips him onto his back, stuffing Brendan full of monster meat. Eventually, Brendan straddles Mateo and goes for a ride, impaling himself on Mateo's engorged and enormous throbbing shaft until each of them spews big, messy loads. Now they're brimming with cum. Yum!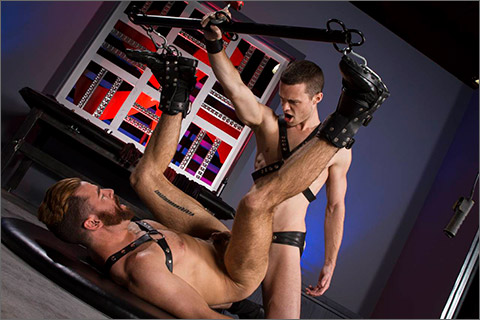 HANGIN' HARDCORE 1: Brendan Patrick & Brandon Moore
Bearded hunk Brendan Patrick kneels before his master Brandon Moore on a circular, spinning, padded fuck table. Brandon engulfs Brendan's entire head in a leather-studded zipper mask. After a quick rubdown, Brandon hoists Brendan up by the feet and suspends him upside down from the ceiling. He introduces a giant manrammer into Brendan's willing hole, fucking him steadily with the massive rubber dong. Continuing to service his sub, they ensue in an acrobatic 69 until Brandon lowers Brendan back down to the floor and plows his ready and willing hole with his huge cock. Brandon unhooks Brendan's feet from the suspension and drills into him doggie-style until he spews his load onto the floor.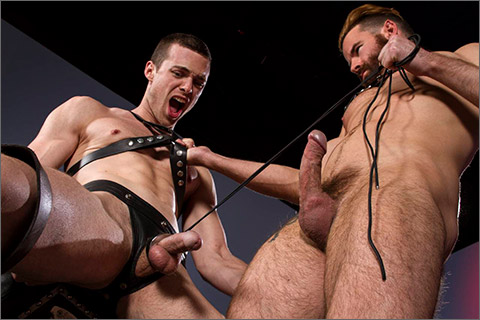 HANGIN' HARDCORE 2: Brendan Patrick & Brandon Moore
Bearded dom Brendan Patrick tugs on a line connected to the hefty steel ring encircling Brandon Moore's cock and balls. Stretching Brandon's junk to the limit, Brendan dares him to last as long as he can, but the insatiable sub keeps asking for more. To satisfy his sub's craving, Brendan attaches vicious clamps to Brandon's nipples and stretches them until the clamps loose their grip. Returning to Brandon's cock and balls, Brendan attaches the line to a pulley on the ceiling, creating a constant tug. With the tips of his fingers, Brendan teases the tight, stretched skin on Brandon's nut sack and the sensitive center of Brandon's hole. As Brendan makes the line even more taut, Brandon's nuts bulge and swell. After such intense play, Brandon is eager to take Brendan's cock. Brandon services his dom orally, and then Brendan eats out Brandon's ass. When Brendan starts pounding his sub's hole, the intense verbal exchange adding to the extreme action. Reaching the climax, Brendan shoots his massive load into Brandon's mouth, coating his tongue with white cum.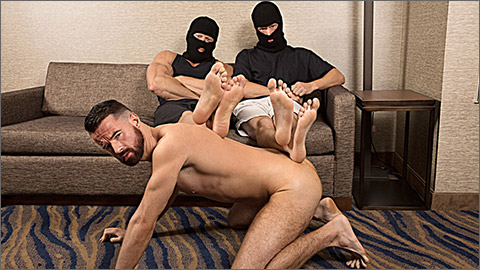 HE LIKES IT ROUGH & RAW – VOLUME 2: Max London, Brendan Patrick, Ken
Max London and Ken thought manhandling Brendan Patrick would scare him, but little do they know that this is a big fantasy of his. The rougher they get with him, the hotter he finds it. So they go all in and use his hot ass (and mouth) as the cum-guzzling machine he is. From tying him up and face-fucking him, to taking turns fucking him raw, they definitely donít hold back in this hot scene.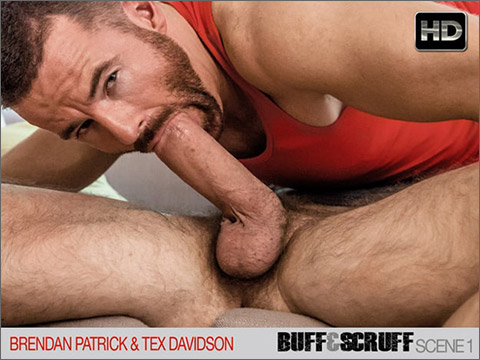 BUFF & SCRUFF: Tex Davidson fucks Brendan Patrick
Tex Davidson shows Brendan Patrick who's really in charge of things.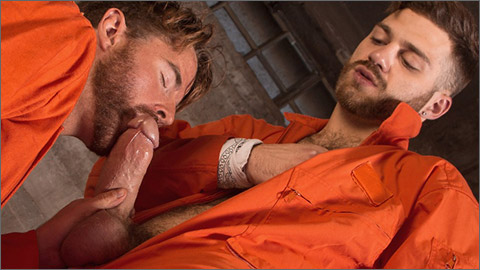 JAILBREAK: Escaped convicts Tommy Defendi and Brendan Patrick hide out
During the chaos of the prison break, Brendan Patrick finds a hideout—soon joined by fellow escapee Tommy Defendi. Brendan stares at the stud: "Sorry, man," he says as he moves closer, "it's been too long." Tommy pulls him in for a kiss, the two unzipping their jumpsuits. Brendan gets on his knees and opens wide to take in Tommy's massive meat. Tommy grips the sucker's hair and fucks his face, Brendan choking as he comes up for air—spitting on Tommy's dick before diving down again. Tommy pisses in a bucket—and all over Brendan, who sucks him again as a huge gob of spit falls to the floor. The two beat Tommy's cock on the sub's face, Tommy resting his monster on Brendan's head (covering the entire face!) as his balls get licked. Tommy sucks Brendan back before eating him, then fucks him from behind. He turns him over: "Gonna fuck that cum right outta you!" he yells, dousing the bottom with a multi-gush squirt.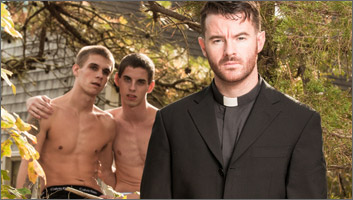 FORGIVE ME FATHER 2
SCENE 1: Sam Truitt, Brendan Patrick, Trent Ferris
Aspiring priest Brendan Patrick is reflecting on a big mistake that he made with one of his young students. He reaches for a big bottle of alcohol and writes down his feelings about how the devil tempted him in Trent Ferris' chambers one night. He walked inside for a private meeting and was surprised to see another boy there, sitting on the bed. Sam Truitt and Trent Ferris are like brothers, only closer. Brendan admits that he's a little uncomfortable by the situation, so the boys decide to help him, and each other, to relax. Sam pulls Trent in for a passionate kiss, shocking Brendan. The priest decides to leave, but the boys pin him down on the bed and rip off his pants. Trent starts sucking his already stiff cock. while Sam rubs his hairy chest. Soon all three guys are naked in the bed and Father Patrick is sucking on Sam's big dick. The priest tries to resist but he can't seem to pull himself away from the beautiful boys. He watches and gets sucked off while the two boys eagerly fuck each other on the bed. After all three guys bust their creamy loads, regret starts to set in for Brendan. He just committed a major sin.
FISTING CENTRAL / FETISH FORCE
CLICK HERE TO GO TO HIS MEN.COM BIO PAGE
VIDEO ON-DEMAND: Brendan Patrick @ AEBN SMUTJUNKIES THEATER
DVDs & ON-DEMAND: Brendan Patrick @ TLA VIDEO