American Gay Porn Star & Big Slut, Brandon Moore
Years Active: 2014 – 2017
AEBN INFO:
Height: 6 ft 0 in (182 cm)
Weight: 150 lbs (68 kg)
Hair: Brown
Eyes: Blue
Ethnicity: White
Ohio-born Brandon Moore is one of our favorite power bottoms. He's six feet tall and built to take a pounding, with a bubble butt that no top can resist.
   Watch him take a pounding in Men On Edge: Brandon Moore Edged And Fucked By A Shockspot Machine (KinkMen), an early demonstration of his capabilities. He's been fisted in some jaw-dropping scenes for Hot House Entertainment/Club Inferno films, including Long Arm Of The Law and Arm Candy. His penchant for getting bred is evident in popular flicks such as RAW Just Feels Right (Next Door Raw) and he shows his kinky streak in Hangin' Hardcore (Raging Stallion Studios/Fetish Force).
   Brandon set off to see new places after high school graduation, leaving behind his farm boy life in favor of adventure. Even now that he's found a little more of a routine with his regular filming, it doesn't mean his wilder side has been tamed. Brandon loves muscle cars and bikers. When he's not filming, he loves hanging out in the desert, sitting naked by a fire.
FAB SCOUT INFO:
Age: 25
Height: 6′
Weight: 160 lbs
Dick: 6" Cut
Orientation: Gay
Position: Bottom/Versatile
Location: Los Angeles, CA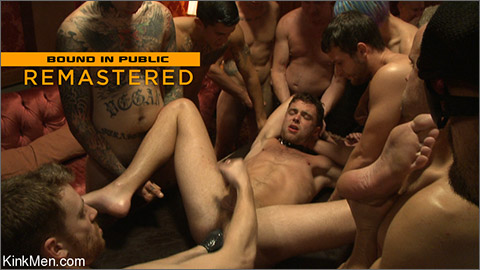 REMASTERED 2022: HORNY PARTY GOERS GANGBANG AND FIST A BOUND STUD'S ASS
Crawling on his hands and knees Brandon Moore brings in drinks for the crowd on a platter that's plugged in his ass. His ball gag and the platter are removed as Hayden Richards drives Brandon's head into the crotches of horny party goers. The guys shove as many cocks in his mouth as they can fit before Hayden has Brandon tied down on the fuck box. With their cocks out the guys line up for Brandon to suck them off while Hayden plows him from behind. Back in the center of the room, Brandon's hands are tied above his head with a spider gag in his mouth as the guys suck and stroke his hard cock. Brandon has clover clamps on his nipples and ordered to bite down on the chain as Hayden and Sebastian give him a dual flogging. The guys untie Brandon's hands as he's pushed down face first onto a couch full of horny dudes as he services their cocks while getting fucked from behind. The guys then drag him onto a table, pinning him down and shoving their cocks in his mouth as Brandon's hole opens up for a fist. They fist Brandon's ass and milk a load out of his cock before giving him some painful post-orgasmic torment. Back by the fireplace the guys circle around the community slut and douse his face with all their cum.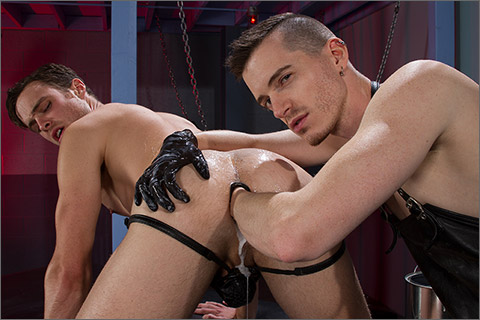 O.F.D. – OBSESSIVE FISTING DISORDER – PART 2: Brandon Moore fists Axel Abysse
Axel Abysse crouches on a fisting bench with his ass in the air, showing off his Prince Albert, his pierced taint, and his heavy metal cock ring. Brandon Moore gloves up and starts hole-punching Axel, alternating quickly between hands. As Brandon picks up speed, flashes of Axel's red guts start to appear in his gaping man cave. Suddenly Axel pushes out his blooming rosebud, and Brandon smears it with lube. His sphincter stretching wide, Axel grinds his piggy hole even deeper around Brandon's fist. Flipping on his back, Axel reaches down and uses both hands to stretch open his bowels and massage his giant rosebud with his fingers.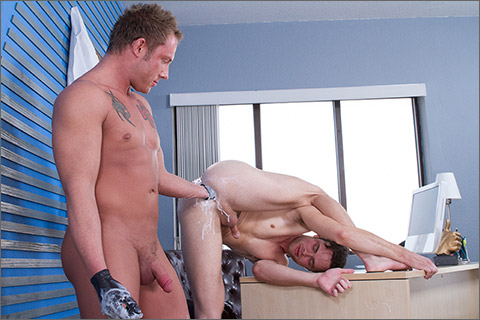 O.F.D. – OBSESSIVE FISTING DISORDER – PART 2: Preston Johnson fists Brandon Moore
Brandon Moore obsessively fondles Preston Johnson's hands. They tell Dr. Strangeglove that they are finally happy now that they've found each other, since each can keep up with the other's obsessive need for fisting. 'Well, this case of 'Obsessive Fisting Disorder' is closed,' proclaims Dr. Strangeglove, slipping away to allow Brandon and Preston some privacy. Brandon greedily opens Preston's trousers and gives him a nice slurping blowjob. Preston tongue-fucks Brandon's ass as Brandon bends over the desk. Slipping on his gloves and lubing up his hands, Preston gut punches Brandon's hole all the way to the wrist. Brandon's eyes roll back in his head as he gets opened up, putting one leg up on the desk to give Preston total control. Preston starts going faster, alternating hands. Rolling on his back, Brandon starts jerking his cock. With one hand fully inserted, Preston teases Brandon's rear end with his other finger. Brandon's sphincter stretches wide open, showing his hot red guts.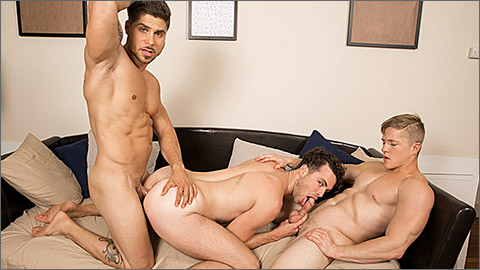 RAW OBSESSION: Brandon Moore, Chris Blades, Fabio Acconi
As he's leaving Fabio's place, Chris comes face to face with the object of his desire. Fabio slowly starts undressing and exploring Chris' perfect body. Eager to taste Fabio, Chris goes straight for his big thick cock and starts to blow him. That's when Brandon Moore joins them and right away sits on Fabio's big dick, who mercilessly pounds his ass raw. All three studs take turns deep-fucking each other until Brandon is left covered in all their cum.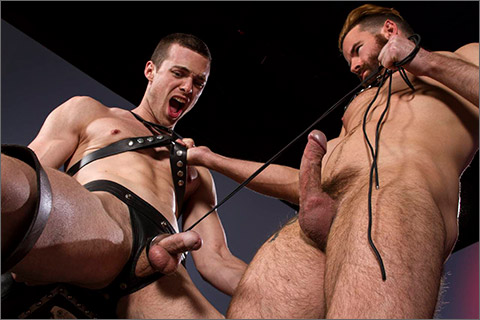 HANGIN' HARDCORE 2: Brendan Patrick & Brandon Moore
Bearded dom Brendan Patrick tugs on a line connected to the hefty steel ring encircling Brandon Moore's cock and balls. Stretching Brandon's junk to the limit, Brendan dares him to last as long as he can, but the insatiable sub keeps asking for more. To satisfy his sub's craving, Brendan attaches vicious clamps to Brandon's nipples and stretches them until the clamps loose their grip. Returning to Brandon's cock and balls, Brendan attaches the line to a pulley on the ceiling, creating a constant tug. With the tips of his fingers, Brendan teases the tight, stretched skin on Brandon's nut sack and the sensitive center of Brandon's hole. As Brendan makes the line even more taut, Brandon's nuts bulge and swell. After such intense play, Brandon is eager to take Brendan's cock. Brandon services his dom orally, and then Brendan eats out Brandon's ass. When Brendan starts pounding his sub's hole, the intense verbal exchange adding to the extreme action. Reaching the climax, Brendan shoots his massive load into Brandon's mouth, coating his tongue with white cum.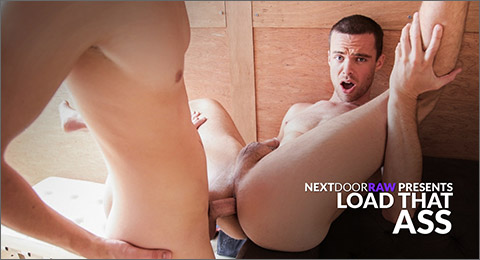 LOAD THAT ASS
With a team of movers helping to load up his father's trailer, it's a veritable feast of eye candy for Brandon Moore, but it's the new guy, Lance Taylor, that catches his eye. So when Lance's boss assigns him to load out back for a few hours alone, Brandon seizes upon the opportunity to isolate and seduce him. It won't take much, since there were definite fireworks inside when Lance and Brandon first made eye contact, and now that he's all alone with Brandon, Lance's only concern is whether or not they'll get caught. Brandon assures him the others are disposed inside, as he unzips Lance's cover-alls down to his cock, pulling it out and taking it all the way down his throat. Lance closes his eyes and pushes Brandon's head deeper, as Brandon spits on the head and tongues Lance's balls. Pushing him up against the side of the trailer, Lance and Brandon kiss as Lance slips his hand down Brandon's pants, squeezing his ass before shoving him up against some boxes to return the favor, sucking him off as he takes off his pants and shoes. Brandon is ready to see Lance's loading skills, so he bends over as Lance eats his ass, fingering him as he strokes his cock in anticipation, before shoving it hard and raw into Brandon's waiting, hungry hole. Lance rocks Brandon's world, pounding him from behind as Brandon enjoys every moment of it. They fuck every way the little trailer will allow before Brandon shoots his load all over himself as Lance pulls out and douses his hole with the messiest load in the trailer, breeding Brandon's gaping hole with his seed just as Lance's boss comes around the trailer and congratulates Lance for his excellent attention to customer satisfaction.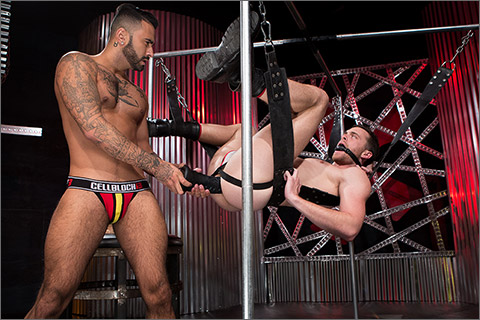 ASS OF STEEL: Rikk York dildo-fucks & fists Brandon Moore
Brandon Moore is in a sling begging to be serviced and in comes sexy Rikk York who's up to the task. He gives Brandon a hot kiss and then places a ball-gag in his mouth before he starts to stretch his welcoming hole with a massive, wide toy. Brandon spreads his hot ass, and it's taking all this punishment like a champ. Rikk is taking pride in pounding the toy, glistening with lube, further and further in until Brandon is ready to take his fist. Brandon wants it and he wants to take as much of Rikk's arm as he can. Rikk gently enters at first, but then starts to really massage Brandon's insides as Brandon strokes Rick's free arm. With his hole stretched to the max and closed first firmly planted inside him, Brandon's body is writhing with ecstasy. Rikk removes the ball gag with his free hand and kisses Brandon as a reward for being such an amazing fisting bottom.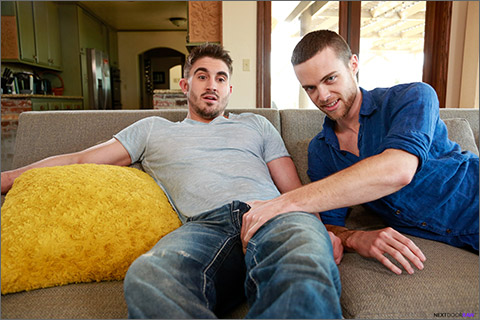 ROOMMATE'S SECRET
Derrick Dime is wiped out from helping new roomie Brandon Moore move in. With all his stuff finally off the truck, Brandon comes in and finds Derrick passed out on the couch, and he can see Derrick is hard underneath his tight jeans. Brandon slowly makes his way next to Derrick, who doesn't stir. When Brandon calls his name and Derrick fails to respond, he decides to press his luck, fondling Derrick's cock over his jeans as he naps. Derrick gets harder in his sleep as Brandon continues to lightly massage it, so he carefully unbuttons Derrick's jeans and pulls his cock out, downing it- or at least attempting to down it. Derrick's cock is massive and fully hard, and Brandon can only get most of it down his throat, so he tries harder to swallow it, grabbing Derrick's balls for better leverage. Brandon gets so caught up in his attempts to conquer Derrick's dong that he fails to notice Derrick has long since waken up and has been watching him try for a minute or two now.
   Derrick startles Brandon when he speaks to him, but luckily for Brandon, Derrick is down with the program, and so rather than get upset, Derrick takes off his shirt and begins to reciprocate, taking Brandon's cock into his mouth as he continues to stroke his own cock.
   Brandon can't wait to have Derrick's huge cock inside him, and Derrick is equally excited to pound his new roommate, so he bends Brandon over the couch and grabs his waist with both hands, shoving his raw cock deep inside Brandon's ass and pulling him back in closer with every hard thrust. Brandon takes every inch of Derrick's dick, begging for him to fuck him harder as Derrick flips Brandon over onto the couch, fucking the cum out of him missionary style before pulling out and blasting Brandon's body with his seed, before shoving it back in and going at it again and again and again. Seems as though the new living arrangement is going to work out just fine for these new roomies.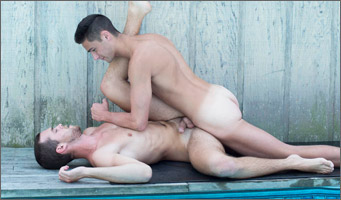 RILEY TANNER & BRANDON MOORE
It's finally here! Riley Tanner, Dominic Ford's brand new exclusive model, in his FIRST sex scene ever! In this hot scene, the finale to the Fire Island Staff House series, Brandon claims his last conquest: getting fucked by Riley's huge cock! What's more, Brandon filmed some of the footage underwater with his GoPro. This scene is hot and the perfect way to close out this amazing summer series!
FISTING CENTRAL / FETISH FORCE
CLICK HERE TO GO TO HIS HOT HOUSE BIO PAGE
CLICK HERE TO GO TO HIS FALCON STUDIOS BIO PAGE
VIDEO ON-DEMAND: Brandon Moore @ AEBN SMUTJUNKIES THEATER
NOW STREAMING: Brandon Moore @ NAKEDSWORD