Hung & Handsome American Gay Porn Star, Brad Star
Known Aliases / aka:
Years Active: 2005 – 2010
Lucas Entertainment Stats / Info:
Position: Versatile
Dick Size: 9.5"
Height: 5'11
The day after meeting Michael Lucas, Brad Star was in our studios filming a sizzling audition with our exclusive John Lamb and Michael himself. He came back for a hot pairing with Ray Star in MICHAEL LUCAS' LA DOLCE VITA (when stars collide, it's something you gotta see!) followed by a memorable football-themed pairing with Chad Hunt for ENCOUNTERS 4: ON THE JOB.
AEBN Info:
Height: 5 ft 11 in (180 cm)
Weight: 150 lbs (68 kg)
Hair: Blonde
Eyes: Hazel
Ethnicity: White
Coming from a life of dancing in Flanders, New Jersey clubs, Brad Star always dreamed of modeling. As a boy, he would practice different poses in the mirror. It's safe to say that this well-hung blond with the gymnast's body has achieved that dream and then some. He says both bottoming and topping get him off, which gives him a deserved reputation for versatility. This strength, combined with his easy confidence about sex and his obvious physical appeal, makes him a big hit with gay porn lovers.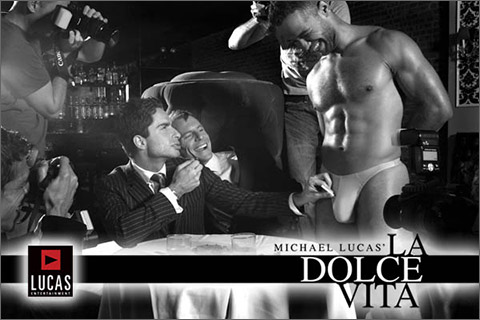 MICHAEL LUCAS' LA DOLCE VITA
The setting is Michael Lucas' beloved New York City, rather than Fellini's Eternal City. If anyone knows the underbelly of social climbing New York, it's Michael Lucas, one of the few porn entrepreneurs to regularly appear in the city's gossip columns. Fellini used a stand-in actor to take his highly autobiographical place in his "La Dolce Vita," but Michael Lucas plays his lead here with gusto. He is a fashion writer, on the skids by turning out pulp for a magazine instead of literature. His first stop is a fashion show where gorgeous male models strut the catwalk as New York denizens like Amanda Lepore and Kevin Aviance view the results. The entire first scene is a montage fashion show that looks as crisp and glossy as any coverage of a real fashion show (though the blink-and-miss-it tryst between Ben Andrews and Jack MacCarthy probably wouldn't make it to the pages of "Vogue"). Even the clothes themselves are high evocative in a non-sexual scene that is so populated it makes the finale of "Dangerous Liaisons" look small.

MICHAEL LUCAS' LA DOLCE VITA: Ray Star & Brad Star
Famous movie star Ray engages the private services of blond Brad, who gives him a butt-wagging solo show. Naturally, Savanna, looking like an actually beautiful Jessica Simpson, is not happy at this turn of events, but Michael takes her away from the club to help her forget, leaving Ray all alone with Brad. Ray looks most dazzled by Brad's big butt, and even fully clothed is able to give it a luscious wet rimming. Ray's tongue doesn't find a part of it he doesn't want to lick fully. Swaggering Ray need only lose his pants for Brad to start blowing his awesomely big cock with a fine blowjob made even better by his helping hand. Ray is faithful to Brad's ass, but he also spends some time sucking his equally potent cock. Midway through everything, Ray undresses to only his giant back tattoo and the two continue their alternating suckings while the club's music pounds behind them. Often a plunging top, Brad is the one who takes it up the ass here for his movie star hero. An initial sit-fuck proves awkward, so Ray quickly fucks Brad missionary until Brad cums a fountain shot, the latter part of which is soaked up by Ray's mouth. Brad orally returns that favor.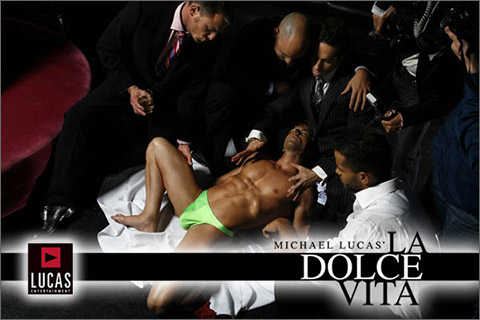 ALL WORLDS
JET SET
MASSIVE STUDIO
JACKRABBIT RELEASING
HIS VIDEO
ZYLOCO
BANG BROTHERS / BAIT BUS

CLICK HERE TO GO TO HIS LUCAS ENTERTAINMENT DETAILS
VIDEO ON-DEMAND: Brad Star @ AEBN SMUTJUNKIES THEATER
DVDs & ON-DEMAND: Brad Star @ TLA VIDEO
NOW STREAMING: Brad Star @ NAKEDSWORD