Muscle & Virile & Furry American Gay Porn Star, Brad Kalvo
Known Aliases:
Years Active: 2011 – 2020
STATS:
Height: 5'11" (1.8m)
Weight: 215 lbs. (98kg)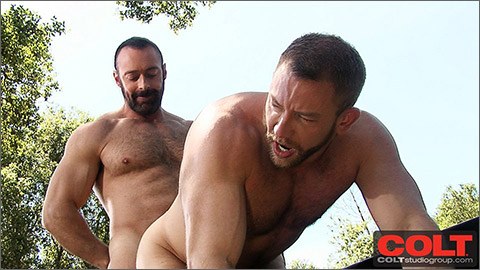 FUR MOUNTAIN: Brad Kalvo fucks Shay Michaels
Beefy stud Shay Michaels and muscle-bound Brad Kalvo come together for a hot and heavy, outdoor play session. Shay drops straight to his knees, eager to get at the meaty package inside Brad's bulging pants. Once that hefty piece of meat is unleashed, Shay goes to town swallowing every inch of Brad's thick, hard cock. Brad returns the favor and gets down on his knees, worshipping Shay's thick monster with a deep throated hunger for cock.
   Kissing and grinding their cocks together, Shay asks 'you want some ass'? Turning around he bends over and offers Brad his beefy, hairy butt. Spreading those muscled mounds wide, Brad drives his tongue deep into Shay's hot, manly hole, slapping those furry cheeks as he buries his face. 'Get in there' says Shay as Brad takes his rock hard cock and rams it in deep. Brad gives that ass a solid pounding, flipping Shay over on his back to drill his ass even deeper. Shay spreads his legs wide and takes it hard. "Yeah, keep fuckin' me" Shay begs as his throbbing cock swells. Pounding his meaty cock in hand, Shay jacks out a gushing load. Seeing Shay's cum flying high sets Brad's swollen balls on fire. Pulling out Brad strokes a thick and steamy load, drenching Shay in hot, white cum.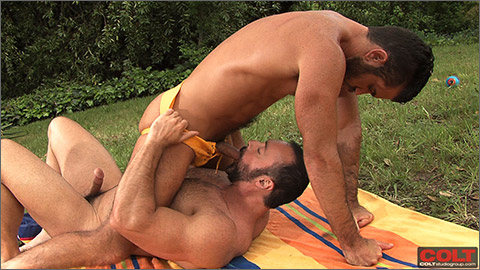 FUR MOUNTAIN: Brad Kalvo & Damien Stone
Lying out in the sun, Damien Stone shows a hot ass in his tight yellow jock as he lays face down in the back yard. Burly Brad Kalvo notices that hot butt and moves in to help apply some oil to the bronzed furry butt cheeks. Applying oil turns into an extended full body massage, which makes both men very hard and very horny.
   Flipping over on his back, Damien's cock is busting out of his jock. Brad strips out of his shorts and lies down with Damien for a hot, manly and bearded fur-on-fur session.
   Damien feeds Brad his big swollen cock, slowly driving his cock deep down Brad's throat. A long session of cock sucking has both men dripping with pre-cum, and swollen balls. Standing side by side they stroke as Damien can no longer hold off. A thick load of cum drains from his pulsing cock. Brad is close behind as a hot jet of cum flows from his cock, leaving thick streams of cum dripping from the head of his cock.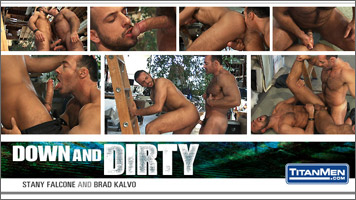 DOWN AND DIRTY: Brad Kalvo fucks Stany Falcone
As he inches down a ladder, beefy Brad Kalvo is met with a welcoming hand by Stany Falcone. "You like that, huh?" asks Brad, the two kissing and shedding their shirts to reveal their hairy muscle chests. Brad pins Stany against the ladder, licking his body and pit. He sucks the bearded beauty, whose bicep is bursting with a massive vein that pops off the screen. Stany's uncut rod points to the ceiling, his balls tightening to his body as he gets slurped. He grabs Brad's head and fucks his face, then returns the favor by burying his lips to Brad's bushy crotch. Brad turns his bud around, eating him against the ladder while stroking his cock underneath. Brad works his tongue in deep, burying his scruffy chin inside. He then fucks him before turning the bottom over, a great aerial shot capturing his steel shaft going deep in Stany's tight hole. The bottom squirts as he gets fucked, then rubs Brad's nipple as another load gets dumped on his stomach.
COLT STUDIO / BUCKSHOT PRODUCTIONS
JAKE CRUISE / HOT DADS HOT LADS
CLICK HERE TO GO TO HIS TITAN MEN DETAILS