American Military Active Duty Amateur, Brad
Years Active: 2015 – 2016
ACTIVE DUTY / DINK FLAMINGO INFO:
At 5'10', 200 pounds, Brad is thick with muscle, all over his luscious body.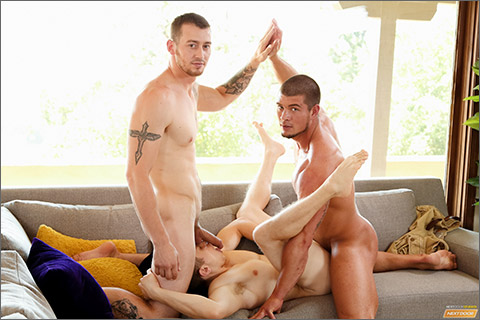 BIG DICK SUNDAY
Thaaaaat's right, fuck fans! It's Big Dick Sunday, and these three sizzling-hot guys are fired up. We have the tall, sexy Mark Long, the cock-hungry and gorgeous Dante Martin, and the incredibly chiseled Brad. They've each been working 'hard' recently, so director Rocco Fallon is giving them a treat!
   The boys don't know what to expect, but once they're all in the same room, ready to go, Rocco is filling them in on the plan. They're being rewarded with the chance, in Rocco's words, to remove all the porn distractions, like dialogue, premise, etc., and getting the chance to get as wild and crazy with each other as they want! You want it and they want it. This is real, natural sex, the way it's best enjoyed.
   Dante is the man in the middle for this adventure and he does NOT hesitate to jump in head first. If you know Dante's style, you know he's always full steam ahead, eager to have his holes fucked. Getting to play with two big dicks at once, with no rules, is right up his alley.
   The guys start out slow and passionate, taking turns kissing Dante and feeling each other all over. Then the shirts come off and dicks harden up a bit. After Dante enjoys nibbling Brad's hard nipples for a while, the pants all come off and Dante strokes both guys at once. It's a breathtaking sight to see such a hot guy jerking two enormous, stiff cocks.
   Then Dante goes to sucking one at a time. He starts by taking deep mouthfuls of Mark's fat meat, then going over to take Brad's erection. This gets Brad curious about Dante's ass, so he leans over and flicks his tongue in there while Dante goes back to slurping Mark's dong.
   The feeling of Brad tonguing his hole gets Dante eager to be fucked. He wraps his lips around Brad's dick again and presents his tender ass to Mark to be ravaged. And boy does Mark take advantage! He slides his throbbing cock into Dante from behind and rocks him hard and deep.
   Dante goes from getting banged by Mark to riding Brad on the couch. Brad helps him out by bouncing his bubbly ass up and down on his thick boner.
   Dante goes to his back so Brad can continue slamming his hole while Mark sticks his meat into Dante's mouth again.
   Join in, fuck fans, for an epic encounter where anything is allowed and the boys have a real field day with each other. And when these amazing dudes each erupt all over Dante, you're gonna wanna right there in the middle!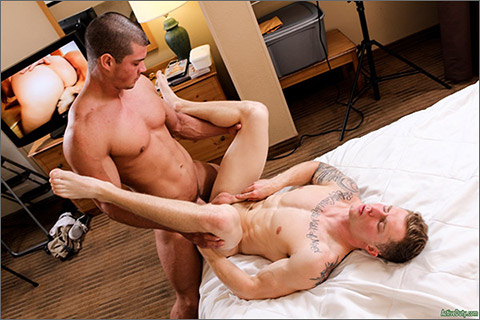 BRAD & MARKIE
Hey Troops, Well this one went even better than I woulda betcha, and if you recall what I had said before about Brad, that ain't nothin' to sneeze at! Wow, Brad really surprised the heck outa me. And of course, Markie knocked it outa the park, as we're learning is sorta his thing. At Active Duty, I tend to put our soldiers into loose categories, at least in my own mind. Markie is sliding himself right into a spot as one of our strongest platoon leaders. This was an excellent opportunity for Markie to shine, and he certainly grabbed the bull by the…horn! Brad plays it very cool from the get go. Claude leaves the boys and Brad goes right on chewing his gum, then eventually pulls his big, gorgeous cock out. By that time, of course, Markie had already been completely naked and enjoying his raging hard on. They stroke together on the couch for a little while and we catch Brad stealing quick glances at Markie's dick. Claude comes back and suggests they move to the bed to get even more comfortable. Before too long, Brad is diving in…head first. He pulls the trigger and takes Markie's deliciously swollen erection into his mouth. My golly, the sight of these chiseled bodies working on each other is enough to give any honest man a case of the vapors. Markie's body is ridiculous — he couldn't be more perfectly defined. And Brad is just as unbelievable. For lovers of strong, well-built servicemen, this one's as peachy as it gets! And I was so glad Claude swooped around so we could get a tight look at Brad's ass before Markie goes where no man had before. Then it finally comes time. Brad puts his massive cock into Markie's ass for the first time he would ever fuck a man (and hopefully not the last). Claude get nice and tight again and we see Brad's plump ass really cranking. Markie is a joy to watch and hear get fucked. He's truly a lover of sex and he wears his ecstasy on his sleeve. I love when Claude moves up and gets a view from over Brad's big shoulders. From here we see Brad pumping like a real soldier, trained to adapt to new situations. In these first moments, we see Brad really get into the sex. He's determined and stalwart…and enjoying himself more than he thought he would! Finally, we join the two in bed for a finishing jerk off, side by side. It's a cathartic final stretch for these soldiers. They each came into this with their own expectations and feelings. They both closed the session stronger recruits. I couldn't be happier about Brad's progress. He continues to be willing, eager, and determined. And in Markie, I think we may have a near-future, high-ranking dude on our hands. Only time will tell how they each will grow and move toward realizing their fullest capabilities. For now, I'm just glad we got to watch this one!
Brunette, Muscular, Smooth, Duo, Blowjob, Jerk Off, Anal Sex, Tattoos, 69, Deep Throat, Bareback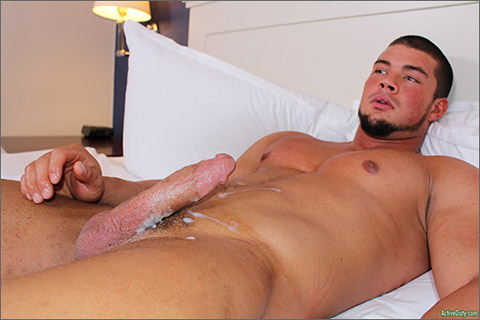 BRAD
This is one of those boys that really scratches a deep down itch for me. At 5'10', 200 pounds, Brad is thick with muscle, all over his luscious body. He's a brand new recruit and is clearly nervous for his first time getting naked on camera. Claude sensed Brad's anxiety going into this solo, so he tried to chat him up a little more than he does a typical first time recruit. Once Claude leaves, Brad takes a little time to warm up. But boy! When he first pulls down the elastic of his underwear and lets that thick, stiff meat pop out, it's quite a moment! I love those first tugs new recruits take…they're the ones I never forget. I really enjoyed his hands. They're big, thick paws that he uses to handle his appropriately sized dick. My goodness, they did look sexy holding and stroking that big hard on. But Brad's whole body, once we get to have a good enough look at him from all sides, is just a flat-out masterpiece. He's sculpted exquisitely in all the right places, particularly that nice, plump ass. This time, we saw some great progress over the course of a small allotment of time. I want to see how far a strong, promising prospect like Brad can go when he has even more room and opportunity to stretch his thick, muscular wings.
NEXT DOOR STUDIOS
ACTIVE DUTY / DINK FLAMINGO
CLICK HERE TO GO TO HIS NEXT DOOR STUDIOS DETAILS
CLICK HERE TO GO TO HIS ACTIVE DUTY DETAILS