Raging Stallion Uncut Sounding American Gay Porn Star, Boygravy
Years Active: 2015
TWITTER
RAGING STALLION INFO:
Hair Color : Dark Brown
Eye Color : Brown
Body Type : Gymnast
Body Hair : Smooth
Height : 5'11"
Position : Versatile
Cock : 7″
Foreskin : Uncut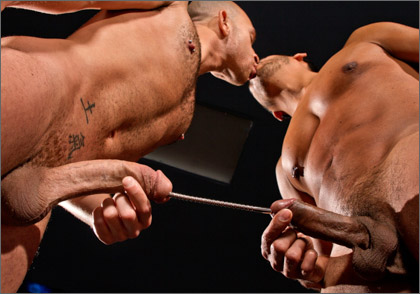 SOUNDING #9: Element Eclipse & Boygravy
Element Eclipse can push himself into pain farther than just about anyone else. He immediately ramps it up by inserting an electrified butt plug and turning up the juice until he howls. Element's cock also craves masochistic excitement. He reaches for a sounding rod and franticly jerks his cock as the rod goes in. With the sound fully inserted, its tip can't be far from the steel of the butt plug–just imagine the sensation of energy flowing from ass to cock. Element is then joined by the imposing Boygravy. His hard on can't be contained by his jock strap; he jerks it hard while ruthlessly sounding Element's dick. Element responds by boosting the juice again and pummeling the depths of Boygravy's cock. Finally, they grab a long, hard rod and simultaneously fuck it from each end with their cock holes, triggering an epic crossfire cum shot.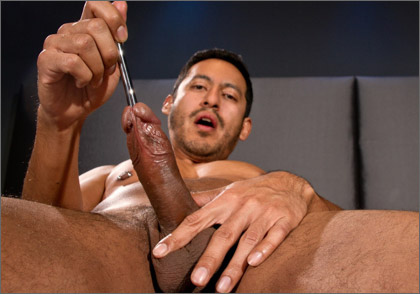 SOUNDING #9: Boygravy
Boygravy's proud pole sticks out from his jock, still craving to achieve new extremes. He shoves a slender, silicone hook through his PA hole before plunging it straight down his piss slit. Next he tries a thinner rod with a fat tip and pushes it in as far as he can. He ditches the jock strap, lies on a table, and shoves a short, thick sounding rod completely inside his cock. He switches it out for a longer sound with a ridged stem, and his eyes roll back into his head. Boygravy's last dick toy is a flexible, silicone rod that looks like a string of beads. Every inch disappears, the tip pushing on his prostate until orgasm rocks his body.
FISTING CENTRAL / FETISH FORCE
CLICK HERE TO GO TO HIS FISTING CENTRAL / FETISH FORCE DETAILS