Furry American Gay Porn Star, Blaze Austin
Known Aliases / aka:
Years Active: 2017 – 2019
TWITTER @blazeaustinxxx

RAW WORKLOADS: Sean Duran fucks Blaze Austin
Sean Duran is looking for a hidden flash drive full of incriminating dirty content of himself when Blaze Austin enters the storage room. Blaze has the goods on Sean and the only way to get the drive back is to give Blaze a recreation of what's on the drive. Blaze gets right to his knees and works Sean's massive cock with his mouth, getting Sean hard and ready for more. Blaze knows what Sean wants and bends over to offer up his hairy hole for licking. Sean can't resist shoving his face into Blaze's crack and tongue-fucks the stud until he can no longer hold off sticking his bare dick deep into Blaze. Sean stands up and pumps the young stud hard and raw as Blaze tells Sean what to do: 'Fucking pound me! Use my ass! Fucking tear it up!' Sean takes each command seriously and fucks Blaze even harder, eventually getting Blaze on his back. Sean pumps relentlessly as Blaze squeezes his asshole and shoots a load all over his face. Blaze's tight ass brings Sean to brink and he pulls out to blow his load all over Blaze's dingy jockstrap and plump, spent balls. A dirty pig, Blaze gets between Sean's legs to go ass to mouth and clean up Sean's sticky dick with his tongue.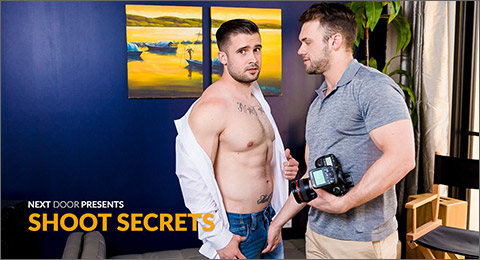 SHOOT SECRETS
Photographer Blaze Austin has been nervous for his shoot with celebrity Mathias for at least a week, and when Mathias has him shooting half nudes, Blaze just figures that Mathias is looking to update his head shots. But when Mathias tells him he actually has interest in filming a sex tape, Blaze is surprised, and when Mathias tells him he wants Blaze to be in it, well… Blaze tells Mathias he had no idea he was gay, and Mathias tells him his agent won't let him make his sexuality public, but maybe the two of them could go behind his agent's back. Blaze, suddenly fantasizing of Mathias going behind his back, agrees and the two of them kiss as they fall back onto the sofa. Blaze unwraps Mathias celebrity cock and gives it a taste, sucking Mathias off as he strips him piece by piece. Once they are both naked, Mathias returns the favor, downing Blaze's dick and working the head until Blaze is rock hard. Seeing that Blaze is hot and horny for his dick, Mathias plunges his raw cock in Blaze's hole, easing it in slowly before picking up the pace and pounding Blaze. He fucks Blaze doggy style before flipping him over and giving him a ride. Blaze grinds his ass on Mathias' dick as he strokes himself off, and Mathias flips him over onto his back and fucks the cum out of him before feeding his load in a messy facial. Blaze swallows it up and tells Mathias he loves the taste of his famous cum.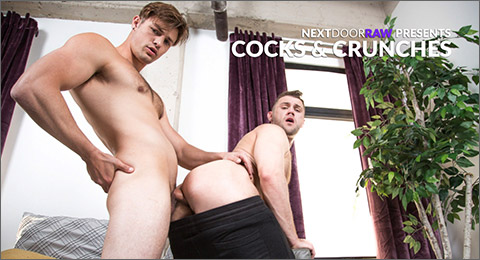 COCKS & CRUNCHES
The progress Blaze Austin has made with trainer Charlie Pattinson has Charlie admitting a bittersweet truth to himself. On the down side, he realizes Blaze doesn't really need him as a trainer much longer. On the plus side, Charlie finally feels free to pursue Blaze in a way that isn't so professional. He tells Blaze the news and Blaze agrees that they should stop training and start fucking… immediately. Charlie smiles, eager to taste the fruit of his and Blaze's hard work in the gym. He pulls off his shorts as Blaze takes him into his mouth, promptly swallowing Charlie's cock whole, feeling him get hard between his lips as he plays with Charlie's balls. Charlie returns the favor, showing Blaze his technique as he works the tip before making his way down the shaft, playing with his hole before bending him over the sofa arm and sliding his raw cock deep inside. Blaze looks over his shoulder as Charlie works it back and forth, every thrust deeper than the last. He kisses Charlie before sitting him back and mounting him. Charlie grips his ass with both hands and bounces him on his cock. Blaze spreads his legs and Charlie begins to stroke him off. They are both at the edge, and ready to unload, so they flip over and Charlie gives it to him hard one last time before he pulls out. He sprays his load as Blaze shoots his onto his stomach, and just like that, their torrid affair is consummated in jizz.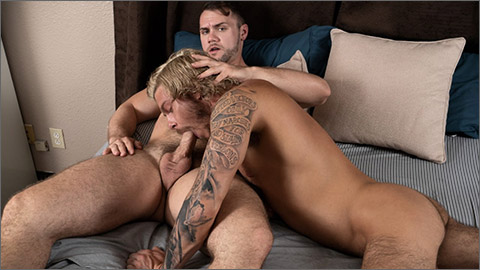 UNFORGETTABLE COCK
Adorable, athletic Blaze has been trying to contact tattooed hunk Blake for months now, and has yet to receive an answer. He just canít seem to forget about Blakeís big, delicious cock, and no one else can fuck him the same way. Luckily, he recorded one of their hot, anal pounding ass sessions and he can only relive the moment through video, and his dildo!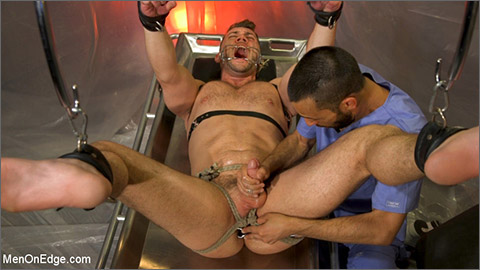 DOCTOR'S ANAL ORDERS: BLAZE AUSTIN EDGED, PUMPED, AND STRETCHED
Blaze Austin is dreading his doctor's appointment. He waits anxiously until Doctor Sebastian Keys and Nurse Chance Summerlin enter. As they begin to run their tests, Blaze knows something isn't quite right. He struggles to leave, but Doctor Keys sedates him and everything gets fuzzy. When Blaze wakes up, he discovers his whole body has been wrapped tightly in plastic! The doctor and nurse start caressing his body. They cut open the plastic near his crotch and pull his dick out. As Nurse Chance starts teasing it, Blaze gets rock hard. His struggles are fruitless, all he can do is lay there while these medical professionals get to work. They test Blaze's reflexes by tickling and kissing his feet. They pump his cock until it swells to fillup the pump cylinder. Blaze begs to cum as his cock grows more and more sensitive with each pump. Next, Blaze is bound with his limbs immobilized in the air. There is an unforgiving metal gag prying his mouth open. Doctor Keys starts testing his prostrate while Nurse Summerlin teases his cock. After Blaze's ass is prepared, Doctor Keys slips a rectal specula into that tight hole. As the specula opens, so does Blaze's ass, revealing his pink insides. Blaze can't believe this is happening but he loves the feeling of being stretched open. His cock gets harder and harder as the nurse jacks him off. He finally blows a fat load all over himself and screams as Doctor Keys and Nurse Summerlin continue to stimulate his sensitive cock head.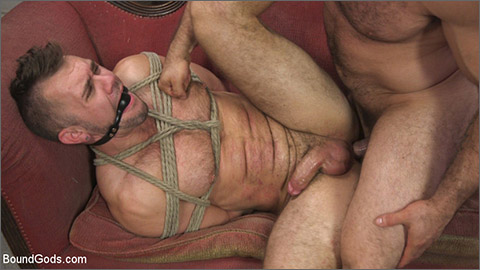 STRAIGHT STUD BLAZE AUSTIN PAYING IN PAIN
Straight Stud Blaze Austin is a freeloading brother-in-law that needs to finally pay for his ways. This hot hunk muscle stud has been taking advantage of Jaxton Wheeler's family for too long and needs to pay in pain. Tied up tight in restrictive rope bondage and stripped naked, Muscle Stud Jaxton get's his revenge on his loser brother in law. Jaxton Wheeler starts with brutal aggressive cock and ball torment, punching his straight brother's package til he screams out loud. After Blaze's nuts are swollen and tight, Jaxton stuffs them in a ball stretcher which gets his brother's cock rock hard before jacking him off to the edge. When Blaze just can't take any more, Jaxton Wheeler stops and starts punching Blaze in the chest, turning him bright red. This loser is going to learn a lesson one way or another. The flogger comes out next and this stud's ass is beaten raw. Screaming will do him no good, not til Jaxton has his way. After some foot worship, Jaxton shoves his huge hard cock down Blaze's throat for a sloppy deep throat penetration. Tied up with his hands behind his back and no where to run, Blaze takes the hardest pounding fuck of his life. Jaxton pounds his ass before flipping him over and shooting his hot thick load all over his pathetic free loading face. Lesson learned.
HOT HOUSE
NEXT DOOR STUDIOS
ICONMALE
GAY ROOM
BROMO
MEN.COM
KINK MEN
CLICK HERE TO GO TO HIS NEXT DOOR STUDIOS DETAILS
CLICK HERE TO GO TO HIS KINK MEN INFO PAGE
VIDEO ON-DEMAND: Blaze Austin @ AEBN SMUTJUNKIES THEATER
DVDs & ON-DEMAND: Blaze Austin @ TLA VIDEO