American Muscle Ginger Gay Porn Star, Bennett Anthony
Known Aliases:
Years Active: 2014 – 2017
TWITTER @BennettAnthonyx
RENTBOY PROFILE (deactivated)
24. Ginger Wolf. Adult Entertainer. Model. Taking over the world.
MEN.COM INFO:
Hair Color: Red
Sign: Gemini
Eye Color: Blue
Dick Size: 7″ cut
Height: 5'8″
Weight: 185
Sexual Positions: Versatile
About:
Favorite Foods: Octopus, Chicken, and Goat Milk
Favorite Movie: Avatar
Favorite City: Charleston, SC
Hobbies: Running, Succulents, Dog Parks
What I like The Most: My dog Bruce.
What I Don't Like: Complainers
Best Thing About Me: Cocksure personality
Worst Thing About Me: My OCD
How To Make Me Happy: Sunlight
Favorite Quote: Vamos al la playa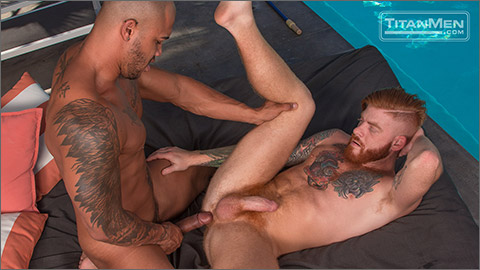 POOL SERVICE: Jason Vario fucks Bennett Anthony
Sunbather Jason Vario rolls over, his uncut throbber attracting the attention of pool man Bennett Anthony—who darts over to gulp up the muscle man's meat, barking "Woof!" as he comes up for air. Jason grabs the sub's ass and grinds his crank on it, then feeds him again before munching his hole. Jason sucks him back—his nose disappearing into Bennett's bushy fire crotch. The moaning bottom gets on all fours, reaching back for a kiss as he gets pounded from behind ("Fuck me!")—then gets on his back as Jason grinds into him, his ginger fur soon splashed.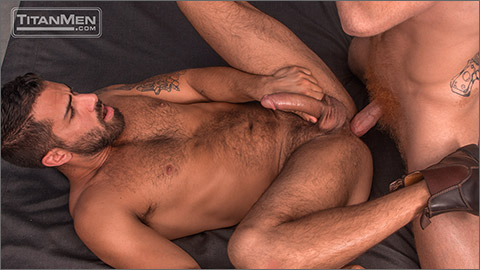 POOL SERVICE: Adam Ramzi & Bennett Anthony flip-fuck
Tree trimmer Adam Ramzi has some wood he can't cut down thanks to pool man Bennett Anthony. They take a break, passionately kissing as their hands roam. Adam gets his handsome face fucked by Bennett's boner—then stuffs the red beard, gripping the back of his neck as he shoves it in. Adam's uncut cock pulses as he sucks him back again, his lips brushing Bennett's bush. They take turns planting their scruff in each other's holes, a moaning Adam then propping up his boner as he gets fucked fast ("Take that dick!"). Bennett gives up his ass—his boner bouncing as he takes it. He rubs Adam's abs, the top stroking him before pounding the cum out.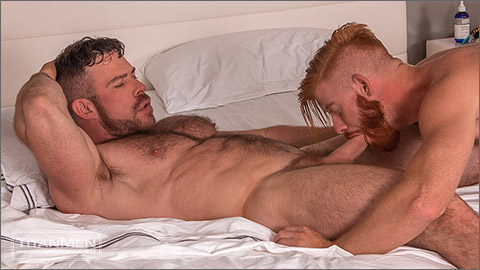 TAXXX: Liam Knox fucks Bennett Anthony
Escort Bennett Anthony mistakes sharp-dressed tax inspector Liam Knox as his next client. "Looks like you do a little more than massage here," says the observant Liam—who is happy to accept a full body massage as payment for his silence. Bennett takes out the stud's already-stiff dick, devouring it deep. "Show me those work skills," Liam says as he fucks the gulping sucker's bearded mouth, then whips his steel shaft on his face. "You like that dick? Fucking suck it!" Spit slides down Liam's shaft and sac as he gets worshipped, the businessman then planting his lips on Bennett's fire crotch. Liam then buries his beard in the tattooed bottom's furry ass ("Want this dick?"), soon giving him some deep daddy cock. Bennett's boner slams up against his own hairy abs as he gets taken from behind—the bottom then sitting down on it, their sweaty bodies grinding. He gets on his back, moaning "Fuck that hole!" before his red pubes get coated in white.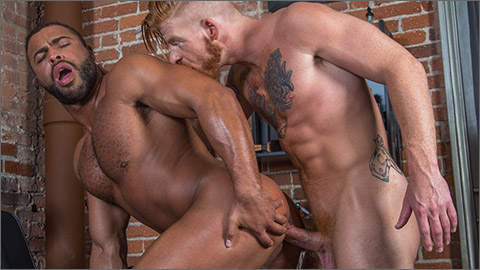 BEARDS: Bennett Anthony & Micah Brandt flip-fuck
We've all experienced the casual but undeniable sexual energy of a barber shop. One man giving up a bit of control while the other serves him. The unspoken give and take. Tattooed, red-headed Bennett Anthony trims the hair and beard of the muscular Micah Brandt. A simple trim becomes a real sexual give and take as the two enjoy a flip-fuck right in the barber's chair. Micah pays Bennett back by leaning down to suck Bennett's hard dick. Yes, he's got red hair everywhere. Bennett, pants still around his knees, drops to pull out Micah's big, hard dick and sucks him back. Trading of blowjobs becomes trading of rim jobs and Micah buries his face in Bennett's ass and Bennett returns the favor before hopping up on Micah's dick and sliding his ass down on it. The sexual chemistry between these men is undeniable. These men are really enjoying getting to know every inch of each other. Seeing Micah's thick hard dick slamming into Bennett's asshole is something you won't want to miss. When it's time to switch positions, the two men are uncontrollable… Micah cums TWICE before blowing a big third load with Bennett's dick buried in his hole. Bennett hops up on Micah's chest and blows his own load right into Micah's face and the two finish off swapping spit and cum.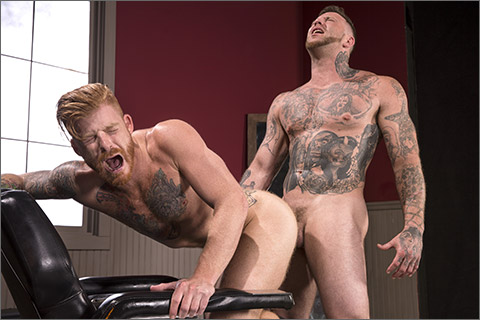 HIGH N' TIGHT: Gage Unkut fucks Bennett Anthony
Bennett Anthony sits in the 'High n' Tight' barber's chair as Gage Unkut finishes his work. After touching up the back of Bennett's neck and running a comb through Bennett's bright red head of hair, Bennett stands up and fidgets uncomfortably with his slim wad of cash. He doesn't have enough for a tip, but he hopes he and Gage can "work something out." Bennett reaches for the bulge in Gage's pants: a good suggestion. As Bennett wraps his lips around Gage's uncut cock, Gage unbuttons his shirt, revealing his muscular torso completely covered in tattoos. Bennett whips out his cock and pushes down his pants. Kneeling on the barber's chair, he spreads his ass cheeks apart for Gage to dive in face first. As Gage pushes his tongue deep into Bennett's tight hole, Bennett encourages him with moans of erotic excitement. Standing up, Gage pushes his hard cock into Bennett's fuzzy ass and fucks him doggy style. Switching it up, Gage sits in the chair, and Bennett sits down on his cock. Using the powerful muscles in his thick legs, Bennett rises and sinks down on Gage's cock again and again. Bennett's meat bounces in the air as he rides Gage, and his six pack flexes. Gage stands up and positions himself over Bennett to fuck his face. With his hand gripping the back of Bennett's head, Gage thrusts his hard rod deep down Bennett's throat. He unleashes a massive load on Bennett's face that drips into Bennett's open mouth. Just after swallowing Gage's load, Bennett cums with a guttural roar, shooting his white load onto his thick ginger pubes.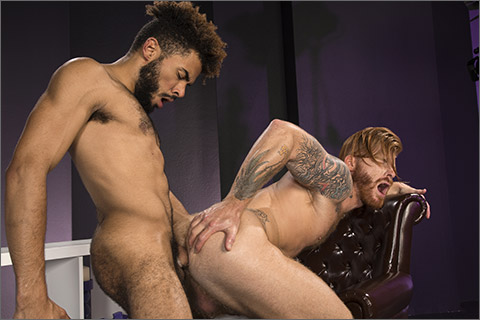 OBJECT OF DESIRE: Bennett Anthony & Caleb Daniels flip-fuck
Caleb Daniels hails from Philly, loves rimming, and relishes an intense, connective exchange with his sexual partners. Bennett Anthony is originally from South Carolina, enjoys running, and likes to get aggressive. As they make out and stroke each other's cocks, they establish a deep, intimate connection. Bennett eagerly gets down on his knees and inhales Caleb's cock, which puts Bennett's furry ass on display. Caleb then buries his face in Bennett's ginger bush, and his hairy ass spreads wide. Bennett bends over a chair and Caleb pushes his scruffy face into Bennett's ginger crack. Caleb's expert rimming makes Bennett gasp and moan with pleasure. Standing up, Caleb thrusts his cock into Bennett's receptive ass. With Caleb's big cock filling him up, Bennett flexes his muscular body while jerking his cock. Switching it up, Caleb gets on his back and Bennett fucks him with mighty thrusts. Their cut abs and tight pecs flex as they ramp up speed and intensity. Jerking his cock, Caleb releases enormous cum geysers that splatter across his stomach. Pulling out of Caleb's ass, Benett positions his cock right above Caleb's and releases his hot, white load.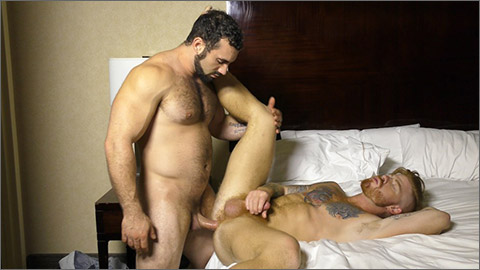 BENNETT ANTHONY BAREBACKS
For his first bareback movie, Bennett chose to work with someone he feels comfortable with and wants to fuck, Jaxton Wheeler. There's real chemistry here between them. I didn't give direction, just let them go with me just filming and not interfering. The result is a hot movie with kissing, rimming, and, bareback fucking.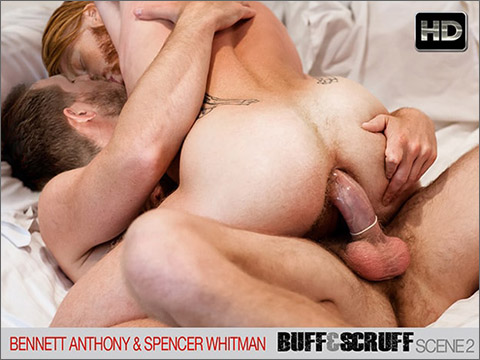 BUFF & SCRUFF: Spencer Whitman fucks Bennett Anthony
Spencer Whitman makes the move on Bennett Anthony, casual sex has never looked better!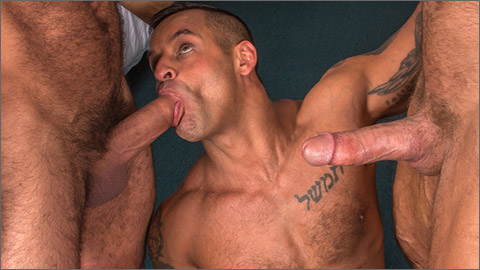 SILVERLAKE: David Benjamin picks up jogger Bennett Anthony and follows him home for some cock!
Mark Rollins (David Benjamin) has arrived back in his hometown of Los Angeles and his old neighborhood of Silverlake. Famous for its hills, valleys and 52 sets of staircases that connect them. Mark jogs up the famous Micheltorena Stairs, passing a hot, tattooed, red headed Bennett Anthony. The two share a quick moment that turns into a game of cat and mouse as Bennett leads Mark though the winding streets and narrow passageways until they arrive at Bennett's apartment. "I love gingers" exclaims Mark as he buries his face in Bennett's hairy ass. The tiny apartment is full of sweat, muscle and sexual energy that a quick fuck with a stranger you only just met. Bennett bends Mark over a folding chair and slides his dick into his waiting hole. A rough fuck is just what Mark needs and Bennett is more than willing to give it to him. Moving over to the army cot that serves as Bennett's bed, Mark slides his hole down on that stiff fire crotch, bouncing up and down, dripping with sweat and showing off the ripped muscles on his legs, chest and back. Finally rolling Mark over onto his back, Bennett slides his dick deep into Mark's hole and fucks him with that power you get just before you blow your load. David explodes with Bennett's dick deep inside him and then Bennett whips his dick out, climbs up over Mark's body and blows his load right into his open mouth.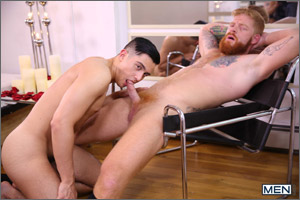 SURPRISE GIFT
It is Jacob Ladder's first time and he is offering his sweet, tight hole to Bennett Anthony as a surprise gift. Bennett works Jacob's hole, balls, and cock with his mouth, and then he sits back as Jacob eagerly takes his fat cock deep in his throat. Jacob bounces his cute butt on Bennett's hard dick, and then switches to doggy position and gets the pounding he craves.
Themes:
Anal Athlete Jock Big Dick Blowjob Muscle Men Hunk One-On-One Rimming Rough Sex Tattoos Red Head
RAGING STALLION
THE GUY SITE
CHANNEL 1 / RASCAL
TITAN MEN
MEN.COM
CLICK HERE TO GO TO HIS TITAN MEN DETAILS
CLICK HERE TO GO TO HIS MEN.COM DETAILS
VIDEO ON-DEMAND: Bennett Anthony @ AEBN SMUTJUNKIES THEATER
DVDs & ON-DEMAND: Bennett Anthony @ TLA VIDEO