Blond Boy Toy Czech Gay Porn Star, Bened Faust
Known Aliases / aka: Seb Priestley (Staxus), Czech Hunter 252, Aiden Keane, Jerry Hannan
Years Active: 2016
WILLIAM HIGGINS INFO:
Bened Faust is aged 19 and lives in Prague. This hot straight guy doesn't currently have a job, so he has time to enjoy his sports, particularly swimming and soccer. How good he looks in this still shoot, with his handsome face and hot body. He certainly looks good as he stands, nonchalantly leaning on the doorframe. Lifting his sweater he shows off some great abs. Then his sexy chest is revealed as he removes the sweater and poses. Opening his shorts and sliding them, and his underwear, down he turns and shows us his sexy ass. Then he turns again, in just his underwear, and flexes his biceps before thumbing down his underwear to tease with a the base of his cock. He takes off the underwear and his soft cock is shows perfectly. It doesn't take long before that cock is good and hard, pointing skywards, with Bened posing to show it off. As we enjoy that beautiful cock Bened sits and then lays back on the bed. He lifts his legs in the air to expose his hot hole. Reaching down to his ass he pulls the cheeks further apart as the camera closes in on the hole. Then he turns onto his knees to give another view of that sexy ass before ending his shoot with more of his rock hard cock.
Model Name: Bened Faust
Age: 19
Home Town: Prague
Height: 179cm/5'10"
Weight: 70kg/154lb
Foot Size: EU42/US8.5/UK8
Penis Size: 16cm/6.3″
Profession/Student of: Unemployed
Hobbies: Sport
Favorite Sports: Swimming
Active Sports: Soccer
Movie/Music/Sport Stars: Helen Mirren
Visited Coutries: Greece
Want to Visit Coutries: Australia
Dream of My Life: I don't know.
Zodiac Sign: Aquarius (January 20 – February 18)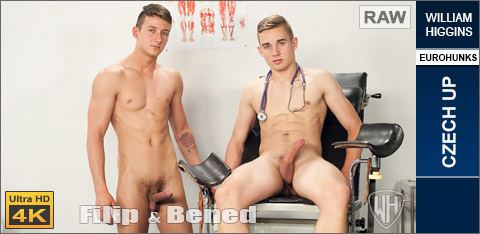 CZECH UP: DR. BENED FAUST & FILIP VACEK RAW
Filip Vacek visits Dr Bened Faust for a Czech Up. When he arrives Bened asks him about a previously injured knee, which has healed. But Bened decides to check it anyway. Filip sits on the examination table, chest bared, for Bened to check his legs. Everything is fine there, so Bened begins his full examination, using his stethoscope to check the chest and back. Then Filip explains that one issue he has is a failure to get hard when with his girlfriend. So Bened tells him to get naked and he will check things out. Filip lays on the table and Bened starts to check the cock and balls, taking some oil and rubbing it in. As he gently strokes Filip's cock it gets erect with no problem. Bened decides to go further and leans over to suck on the hard cock. As he sucks on that cock he takes Filip's hand and places it on his pants to feel his hardening cock. Bened takes off his top as Filip pulls the cock out of his pants. Bened moves up so that Filip can suck his cock. Filip does a good job at sucking so Bened climbs over him so they can 69. They suck each other for a while and then Bened decides to take things further. He lays Filip on his back and lifts his legs up, sliding his dick into the waiting ass. He fucks slowly at first, his dick going deep into the hole. Filip moans as his ass takes the stiff cock. Then Bened speeds up with his fucking as Filip takes hold of his own cock and starts wanking it. As Bened pounds his tight hole Filip wanks hard and shoots his creamy load over his belly. Then he stands and bends over the table for Bened to fuck him some more. Bened's dick slams in and out of the hot ass until he is ready to blow his load too. Then he pulls out to shoot his cum over that sexy ass.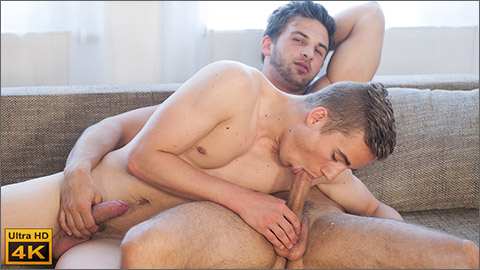 FULL CONTACT: MILAN MANEK & BENED FAUST – SCREEN TEST
Milan Manek is up for a screentest with Bened Faust. We find them on the sofa will Milan sitting between Bened's legs. Bened's hands are feeling over Milan's body and his lips caress his neck. Milan pulls off his tee shirt to expose his sexy chest as Bened's hands run over it. Milan turns his head and they kiss. Then Milan lays back on the sofa and Bened opens and pulls down his shorts for him. He takes hold of Milan's cock and starts to suck it. The cock quickly hardens in Bened's mouth as his head bobs up and down. Then Bened gets naked too as Milan wanks himself. Bened goes back down on Milan's cock and Milan reaches round to wank him. Bened's dick is rock hard too as it is being wanked. Having sucked on Milan's dick Bened then presents his ass that the hard cock to slide in. Milan gets behind him and his cock goes into the waiting hole. He fucks it slowly, with long strokes. Then, moaning as he fucks, he speeds up. Bened turns onto his back with his legs in the air and Milan slides his cock back into the eager hole He fucks it deep as Bened grabs his own cock and wanks it. Bened wanks fast and moans as his cock shoots a big, creamy, load all over his left thigh. Milan continues to fuck that sexy ass, speeding up as he works the hot hole. Then he pulls out and wanks him dick, shooting his hot cum over Bened's still hard dick. Milan leans forward and kisses Bened before taking him off to the shower to clean up.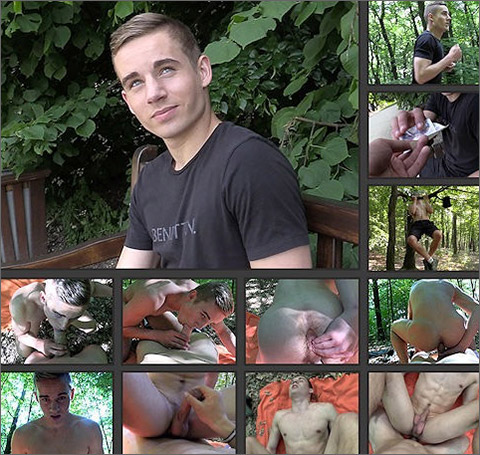 CZECH HUNTER 252
There are only two types of joggers: those who want to get in shape, and cuties who want to stay in shape. This one was the latter. It wasn't easy to run next him, he was really fast. But the effort was worth it. If you're into young good looking beefcakes, you will love this adventure. We started with some workout, we had pull-ups and push-ups. Then I made him to work on my cock, exercising his hand and facial muscles. And we ended the routine by stretching again, of course. I just hope I didn't stretch him too wide. He was kind of moaning a lot, so hopefully, the boy was okay. No pain, no gain, that's my fitness motto. I think he was fine, because when we were done, he was eager to go drinking. Probably wanted to enjoy the 30 000 I gave him.
WILLIAM HIGGINS
STR8HELL
BADPUPPY
BEL AMI'S FRESHMEN
BEL AMI
CZECH HUNTER
STAXUS
CLICK HERE TO GO TO HIS WILLIAM HIGGINS BIO PAGE