Handsome Furry American Muscle Gay Porn Star, Beau Butler
Known Aliases:
Years Active: 2020 – 2022
RAGING STALLION INFO:
Cock: 7″ uncut
Body Hair: Moderately hairy
Height: 5'9″
Hair Color: Black
Eye Color: Blue
Position: Versatile
Body Type: Gymnast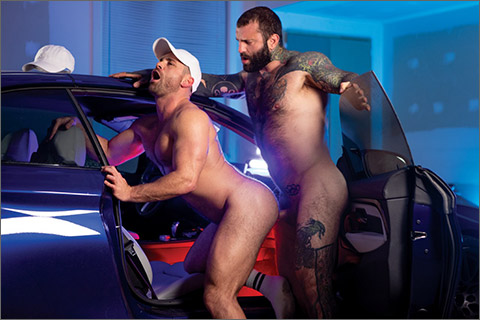 FUCK ME FAST AND FURIOUS: Markus Kage fucks Beau Butler
Beau Butler just won for betting on driver Markus Kage to win his big race and to show his appreciation, Beau is breaking out a bottle and getting on his knees right in the middle of his garage. He slurps up every inch of Markus' cock before the bearded top takes Beau, bends him over the seat of his car, and orally services his enormous, hairy cheeks. With his hole wet and ready to go full throttle, Markus slides his uncut cock into Beau bareback. A few more thrusts from Markus has both hunks crossing the finish line and coating Beau's bushy pubes in their hot ropes.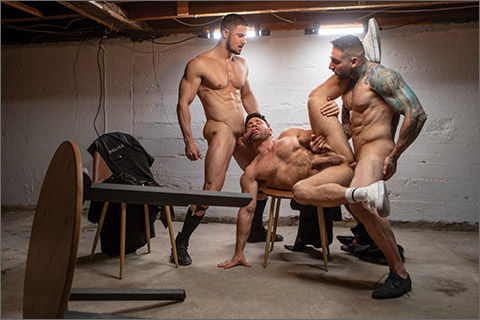 FUCK ME FAST AND FURIOUS: Skyy Knox & Tony Dangelo fuck Beau Butler
Officers Skyy Knox and Tony Dangelo are trying to bust driver Beau Butler's crew for street racing, but the beefy stud knows better than to talk to the police. It isn't until the aggressive officers pull out their hard cocks that Beau finally opens his mouth. With the hairy racer bent over the interrogation room table, officer Tony warns Beau that if he doesn't start talking, they're going to bareback his hole. Beau refuses to speak, and, true to their word, the officers proceed to take turns drilling their suspect's furry bubble butt. The nonstop thrusting from the two brooding cops is too much for Beau and has the stud spitting out a thick load of cum onto Skyy's abs. The rough officers immediately return the favor by surrounding Beau and covering his face in their creamy seed.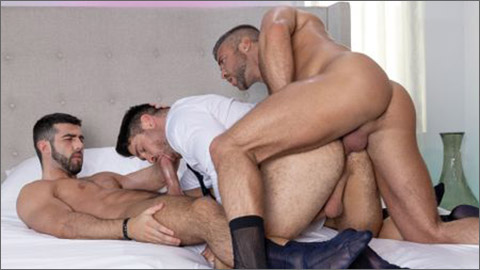 POWER PLAY: Colby Melvin & Xavier DP Beau Butler
Businessman Beau Butler has strict commands from his boss to make sure that suited studs Colby Melvin and Xavier leave the office satisfied. After taking the two to a side room, Beau drops to his knees, does some unzipping, and gets a mouthful of both men. Colby rims Beau's hairy cheeks and Beau sucks off muscle man Xavier before Colby hops onto the bed to bareback Beau's hole. Knowing Beau can handle more, both associates join forces to double penetrate the beefy businessman. The two then take turns using Beau's furry hole until Xavier is shooting all over his face, Colby is busting on his ass, and Beau is covering his stomach in his own thick nut.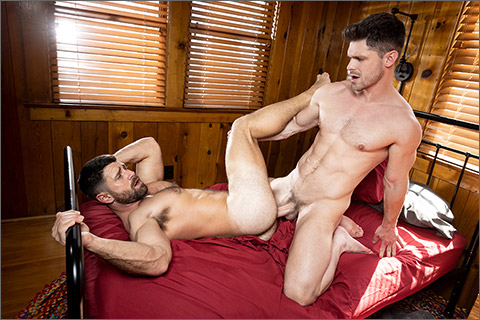 MOUNTAIN TOPS: Devin Franco fucks Beau Butler
Wrapped in nothing but a towel, Devin Franco goes to the room to wake up Beau Butler. Even though he's barely awake, Beau can't help by reach under Devin's towel to feel his growing cock. Devin drops the towel and Beau instantly wraps his lips around the swollen member. From the shaft to the balls, Beau makes sure to savor every inch of Devin's manhood. When Beau climbs out of bed, Devin bends him over and eats his hairy hole. Now that Beau's ass is prepared for a bareback fucking, Devin takes his position and drills Beau from behind. Switching positions, Beau gets on his back to give Devin complete access to his hungry ass. The bareback pumps keep coming from Devin's cock until Devin lets loose and shoots his load on Beau's hole, while Beau oozes his load out, and Devin laps it up.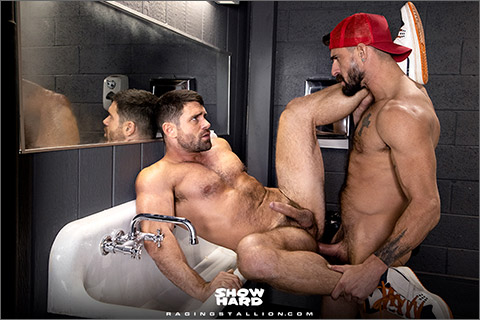 SHOW HARD: Sean Maygers fucks Beau Butler
Needing a release after being on the road for a while, Beau Butler pulls over at a rest stop. While he's in the stall, Beau hears Sean Maygers getting some action at the urinals. Sean catches Beau trying to peek and heads in the next stall to slide his cock thru the gloryhole. As soon as Sean's thick cock emerges, Beau is on his knees eagerly tasting Sean's meat. After sucking through the anonymous glory hole, Beau gets off his knees and backs his hot ass up on Sean's cock. They decide to ditch the barrier and take the action outside the stall. Beau gets bent over the restroom sink, so Sean can lick his hairy hole. Beau begs for more, so Sean mounts up and slides his thick meat inside Beau's hungry ass bareback. The cock sucking, ass eating, finger fucking, and pounding continues until Beau sits back on the sink and gets his ass pounded. The action hits a fevered pitch sending Sean over the edge as he pulls his cock out and shoots all over Beau's hole before pushing it back in. With his ass loaded up, Beau strokes his cock while Sean fingers him until Beau erupts all over his stomach.

SHOW HARD: Romeo Davis & Cole Connor fuck Beau Butler
Undercover cop Cole Connor is watching from a hidden hole in the wall as Romeo Davis and Beau Butler cruise each other and start to jack each other off. Not knowing they are being watched, Beau gets on his knees and gags on Romeo's cock. The action is so hot, so Cole decides to abandon his post and reveal himself, Beau and Romeo keep doing their thing while Cole jerks off. They invite Cole to join, and Beau is still on his knees, now servicing two cocks at once. Cole joins Beau on his knees to deepthroat Romeo's cock. All three hunks take turns swallowing cock before Beau gets hoisted up and bareback fucked by Cole. After working out Beau's ass, Cole bends over and gets stuffed on both ends. When it's Beau's turn again, he bears down on the sink to let Romeo stretch him from behind. Both Romeo and Cole take their turns fucking Beau's hole multiple times until Romeo sits back and lets Cole and Beau take turns riding on his raw cock. In the end, Cole is sitting on Romeo's cock and slams his ass up and down until his cock throbs and Cole shoots a thick load on Romeo's abs. Beau strokes a load out onto Romeo to add to the mix before Cole and Beau get on their knees to receive Romeo's load in their mouth.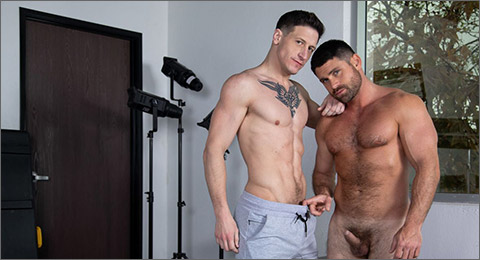 RAIN DATE
What better way to spend the day than to break in the newest Next Door hottie Beau Butler? Dalton Riley is the lucky lad who gets to bust Beau's nut in this super sexy rain date.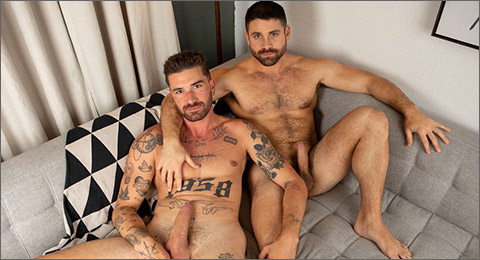 BOXING BROS
Get in the ring with Chris Damned and Beau Butler in this knockout scene. Chris delivers the one two punch as he beats Beau's hole up.
CLICK HERE TO GO TO HIS RAGING STALLION DETAILS
CLICK HERE TO GO TO HIS NEXT DOOR STUDIOS DETAILS
VIDEO ON-DEMAND: RAGING STALLION @ AEBN SMUTJUNKIES THEATER
ENDLESS UNLIMITED STREAMING: RAGING STALLION @ NAKEDSWORD