Kinky Sexy French Gay Porn Super Star, Aymeric DeVille
Years Active: 2007 – 2015
FUCKERMATE INFO:
This guy is a turbo sex machine, insatiable and so hot. He not only speaks six languages, but he knows how to use his tongue in other ways too, and his body speaks the language of sex. We were completely fascinated watching this guy perform.
TITAN MEN INFO:
Height: 5'11"
Penis Length: 8″ Cut
Bio: I live in Paris and work for a large International airline, so I travel a lot!
Turn-ons: I'm a bit of pig and love watersports and dirty sex.
Titan Media Signs Aymeric DeVille as Newest Exclusive Performer
(San Francisco, August 16th, 2010) Titan Media, parent company of gay mega-brands TitanMen, ManPlay, MSR Video and TitanMen Fresh, is pleased to announce it has signed a multi-year contract making Aymeric DeVille its newest exclusive performer. The 32-year old Parisian makes his TitanMen debut in the upcoming Brian Mills-directed film Stockroom.
   Standing 5'10" with a muscular physique and piercing blue eyes, Aymeric continues the TitanMen tradition of working with beautiful men from all over the world. Raised in Bordeaux, France, Aymeric has lived in Paris for the past 11 years. Not just another pretty face, this stunning Frenchman speaks 6 languages!
   "Aymeric possesses the most intense pair of cool-blue eyes I've ever seen," says director Brian Mills. "He is a French gem. He's beautiful, cocky and loves having sex. …and that ass – spectaculaire!"
   Aymeric's TitanMen debut film will be Stockroom, to be released in San Francisco at the Folsom Street Fair on September 26th. Aymeric will also be appearing at the street fair in the TitanMen booth located at the intersection of Folsom and Dore in the city's SoMa district.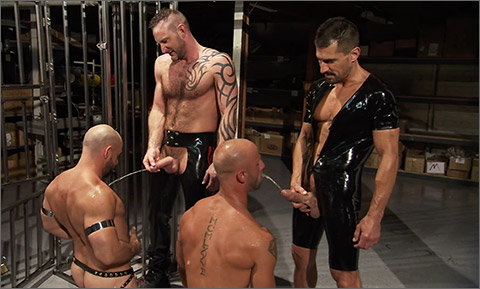 CAGED: David Anthony, Aymeric DeVille, Tibor Wolfe with Gio Forte piss & suck cock
His tan muscle bod trapped in a cage, Aymeric DeVille is at the mercy of his captors. From above, three alpha males are already exerting their authority on him. Draped in latex and leather that accentuates their tight frames, David Anthony, Tibor Wolfe and Gio Forte piss onto Aymeric's shaved head. The urine slides down his smooth, tattooed skin as he rubs it all over his body, savoring every drop. The trio makes its way down, sliding their strong hands inside to rub Aymeric's stunning build. David slips his monster boner through the bars as Aymeric opens wide, tugging on David's sac as he slurps. Gio turns his attention to tall, hairy and tattooed Tibor, who slams his big slab on his bud's face before feeding him. David teases Aymeric, making the prisoner reach his muscular arm out to slap the steel cock. Released from his cage, Aymeric continues to devour dick. David spits down into his mouth, the eager tongue lapping up every drop. Tibor and David kiss as they get sucked side by side, then step back to piss on their pleasers. After soaking them, they drop down to suck the studs. As Tibor feasts on Gio's stiff shaft, David spits on Aymeric's uncut meat and balls, the saliva soon dripping down his massive quads in a hot wet mess of a sequence. The action ends as Aymeric kneels down, his incredible chest soon soaked with cum that he rubs all over his pecs before dumping his own load.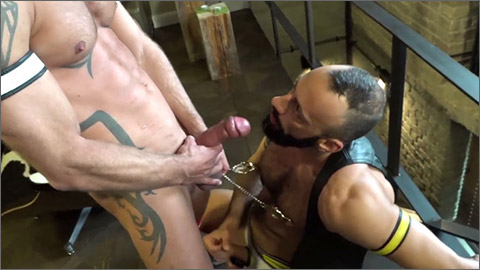 AYMERIC DEVILLE FUCKS ALBERTO ESPOSITO
Aymeric is a French tourist seeking only one in Berlin: tails for his racy Männervotze.
   To satisfy his cock he invites a guest over and grabs his cock in the black leather wrestler outfit when the door rings. Alberto Esposito, his hot-blooded Internet fuck date appears. In his black and Red motorcycle jacket and his pop-tight leather pants, he looks hot! So hot that Aymeric can't hide his fat cock. Bald pig Alberto assumes a position on a Chair and strips his panties down and presents his velvety splendor butt.
   A long thread of spit lands over and over in the hole of the pig. Alberto licks the spit and then smears in back in deep. His demanding tongue digs its way into the steaming meat cave and and further opens the asshole. His cock is even harder as a result. Once again, the crunchy ass cheeks of the bald pig re pulled apart and once again the tongue lands directly on the willing rosette which always remains open, so that the spit runs directly into the meat Canal.
   Now the two pigs are ready for their spanking. While the meat whip of Alberto is especially long, Aymeric´s is a mega huge beast which is brutally hit by its owner in the bearded Alberto's mouth. The Italian deepthroats his new pal. His mouth is filled with spit, which he spits on the ground to make way for the pig's tail again.
   And now finally he gets fucked. Each other the holes is rammed bareback until the pigs are sore and their asses steam. As Aymeric finally squirts hot white juice in Alberto's ass who then pulls himself 'til he cums too.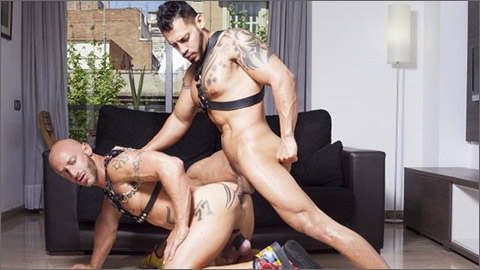 TATTOO RAW: VIKTOR ROM & AYMERIC DEVILLE
This month we have something very hot and special for you on Fuckermate. The summer is coming here in Barcelona and we've prepared this sizzling encounter for to kick it off. We start with the totally dominant Viktor fucking the hungry muscle stud Aymeric. This are 29 minute of pure hard sex and these guys give it all, they're here doing what they do best. Our photographer Mano Martinez had trouble keeping up with the pace of the action in shooting this scene. Aymeric didn't waste a moment in giving up his huge dick at every moment of the shoot. He didn't stop till every drop of his cum was delivered in full.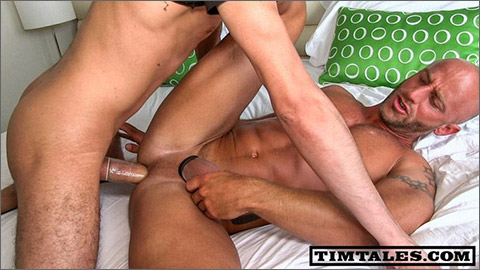 ESTEBAN FUCKS AYMERIC DEVILLE
Esteban, the living "Torre Agbar" of Barcelona strikes again in our latest episode.
   He gives it to musclehunk Aymeric Deville from Paris. Aymeric tried his best but could not take all of Esteban's unbelievable piece of meat. It's hot to watch it anyway 😉
   Isn't it hot to see muscle men getting their ass spread to the max? See the answer when you hit play…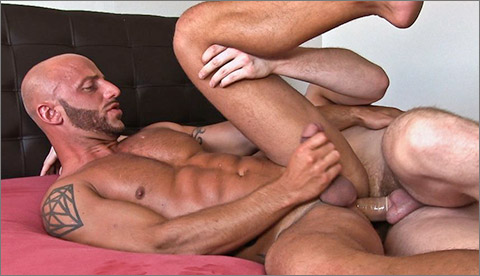 TIM FUCKS AYMERIC DEVILLE
International Pornstar Aymeric Deville on Timtales!
A big muscle guy taking a big cock. If you think that subject could interest you, just watch this video 😉
Great cumeating scene at the end. So let's not talk much, get into the Members Area and have fun!
CLICK HERE TO GO TO HIS TITAN MEN DETAILS

MEN MAGAZINE PRESENTS: TITAN MEN
VIDEO ON-DEMAND: Aymeric DeVille @ AEBN SMUTJUNKIES THEATER
DVDs & ON-DEMAND: Aymeric DeVille @ TLA VIDEO