Male Reality Czech Gay Porn Star, Aslan Brutti / Tomas Haloda
Known Aliases: Tomas Haloda, Asian Brutti, Ashlan Brutti, Assian Brutti, Aslan Duke
Years Active: 2009 – 2017
STAXUS INFO:
Aslan loves older guys and doesn't really care what their age is as long as the attitude is right.
Date of birth: 20th October 1990
Height: 6'1″ / 185 cm
Cock size: 7″ / 17.8 cm
Ethnicity: Czech
Role: Versatile
Interesting Fact:
His favourite thing is a DP three way.
WILLIAM HIGGINS INFO:
Model Name: Tomas Haloda
Age: 29
Home Town: Jablonec
Height: 185cm/6'0″
Weight: 75kg/165lb
Foot Size: EU45/US9.1/UK8.6
Penis Size: 18cm/7.09″
Profession/Student of: Photographer
Hobbies: Sport
Favorite Sports: Athletics
Active Sports: Jogging
Movie/Music/Sport Stars: Jan Saudek
Visited Countries: Germany
Want to Visit Countries: Guatemala
Dream of My Life: To be a famous photographer.
Zodiac Sign: Taurus (April 20 – May 20)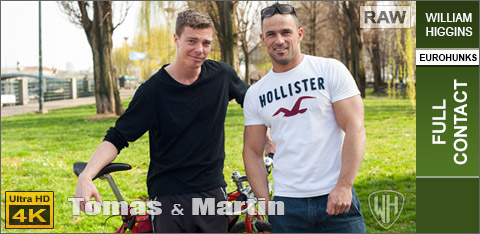 FULL CONTACT SCREEN TEST: MARTIN PORTER & TOMAS HALODA
In a great screentest we have newcomer Tomas Haloda with Martin Porter. Martin is by the river waiting when Tomas comes along, showing off, on his bicycle. They have a chat and decide to go back to Martin's apartment. Once inside they start drinking beer as they sit on the sofa. Then the decide it is time for more than beer and begin to kiss each other. Tomas removes Martin's tee shirt, showing his massive chest. Then he removes his own sweater as well. As they kiss their hands run all over each other. Martin's jeans are opens and removed and Tomas gropes him through his underwear. As Martin also gropes Tomas it is clear that there is a rock hard cock in the shorts. Tomas' gets naked so that Martin can really wank on his big stiff dick. Martin leans over and take it in his mouth and sucks it hard. His head bobs on the cock as Tomas wanks him. Martin loves to lick and suck and does a great job on that big cock. Then his underwear is removed and Tomas shows that he is more that equal in the sucking department. Martin moans as the hot mouth works on his throbbing cock. Then they change again so that Martin gets another mouthful of Tomas' big dick. They move to 69 with Martin on to of Tomas. Then Martin lays on the sofa, presenting his hot ass so that Tomas can rim the hot hole. His tongue laps at the hole as Martin moans. Then a finger slides in and starts to fuck the hole as Tomas licks the balls.Martin moves onto his knees and Tomas gets behind him to slide his big cock deep into the waiting hole. That cock goes all the way in and fucks it deep as Martin moans. His own cock stays hard and is pushed down between his legs as his hole takes all of Tomas' throbbing cock. Tomas' heavy balls swing as he fucks Martin's ass. He then lays on the sofa so that Martin can ride his big cock. Martin's tight ass slides up and down on the thick shaft as his own cock stands proudly erect. Then they move to spoon position, Tomas fucking deep and Martin wanking himself. His wanking is hard and fast and with that big cock deep in his hole he dumps a huge, creamy load all over himself, moaning loudly as the juice shoots out. With Martin's cock fully spent Tomas pulls out of that ass and shoots his own deliciously cream load. Then they kiss again and go off to the shower to clean up.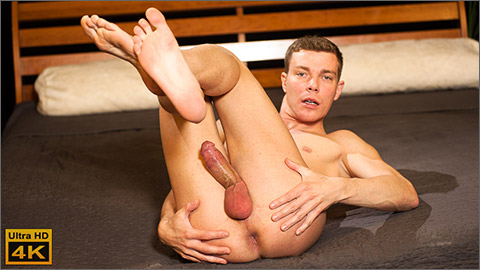 EROTIC SOLO: TOMAS HALODA
Tomas Haloda is aged 29 and lives in Jablonec nad Labem. He works as a photographer and in his spare time enjoys atheletics, jogging and sports generally. What a very handsome guy Tomas is and he looks so good as he poses for the camera, gradually removing his clothes, to show his hot body. He gives us a great view of his sexy ass and then we get to see his cock too, as he turns around. Having enjoyed a soft cock we then see it rock hard as Tomas sits and wanks it. He does a great job of showing off his sexy ass too, spreading the cheeks to expose his tight hole. He is one very sexy guy, I am sure we will get a great video from him next week.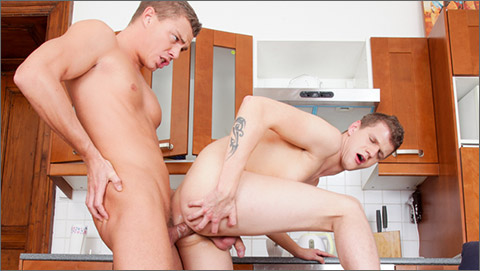 TOO BIG FOR TWINKS 7: Aslan Brutti fucks Pracik
Pracik is late again with his rent and Aslan is sick of it, so he decides to make him pay rent in another way.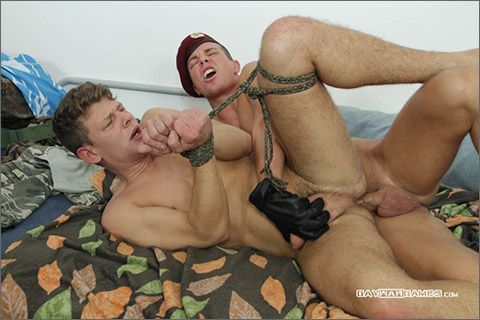 HOMELESS DAY
Was rainy day, and I found some homeless boy, who was quite good for some game. Let's start with some fun!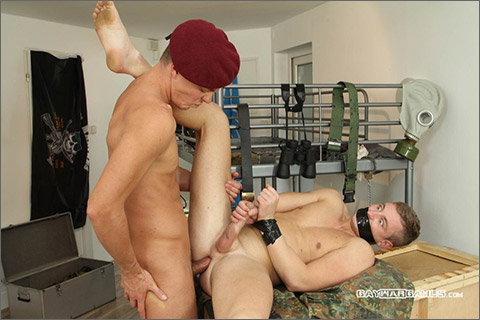 THE RED BARET MASTER
I had some recruit in my hands, which need be a little bit trained. So lets give him some lessons about life in army!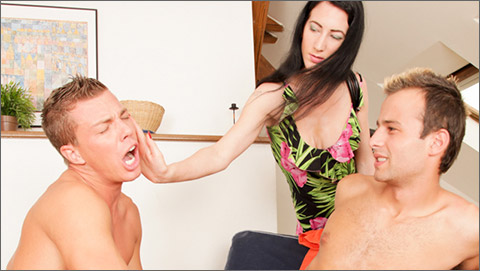 MY BOYFRIEND IS GAY 6: ASLAN BRUTTI FUCKS KOTLY
When the girlfriend leaves town, these boys don't waste time going down… on each other!
MILE HIGH MEDIA / MALE REALITY
WILLIAM HIGGINS
WILLIAM HIGGINS STR8HELL
GAY WAR GAMES
BREED ME RAW
IKARUS STUDIOS / SWEET AND RAW
STAXUS
CZECH GAY CASTING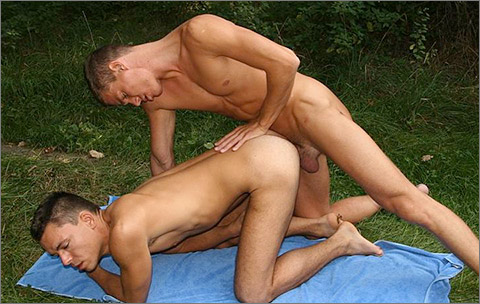 ASLAN BRUTTI FUCKS CARLOS CANTOR
EROTIC SOLO: TOMAS HALODA
ASHLAN DUKE FUCKS ANDY WEST
NICE MASSAGE WITH SOME RAW SEX
BAREBACK MASSAGE
DOUBLE ANAL PENETRATION FOR HIRE!
TOMAS HALODA & MARTIN PORTER
THE RED BARET MASTER
HOMELESS DAY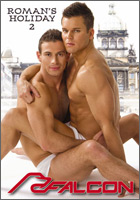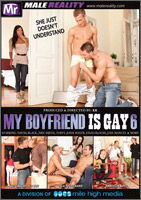 ROMAN'S HOLIDAY 2 (FVP-196)
MEN IN UNIFORM 6
MY BOYFRIEND IS GAY 12
TOO BIG FOR TWINKS 11
GAYKAKKE 4
TOO BIG FOR TWINKS 7
GAY MASSAGE 3
GAY MASSAGE 4
MY BOYFRIEND IS GAY 5
MY BOYFRIEND IS GAY 6
TOO BIG FOR TWINKS 5
TOO BIG FOR TWINKS 6
OFFICE TWINKS 5
BI-SEXUAL CUCKOLD
SCORE
SWEAT & CUM
RAW SCOUTS
SLALOM SLUTS
EXTREME TWINKS
BAREBACK MONSTER COCKS: SUPER SIZE ME
RAW FOCUS
FIRE IN THE HOLE
BARE BRIEFS
BAREBACK VIBES
GAYWATCH – PART 1
BRITISH SEX EDUCATION 2
HANGING OUT IN THE CITY
ACTION DISCIPLINAIRE
STRANGERS' MEAT
THE BLOND NEXT DOOR
MR. & MR. UNCUT