Asa Shaw Hunky Twink American Gay Porn Star, Asa Shaw
Years Active: 2013 – 2015
TWITTER @AsaShawXXX
HELIX STUDIOS INFO:
Age: 25
Height: 5'8
Weight: 120
Waist: 25
Ethnicity: American
Hair Color: Brown
Eye Color: Brown
Cock Size: 7
Orientation: Gay
Role: Bottom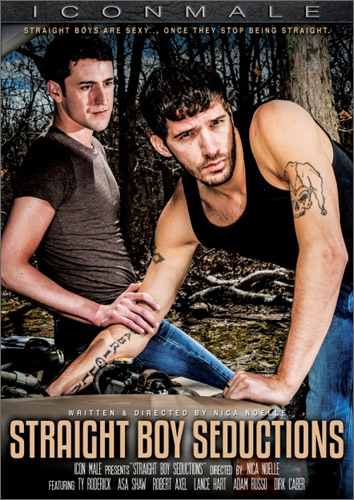 STRAIGHT BOY SEDUCTIONS: Ty Roderick, Asa Shaw
Dreamy jock Ty Roderick is coaching aspiring football player Asa Shaw so that he can make the football team. Even though Asa fumbles every catch, Ty encourages him to keep trying. But it isn't long before Asa gets discouraged and wants to take a break. Truthfully, he doesn't really care about sports. To Asa, the football team is the best way to get noticed… by a guy.
   Ty is straight, and has never fooled around with a guy. When Asa asks if he can suck his dick he isn't even sure he can keep it up. Convinced to give it a try, he insists on standing eyes closed, while Asa practices his blowjob skills. Asa tentatively reaches over to the front of the jock's jogging pants, and slowly pulls them down to reveal the object of his obsession. Although it doesn't seem to be working at first, eventually the Jock's dick rises to full attention while Asa teases his balls and works the pole with his lips and tongue. Ty keeps his eyes shut, but it isn't long before curiosity and horniness get the best of him and he peeks down at the service he's getting.
   Ty lifts Asa up off his knees and tosses him chest down onto the bed. He tugs down on the back of Asa's pants, exposing his smooth bubble but. Although he doesn't have any experience getting fucked, Asa takes it without too much complaint as Ty greedily pushes in and fucks him hard.
   Moving Asa onto his back, he discards the boy's pants and shoes in the process, and the jock coach resumes pounding ass. Intensity and intimacy grow as the boys stare into each other's eyes. Ty pulls out of the younger boy, and leans back on the headboard while Asa continues to give him his first blow job. Ty grabs the back of his head and pulls it down on his stiff cock, shoving it to the back of his throat.
   As the boys spoon, it isn't long before Asa cums onto his smooth belly, and Ty comes right on top of Asa's.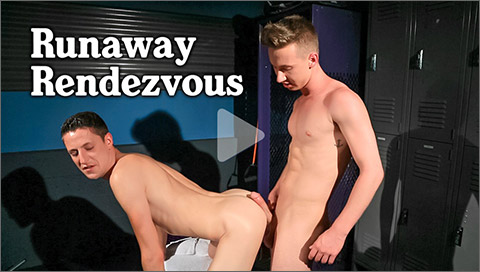 RUNAWAY RENDEZVOUS
Catch some of this secret, sexy heat! Asa Shaw and his schoolmate, Ashton Webber, had been commiserating at track practice earlier today. It seems Asa's mom is on his back about his grades and other shit. Ashton's dad is threatening to send him to boot camp if he doesn't get his act together. Considering all the trouble they're having at home, the two made a pact to run away together…right after practice!
   They decide to meet up inside the old locker room across campus, the one nobody uses anymore. Asa seemed a bit reticent when they had been discussing the plan earlier, so Ashton wants to be sure his friend's mind is at ease about the runaway plan. Asa arrives to find Ashton in a towel, looking sexier than ever. Asa can't keep himself from kissing and feeling Ashton's hot bod. Soon both boys are nude and enjoying each other. Asa starts by sucking Ashton's throbbing cock. Then Ashton has a nice taste of Asa's sweet fuck hole. He's making sure it's slick, and ready for what he has in mind next. Watch Ashton slide his hardened dick into Asa's ass. Asa knows he shouldn't be doing this, especially on campus! But it feels too good. And besides, they're runaways now! Don't miss this very naughty, very erotic, incredibly hot, clandestine encounter as these boys get ready for life on their own.