William Higgins Muscle Czech Gay Porn Star, Arny Donan
Known Aliases: Patrick, Czech Hunter 152, Patrick Roberts (Man Avenue), Patrick Tyson
Years Active: 2014 – 2016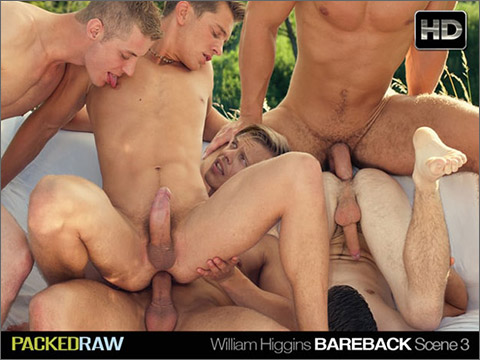 PACKED RAW: Arny Donan, Mate More, Radan Flex, Steve Peryoux, Tono Milos
Radan Flex and Mate More get the party started quickly in this steaming lakeside orgy, Steve Peryoux, Tono Milos and Arny Donan soon join in!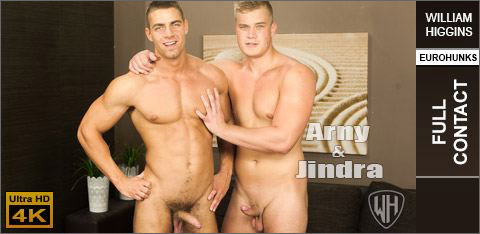 FULL CONTACT: ARNY DONAN & JIDRA DURAK SCREEN TEST
Arny Donan came in to pair up with Jidra Durak who had agreed to a screentest. Arny does a brief nterview with Jindra, complimenting him on his body. Then they get started, by kissing each other. As they kiss each begins to feel the other's body and Arny moves to kiss Jindra's nipples. One hand moves to Jindra's groin and quickly his cock gets hard in his underwear. Jindra stands and his underwear is dropped to reveal his rock hard cock. Arny is quickly on that cock, sucking it hard. His head bobs on Jindra's throbbing cock, making it feel so good. Then Arny stands, lowering his underwear so he can wank both dicks together. Then he sits and Jindra goes down on his cock, showing s that he can suck real good too. From there they move to 69, with Arny on top. Both moves are filled with swollen meat getting the guys all hot and horny. Arny moves, to present his hot ass to Jindra who slides his cock deep into the waiting hole. Arny moans as his hole is filled so well. Jindra thrusts in and out with his cock, stretching the hole well. Then he sits on the sofa so that /arny can ride his beautiful cock. That sexy ass slides up and down on Jindra's dick, util he takes over thrusting deep into that eager ass. Next Arny lays down, legs up with Jindra fucking him nice and deep. He is soon ready to shoot his load. Pulling out of that hot ass he dumps his cum over Arny's sexy body. Then Arny wanks himself to a nice creamy load as well. Jindra leans over and kisses Arny again to end his very successful screentest.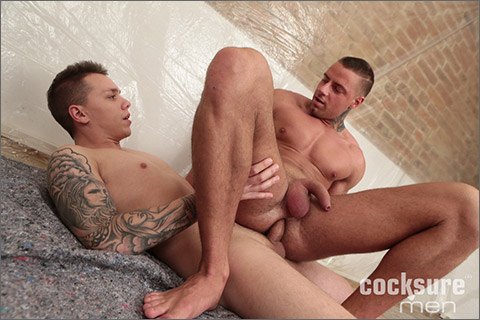 MICKEY RUSH BAREBACKS PATRICK TYSON
Ripped muscle jock Patrick Tyson is setting up to paint a wall when Mickey Rush walks in. He starts touching Patrick's hard muscles. They kiss while feeling each other's bodies. Mickey unzips Patrick's jumpsuit, sucks his stiff cock, and licks his smooth balls. After Mickey takes his pants off, he leans on the ladder. Patrick gets on his knees and sucks his uncut meat. They kiss again before Patrick takes his turn on the ladder revealing his bubble butt. Mickey spreads Patrick's ass cheeks and rims his hairy hole. Patrick helps Mickey with a handstand and sucks his cock upside down. Patrick takes a turn rimming Mickey' hole. Patrick leans his left leg on the ladder waiting for Mickey's raw cock. Patrick's face is ecstatic while getting fucked bareback. Patrick lays on the floor and holds his legs up in the air, making it easy for Mickey to fuck him raw. Patrick sits on Mickey's raw cock bareback, while jerking his cock. Mickey fucks him bareback from the bottom up until he pulls out and jerks his load. Mickey Rush sucks Patrick Tyson's cock until he blasts his creme into Mickey's mouth. A sticky kiss ends this paint prep.

NICO LACOSTY BAREBACKS PATRICK TYSON
Nico Lacosty watches stud Patrick Tyson jerk his meat. Patrick begins to play with Nico's nipples. With his mouth Patrick feels Nico's cock through his shorts. They begin to make out. Nico takes his shorts off revealing his cock. They both jerk each other's cocks and kiss passionately. Patrick stands over him while Nico wraps his mouth around his thick, uncut cock. Patrick returns the favor making his way down to Nico's uncut prick. He sucks just the head then goes over and massages his balls with his mouth. Patrick eats Nico's ass while Nico jerks his pole. Nico grabs the baby oil, squirting it on his muscular body then on to Patrick's chiseled bod. They rub it all over each other. Patrick gets a dildo from the floor and rubs it on their oily bodies to lube it up. Nico grabs the dildo and pokes himself, while Patrick jerks Nico's prick. Patrick asks to be fucked. They lay next to each other and Nico drives his raw cock deep inside Patrick, bareback. Nico towers over Patrick and shoves his meat stick in and out bareback, fucking him doggy-style. Nico lays on his back and Patrick takes a raw ride. Nico pumps his cock bareback deep inside Patrick's hole from the bottom, while Patrick bounces on top. Nico Lacosty pulls out and shoots his wad onto Patrick's cock, then seeds his raw ass bareback. Patrick Tyson strokes and creams all over his abs. They end with a passionate kiss.
CATALINA VIDEO
WILLIAM HIGGINS
STR8HELL
JAKE CRUISE'S COCKSURE MEN
GAY WAR GAMES
CLICK HERE TO GO TO HIS COCKSURE MEN BIO PAGE