ChaosMen Amateur, Armani
Years Active: 2014 – 2015
BRIAN OCKERT / CHAOS MEN INFO:
Start Age: 24
Debuted: February 3, 2014
Height: 5'9″
Weight: 160 lbs
Cock: 6″ Cut
We had a few false starts with Armani. First time he came out, he was a little under the weather. He was determined to do the solo, but bless his heart, he just wasn't in shape to perform.
   So a couple weeks later I got him scheduled back, and this time he was on his game, ready to go! Perhaps a little TOO ready to go, as he waited 5 days before cumming, wanting a really huge load, as well as being extra horny. If you watch the ending of this video, you will see an Out Take as to what happens when you do that!
   He sure is a handsome guy. Great body, amazing body hair, teeth, great cock, nice ass, just a really awesome all-around package. And his personality is top notch as well. Friendly, easy to talk to, and really enjoys smiling.
   Despite his polished looks, he plays for the straight team, and seems to go for Latina girls with big asses. He has a new girlfriend that is about a decade older than him, and it sounds like it could get serious.
   If you do watch the end of this video, then you know why I had to resort to jarring cuts as well as letting him have some audio. I try not to resort to this trick very often, as the guys have got to learn to not to have the sound of girls getting banged while they perform, but it did the trick and made his cock so hard he snaps it against his belly.
   We didn't get to his oral video, so that we shall save for another trip!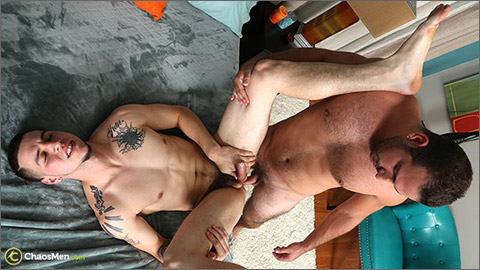 RAW: ARMANI & ZALE
I had been hinting to Zale that he should start thinking about pushing his limits and try to bottom. He never seemed dead-set against it, but I think he wanted to try topping his first couple shoots before going ankles up.
   As often happens, he worked with a couple guys that were enjoying getting fucked, and they would tell him it is not bad at all, in fact the orgasms seem to be stronger. So his curiosity was piqued. Plus he also wanted to be a more rounded performer, getting a chance to do more video work.
   Since Armani has been doing great as a Top, I figured he would be a great "starter" guy for Zale. He stays hard, and could take his time while Zale got used to the sensation.
   But Armani is also a great bottom, so I set it up as a flip-flop video, with Zale only bottoming one position.
   Zale wanted to get fucked first time in doggy-style position just in case he needed to jump away. Armani took it easy on him, and he did actually volunteered getting fucked in a second position. Progress!
   He stayed soft for most of both positions, so I am not sure he had an epiphany to bottoming, but he no longer will fear it, and will become a more versatile performer.
   Meanwhile, Armani continues to excel at both positions. A couple times while getting fucked, he nudged Zale's hand away from his cock to avoid cumming.
   We used this to our advantage so that Zale would actually fuck him while stroking him to orgasm. You can see Armani's hand hovering just above, as if he wanted to grab and take over, but Zale does indeed make him nut.
   Zale also has his breeding down. I think last time he just could not let go of his cock while cumming, but this time he starts to shoot, then nuts inside of Armani, hands-free.
   I still have not got either guy to rim, so the video is lacking that, but the fucking and breeding are all top notch!
   I know 'first time fucked' videos are always dubious, but this one has some great energy, and you can really tell Zale is reticent, but still eager to enjoy it!
RAW: ARMANI & ZALE
RAW: ARMANI & BRANNON
RAW: ARMANI & AUGUSTUS
RAW: ARMANI & GAVIN SEVIN
G:hOle RAW DC: ARMANI & GRIFFIN
RAW: ARMANI & GENNARO
PURE: ARMANI & COOPER REED
RAW: ARMANI & JONAS
EDGE: ARMANI & BAY
SOLO: ARMANI
CLICK HERE TO GO TO HIS CHAOSMEN BIO PAGE