Furry Uncut Hung Gay Porn Star, Anthony Gallo
Known Aliases / aka: Antonio Morais
Years Active: 1994 – 1999
KRSTIEN BJORN INFO:
Nationality : Brazilian
Height : 5′ 10″
Weight : 190 lbs.
Cock : 9″ uncut
Position : Bottom
Antonio is one of the nicest and congenial models I have ever worked with. Both the scenes he participated in were difficult, large group scenes, but he never lost his cool. He has since gone to the states where he makes videos under his new Americanized name (Anthony Gallo).
AEBN INFORMATION:
Anthony Gallo is a gay adult film star whose tough demeanor made him noticeably conspicuous against the standard-issue look for the industry. A native of São Paulo, Brazil, Gallo was employed as a private English tutor and moonlighted as a competitive bodybuilder. He was introduced into the world of gay pornography by noted director Kristen Bjorn, whose roster of pretty-faced, slender stars were the polar opposites of his new performer.
Gallo emigrated from Brazil to market himself in the busy Los Angeles adult scene. By the mid 1990s, he was making a steady stream of appearances in gay porn movies. He is popular with porn fans because of his close-cropped (sometimes shaved) head of hair, stubble, bedroom eyes, and hirsute, thickset frame and large uncircumcised penis. Although his look was type-specific, he managed to avoid typecasting, and appeared in range of diverse productions, adapting to any sexual role.
He was one of an increasing number of male stars who were openly gay and not shy about revealing it. He briefly gravitated away from the industry at the insistence of his partner, but he returned when the relationship ended. His roles became fewer and far between — and his appearance more svelte — by 1999. He retired from the industry shortly thereafter.
FROM ANTHONY GALLO:
I have always been a tutor of English as a second language in Brazil. When I was 17 I went to live in California as an exchange student. I did my senior year of High School in a small town called Morro Bay, next to San Luis Obispo. I already knew English back then and after i year there, I came back home very sharp and got into tutoring. I work mostly with business people and I go to their houses or offices. Among the students I used to have, there was a guy named Marcos who used to shoot models for the American gay magazines, since there weren´t any here back then. He approached me about posing for him and I refused it. After some time, this was in 1992, I competed in the State Bodybuilding Championship here in São Paulo. I got first place and went on to the Nationals where I placed third. Coincidentally, my friend Marcos was the cameraman shooting the competition.I was looking great and he then approached me about maybe making a film for Kirsten Bjorn, whose work I was familiar with and also admired. I decided to go for an interview and he hired me instantly. So then I headed to Venezuela where we shot Paradise Plantation. I guess I will have to tell you all the details about that some other time. Then he called me back to make the second one and when I went to get paid for the job, I met a porn star who had worked for him before by the name Rod Majors and when I told him I was on my way to NY to stay with a friend for two weeks, he told me I should try to work in the US. My intention were to make the movie, get the cash and go spend it in NY. I had never thoughht of making this a career. We exchaged phone and I sent him a picture which he sent to Catalina an they called me and flew me there for five movies. This was coincidentally the week of my birthday ( March 16 ) in 1994. I did the movies and went back to NY. By then I had decide to remain in the US for some time. Things in NY were hard and there was no work in the porn industry there. After a lot of frustrating trials to get settled, I ran out of money and had enough to come back home or to go try life somewhere else. I called Chi Chi La Rue, who had directed me in my first film and he told me that if I were around, I would probably work a lot, so that´s what I did. I had a few friends in LA and I remember arriving on a Sunday at noon and by Monday at 4 I was already working again. So that´s how it all started. I started to work a lot and you know how much they like new faces. My biggest selling points were the fact that I was hairy, uncut and versatile. But I myself had never imagined that I would work as much or that I would also gain recognition for all that. It was and it still is very exciting to have touched so many people that way.I will be posting messages telling you about my career. I do plan writing a book but that will take a while. I have a lot of unseen pics that I had made for my web site, but even though I just got a computer, I don´t have a scanner yet. I should get one soon , but even if I don´t I know people who do and I can have a few of them scanned and sent to you. Thanks again for all the support and feel free to send me questions. I have already received a few and I will answer them as I go along with my writing. Hope all you guys are ok and we´ll talk soon.
   Love, Anthony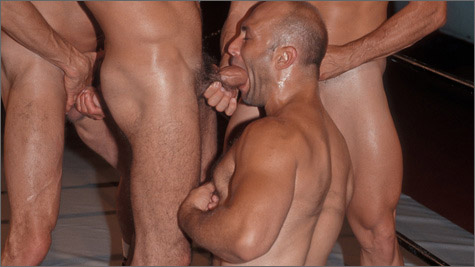 TAG TEAM: Anthony Gallo, York Powers, Trenton Comeaux, Nick Cannon
A simple training session turns into a full-scale sex bout as York Powers coaches Trenton Comeaux and Nick Cannon through their holds for newcomer Anthony Gallo. Coach Powers and Gallo can't keep their heavyweight hardons outside the ring as Comeaux and Cannon lose their trunks during a sweaty session of submission style wrestling. Comeaux's muscular torso is soon pinned to the mat by the threesome with Gallo lapping up the sweat from his exposed crack. After being skewered by Gallo's enormous meat, Comeaux is suspended from the ropes and, while sucking fat Cannon, is given a royal drilling by Coach Powers and Gallo. Gallo and Comeaux dock foreskins while Coach continues to assault Trenton's hole. All four finish the round on the mat with Gallo and Powers double penetrating Comeaux. The action pushes Powers over the edge into a screaming cum shot worthy of an instant replay with Gallo gasping for air as he shoots gobs. Both Comeaux and Cannon follow-up with bell-ringing loads.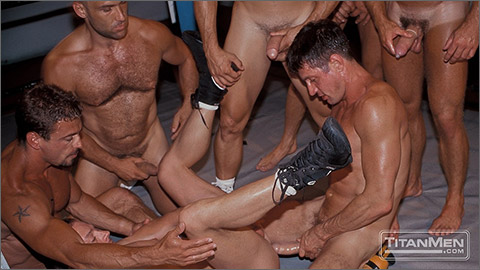 TAG TEAM: Anthony Gallo, York Powers, Paul Dawson, Eduardo, Trenton Comeaux, Joe Serrano

CATALINA
CHANNEL 1 / RACY PICTURES
PROJEX VIDEO
FOX STUDIO
HOT DESERT KNIGHTS
PIG PLAY PRODUCTIONS
FORUM STUDIOS
HIS VIDEO

CLICK HERE TO GO TO HIS TITAN MEN DETAILS

MEN MAGAZINE PRESENTS: TITAN MEN
MEN June 2002, December 2006, April 1999
UNZIPPED August 18, 1999
HONCHO May 1995, June 1996, February 1999, November 1999
MANDATE February 1995, June 1998
TORSO March 1995, November 1998
BOUND & GAGGED #70
DUDE April 2000 (Vol. 4, No. 3)
MANSHOTS May/June 1998, November 1998
NUMBERS May 1998
ADONIS #101
FORESKIN QUARTERLY (FQ) #25
HOT MALE REVIEW (HMR) January 1998
HARD Fall 1997
STROKE v14 n05, v17 n05
XXX SHOWCASE July 1997
MEN OF THE WORLD
ADAM GAY VIDEO: 400 PORN STARS
CATALINA: CUMMIN' UP v08 n01
MEN SUCKIN' MEN #3
FORUM MAGAZINE v01 n01
TOP STUDS v01 n01
MEN MAGAZINE 15TH ANNIVERSARY
VIDEO ON-DEMAND: Anthony Gallo @ AEBN SMUTJUNKIES THEATER
NOW STREAMING: Anthony Gallo @ NAKEDSWORD