William Higgins Czech Gay Porn Star, Andy West / Martin Porter
Known Aliases: Czech Hunter 21, Scott Dermitt, Joshua X, Endy West
Years Active: 2012 – 2015
WILLIAM HIGGINS INFO:
Age (2014): 37
Home Town: Krnov
Height: 170cm/5'6″
Weight: 79kg/173.8lb
Foot Size: EU41/US8.3/UK7.8
Penis Size: 16cm/6.3″
Profession/Student of: Warehouseman
Hobbies: Sport
Favorite Sports: Tennis
Active Sports: Fitness
Movie/Music/Sport Stars: Clint Eastwood
Visited Coutries: Germany
Want to Visit Coutries: USA
Dream of My Life: I don't know.
Zodiac Sign: Scorpio (October 23 – November 21)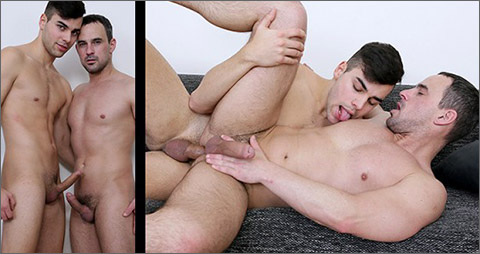 JOEL VARGAS BAREBACKS ANDY WEST
Sexy Joel Vargas and Andy West kiss intensely while feeling each other's amazing bodies. Joel takes Andy's shirt off and plays with a nipple. Andy gets on his knees and makes his way down to Joel's cock. Andy sucks on Joel's huge uncut cock and licks his balls. Joel takes his turn on Andy's cock by wrapping his lips around and sucking. They kiss before Joel sits on the couch and Andy climbs on top riding his raw cock bareback. Joel lays on the couch and Andy gets on top of him and fills his ass with cock. They mix things up and Joel fucks Andy bareback missionary style, filling his hole perfectly with his raw cock. With Joel's raw cock inside of him, Andy strokes and shoots his load all over his stomach. Andy get's fucked raw again until Joel squirts his juice all over Andy's ass cheeks. Joel sticks his cock back inside Andy West bareback, seeding him. Joel Vargas gives Andy a sweet smack on his thigh. They both end up with a giggle.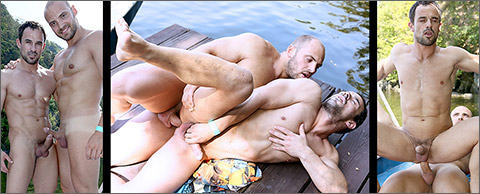 THOMAS RIDE BAREBACKS ANDY WEST
Beefy stud Thomas Ride and muscle jock Andy West take a boat ride on a lake. There are people around on this sunny day. They kiss intensely while feeling each other's muscular bodies. Andy takes Thomas's cock out of his shorts to get at his hard cock. Then he starts sucking on Thomas' huge uncut cock. Andy stands, letting Thomas get a turn at his 7 inch cock. Thomas lays on the boat and Andy sits on his raw cock bareback. You can tell Andy is enjoying every second by the way he slams his ass deep onto the base of Thomas' thick cock. Thomas takes his turn and plows Andy up from the bottom, filling Andy's hole with his raw cock. They change it up by fucking bareback doggy-style. Andy moans as Thomas slides his cock bareback inside Andy's stretched hole. They mix things up and Thomas fucks Andy missionary style, filling his hole perfectly with his raw cock. Andy strokes his meat as Thomas fucks him bareback. Andy busts his nut onto his abs. Thomas pumps his cock hard and fast squirts his load between Andy's ass cheeks. They kiss and high five each other because no one caught them in the act!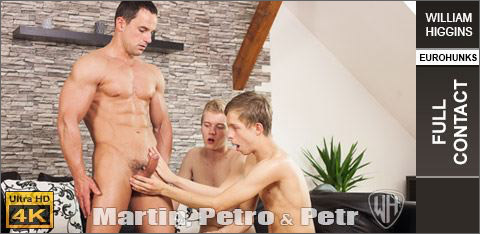 FULL CONTACT: PETRO, MARTIN & PETR
Martin Porter is one very sexy stud. We find him taking a shower, soaping his magnificent body all over, with his semi hard as he does so. As he showers we take a look at Petro Peka and Petr Said who are just waking up. They hear the shower and creep off their bed to see who it is. Martin is towelling himself off as he spots them watching. The guys join him and take up his offer of feeling his hot body. As they reach out to touch him Martin drops his towel and Petr takes hold of the cock and licks it. Then Petro does the same. Martin's fat cock begins responding to the hot tongues that lick it. Soon it is rock hard and Petr and Petro wank it and give it a little suck. Then they stand and Martin pulls down their underwear. Petr is already very hard and Martin starts wanking and sucking on the cock. Petro wanks himself and gets hard too, so that Martin can suck him as well. He sucks each of the guys throbbing cocks in turn before Petro lays down with Petr over him. He sucks Petrs cock in a 69. Then Petr sucks Martin as well. That soon leads to some hot fucking with Martin pounding Petr's sexy ass. As he gets fucked, moaning with pleasure Petr sucks on Petro's dick some more. Martin really pounds that ass making Petr moan. Then he lets Petro take a turn in that ass. With Petr on his back, legs up, Petro fucks him nice and deep as Martin wanks himself. Petr loves the dick in his ass and as Petro lays down he sits his ass back down on it. As Petro fucks him Petr wanks his own cock with Martin doing the same as he watches the action. Petr soon explodes with a massive cumshot, while Petro keeps fucking him. His cock slams up in that sexy ass, going faster and faster. Then he and Martin stand over Petr wanking themselves until they too shoot their hot cum all over his sexy body. Petr licks the spent cocks, cleaning the cum off the heads, as Martin leans over to kiss Petro to end their hot session.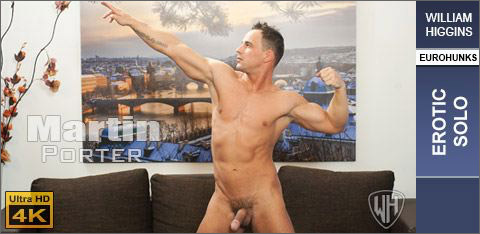 EROTIC SOLO: MARTIN PORTER
Martin Porter is aged 37 and lives in Krnov. He works as a warehouseman and in his spare time he enjoys tennis, fitness and sports generally. What a very handsome guy Martin is. He looks so impressive as he poses, fully clothed. Then he looks even better as he lifts his tee shirt to show off a great set of abs. The tee shirt comes off and Martin's chest is fully exposed. What a beauty it is too. This guy is one very hot stud. Things get even better as he loses his pants and stands in just his underwear. What a great view that is, his thick thighs supporting his hot body. Turning, back to camera, Martin lowers his underwear, showing a tanning salon butterfly on a very sexy ass. He flexes his biceps as we enjoy that ass. Then he turns again, pushing his underwear down, and reveals a lovely, soft cock, nestling on his balls. Kneeling on the couch Martin pushes his hot ass back towards the camera, which spreads his ass to expose his hot hole. Then he turns over and lays back, so that we can enjoy that hot body and cock. He gets the cock nice and hard for us, holding it up for inspection. Then Martin stands up to pose with the dick still hard. It looks so good as he works through a series of poses. Then he lays back on the couch, legs in the air to give a hot show with his big, sexy ass. The cheeks are spread wide to show off his tight pucker hole. Martin finishes his wonderful shoot with another series of shots, showing everything his has to offer.
EROTIC SOLO: MARTIN PORTER
FULL CONTACT: MARTIN PORTER & JOHN BLUNT
FULL CONTACT: PETRO, MARTIN & PETR
FULL CONTACT: RADO ZUSKA & MARTIN PORTER RAW
WANK PARTY 2015 RAW #4
WANK PARTY 2015 RAW #3
MASSAGE: MARTIN PORTER
MAX BOURNE BAREBACKS ANDY WEST
JACK BRAVER BAREBACKS ANDY WEST
ENNIO GUARDI BAREBACKS ANDY WEST
PAUL FRESH BAREBACKS ANDY WEST OUTDOORS
PAUL FRESH BAREBACKS ANDY WEST
DRAGO LAMBERT BAREBACKS ANDY WEST
HARD AT WORK WITH ZACK HOOD AND BAREBACK FUCK BUDDY ANDY WEST
ENNIO GUARDI FUCKS ANDY WEST
ZACK HOOD FUCKS ANDY WEST
ENNIO GUARDI FUCKS ANDY WEST
ASHLAN DUKE FUCKS ANDY WEST
JOHN PARKER & ANDY WEST
ANDY WEST & BEN REED
ZACK HOOD FUCKS ANDY WEST
DEEP ANAL THERAPY
HAPPY BAREBACK ENDINGS FOR EVERYONE
TOYS FOR BOYS!
HARD BAREBACK COCK
FUCK ME, I AM FAMOUS
CZECH HUNTER 21
RUGGED MUSCULAR HUNK JOSHUA X STRIPS NAKED AND BEATS HIS MEAT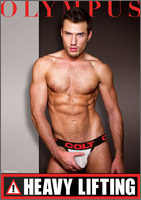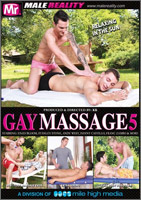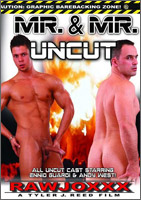 EMBRACE
HEAVY LIFTING
GETTING IT
BI MAXX 48
DADDY LOVES TWINKS 4
GAY MASSAGE 5
GAYKAKKE
DADDY LOVES TWINKS 2
BI-CURIOUS COUPLES 6
YOUR ASS FOR MY ASS 2
BAREBACKING JOCK HOLE 2
DON'T FUCK WITH TOMM
MR. & MR. UNCUT
UNCUT RAW COCKS
JAKE CRUISE'S COCK SURE MEN
MAN AVENUE
COLT STUDIO / OLYMPUS
MILE HIGH MEDIA / MALE REALITY
CZECH HUNTER
BREED ME RAW
HOT DESERT KNIGHTS
DADDY RAUNCH
HDK RAW
CLICK HERE TO GO TO HIS WILLIAM HIGGINS BIO PAGE
CLICK HERE TO GO TO HIS COCKSURE MEN BIO PAGE