Staxus Czech Twink Gay Porn Star, Andy Scott
Known Aliases:
Years Active: 2016 – 2018
STAXUS INFO:
Andy's such a shy fellow that we seriously wondered whether we'd ever actually coax him into porn when he first arrived at our studios. Director John Smith has a way with these young wannabes, however. So much so that the lad's quickly establishsed himself in front of camera as a bit of a pro!
Model Stats:
Date of birth: 23rd July 1997
Height: 6'1″ / 185 cms
Cock size: 8″ / 22 cm
Ethnicity: Slovak
Role: Top
Interesting Fact:
Andy is a really quiet guy, who's got a wicked sense of humour. Once he gets to know you, you can be sure he'll soon be out to poke fun – or, better still, to poke ass!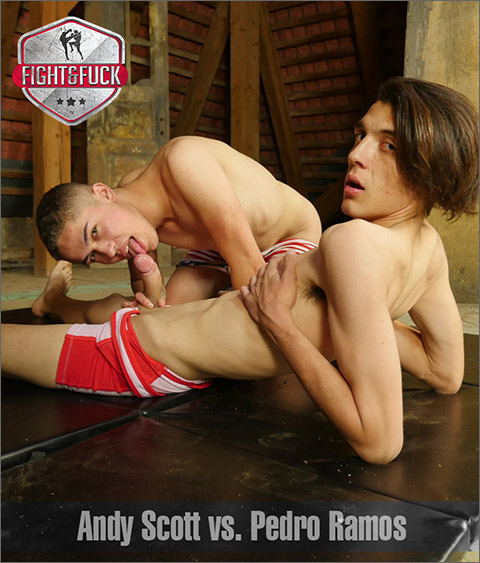 PEDRO RAMOS vs ANDY SCOTT
Pedro Ramos from Spain and Andy Scott from England are with us in this new episode of FightAndFuck.com! Both guys have known each other for a couple of years and they are inseparable Pedro told us. As we understood, they do everything together, even showering! They are very close and always had sexual chemistry together but never ever tried anything. When they heard of our website, they wanted to give it a try for fun. So here they are, ready to fight and see who's going to fuck the other one 🙂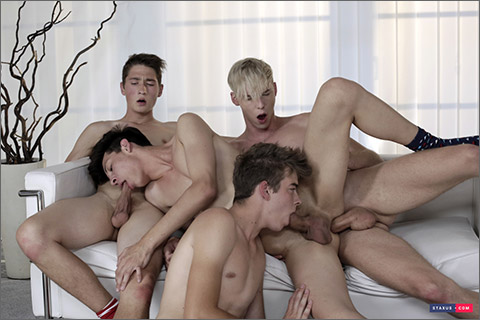 KEEP ON RUNNING: RAUNCHY RUNNERS SUCK, RIM & FUCK TO A GOOEY FACIAL CRESCENDO
Given all the heady amounts of exercise that the handsome trio of Andy Scott, Camil Chaton and Simon Caress display during the opening moments of this terrific set-piece, you'd think that their trainer, Kris Blent, would be more than satisfied. The blond-haired Dutchman is not an easy man to please, however. As he rather brutally informs them, his grandmother could run better than they do – a comment that clearly upsets a few egos in the room given the indignity with which it's received. But it's the remarks about their body-odour that really seems to ignite their fury; and which quickly results in the young trainees taking matters into their own hands by launching a full-on sexual assault on their boss.
   At which point, any fatigue that these hairless beauties may have been feeling is quickly forgotten; with their thick, uncut shafts quickly making an appearance, as Blent teams up with Scott, whilst Chaton and Caress slurp on cock nearby. Not that these two pairings remain independent of each other for very long, it must be said. Indeed, all four boys are soon a veritable chain of ass-rimming, dick-munching fury; before their lusts begin to take further hold of them and they take it in turns to thrust their hard, aching shafts into each other's fuck-holes.
   Given the amount of cock on offer, of course, it's all very understandable; with Scott and Blent arguably proving the main centrepieces of action. In the end, however, it's Scott who wins outright as chief slut – allowing all three of his horned-up mates to spew over his face, before creaming out his own fine load!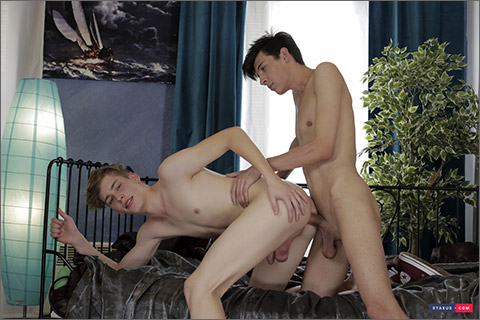 BAREBACK FUCK DATE: BLOND CONTESTANT CHOOSES A MEATY, UNCUT COCK TO RIDE HIM RAW!
It's tongue-in-cheek mayhem as TV-host Titus Snow introduces us to arguably the hottest date-show ever imagined – by inviting handsome contestant Martin Rivers to eye the three faceless cocks on offer, and to decide which one he'd like to have stretching his arsehole before the end of the show! It's definitely like absolutely nothing else you've ever seen broadcast; but the blond beauty takes it all in his stride as he examines the dicks and finally plumps for the thick, uncut shaft of Andy Scott.
   Introductions over, and it's definitely a case of the lads getting down to business – Snow making his excuses, leaving Rivers to get to know the horny young bachelor he's chosen. It's all parody, of course; but believe us when we tell you that there's absolutely nothing comical about the manner with which these two newfound buddies proceed to take full advantage of the situation by slurping on each other's ramrods. Indeed, both lads are like a couple of dogs on heat – most notably Rivers, who's soon outstretched on his back inviting Scott to rim and finger his hairless little pucker.
   It's unquestionably the kind of invitation that no self-respecting top is ever gonna decline; and it's no time at all before Rivers is taking inches of hard flesh in his guts as a result. It marks the start of a truly terrific set-piece that sees the young blond twink fucked to high buggery in a whole series of positions, culminating in Scott giving the boy's now nicely worked fuck-hole a severe dousing of hot spunk. All nicely topped off by the sight of Scott working his mate's shaft to ecstasy in return!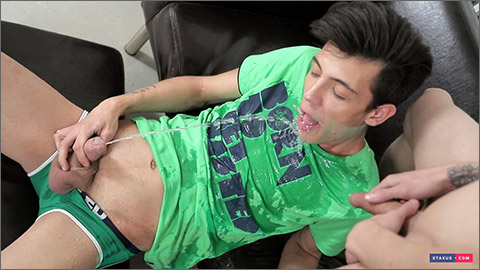 GIVE ME WOOD: DARK LUSTS LEAD HOT NEW BOY TO TITUS SNOW'S SPUNK & PISS FEST
There's a distinctly Czech-noir feel to the opening moments of this horny little escapade, as the almost deranged Titus Snow creeps around a local wood trying to find someone to love. It's a bizarre concept for sure; but it gets even creepier when he stumbles upon new boy, Andy Scott, who's happily whiling away his time lying on the forest floor, looking up at the autumnal canopy. Suffice it to say the young newbie doesn't get to remain undisturbed for long; with Snow dragging the poor lad to his feet, smooching the unsuspecting fellow and then bustling him back to his lair – in this instance, his city apartment!
   By this point, there's no denying that Scott is completely under Snow's spell – and with little wonder really given the eager manner with which the young Brit pulls the chap's cock out and begins to deep-throat him. After all, who in their right mind would refuse that kind of attention? Moments later and Scott is returning the favour – arguably even more enthusiastically! – with a blow-job on his assailant's totally hairless shaft that is completely at odds with his initial reluctance.
   Anyone who's seen Snow in action previously, however, knows that what he really wants is the feel of Scott's handsome ramrod in his butt – an ambition he promptly achieves by mounting his newfound lover's lap and bouncing up and down on the fellow's rod for all he's worth. No surprise that Scott is unable to hold back for long – delivering a fine wad of cum on his hole, before pissing it away. Cue a frenetic finale of jizz and the golden yellow nectar that leaves both lads utterly soaked!
FIGHT AND FUCK
STAXUS
CZECH HUNTER
CLICK HERE TO GO TO HIS STAXUS DETAILS