Cute Versatile American Gay Porn Star, Andy Banks
Known Aliases / aka:
Years Active: 2014 – 2017
TWITTER @AndyBanksXXX
NEXT DOOR STUDIOS INFO:
Cock: 6″
Body Hair: Moderately hairy
Height: 5'11"
Hair Color: Black
Eye Color: Brown
Position: Versatile
Foreskin: Cut
Body Type: Swimmer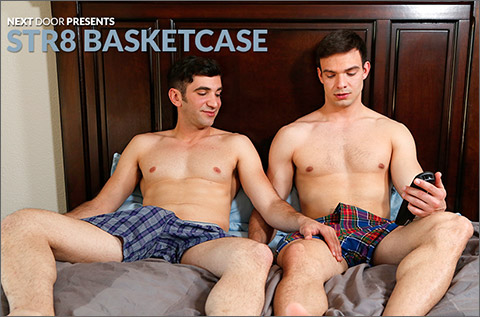 STR8 BASKETCASE
For best buds Andy Banks and Jason Maddox, it seems like everyone is getting some action but them. Fresh from their game but still suffering from a case of blue balls, Jason takes a shower while Andy rummages through his DVDs to find something to watch. Stumbling across some decent porn, Andy pops it in and quickly gets a hard on at what he sees, scrambling to put it away when he hears the shower shut off. As Jason finds him with a puddle in his shorts and a guilty look on his face, Andy concedes that he's too horny to play video games or do anything else. Jason agrees that he's also fairly pent up, and with a look, Andy makes a move, resting his hand on Jason's thigh. Jason seems a bit uncomfortable but he also doesn't shoo Andy away, which gives him the confidence to try and push it a little further, sliding his hand up Jason's leg. Jason begins to protest, but Andy reasons that if he really wanted him to stop he'd have already said somthing. With that, Andy slides down Jason's body and pulls his cock out from his boxers, taking it in his mouth as Jason closes his eyes and tries to tell himself this is normal. As Andy continues to suck him off, Jason lets his concerns evaporate, as he pushes Andy's head down further onto his cock, gagging his buddy with his rock hard dick. Andy sucks Jason off for a while before Jason returns the favor, and now rock hard himself, Andy begs Jason to fuck him hard.
   Jason is a bit unsure of what he's doing, but he slides his cock inside Andy and begins to pound, as Andy moans with pleasure. Jason has to admit his cock feels really nice as he goes in and out of Andy's bubble butt, but Andy wants control, so he positions Jason on his back and mounts him, riding him like a horse as he bounces up and down, grabbing the headboard as Jason pounds him from below. With both guys ready to explode, Andy flips over one more time onto his back, as Jason goes for end zone, fucking Andy hard as he strokes himself off, jizzing all over his stomach and chest as Jason pulls out and blasts him with his load. Better a puddle on your stomach than in your pants, he reasons, as the two of them get cleaned up for dinner.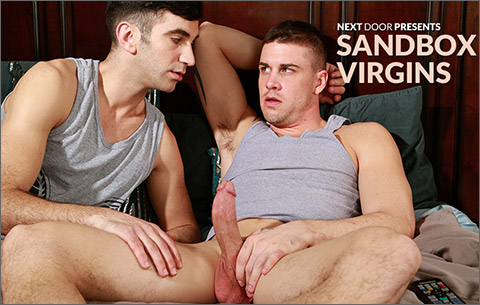 SANDBOX VIRGINS
Darin Silvers and Andy Banks go way back, all the way to elementary school since their friendship began, so as they get home from the gym and turn on the game, everything is normal. That is, until Darin mentions that his brother has come out of the closet and the old friends start opening up about their own desires and fantasies. Darin seems incredulous, but also, as if he's harboring some secret, whereas Andy clearly is all about the dick and it is obvious. Making a leap of faith, both guys let it slip that they'd be into the other, and as they sit in awkward silence for a moment, Andy moves in, kissing Darin on his mouth as he begins to grope Darin's cock through his workout shorts. Andy drops down and whips Darin's cock out, sucking on it as Darin runs his hands through Andy's hair. Andy swallows Darin's hard on and tries to slip a finger up his ass but Darin isn't having any of that, so Andy tells him they should switch, and immediately Darin returns the favor, fingering Andy's hole as he strokes himself up to fuck his old BFF. Daring positions himself behind Andy, who backs his ass into Darin as Darin slips his hard cock deep inside. They fuck like that on Andy's parents' bed before Andy turns his buddy over and rides him cowboy. Andy can't believe how close he already is to cumming as Darin continues to plug away, moving Andy onto his back as he plows him missionary, while Andy strokes himself clean and dirties himself up in the process. Darin feels Andy tighten his hole around Darin's cock just as he's cumming, and the pressure triggers Darin too, who pulls out and blasts Andy with a really healthy (and really pent up) load, telling his buddy they've got to keep all of this a secret.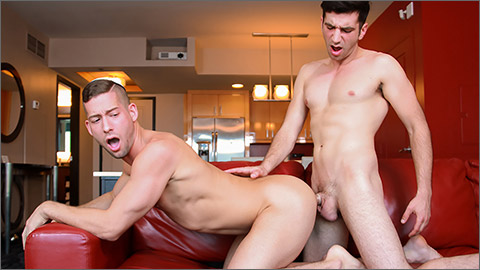 PASSOVER WITH A GENTILE
Nice Jewish boy invites a hot hung gentile over for passover seder and worships his huge schlong!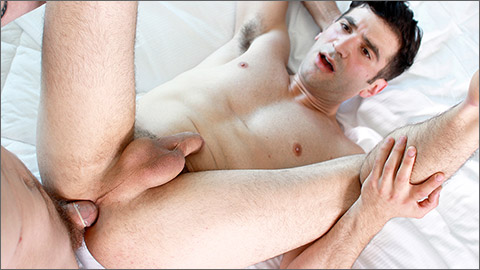 CAMMANDO UPSHORT BULGES
Straight guy going commando shows off his dick to his friend before fucking him in the ass
NEXT DOOR STUDIOS
ICONMALE
PRIDE STUDIOS / DYLAN LUCAS
MEN.COM
GAY ROOM
GAY ROOM / MANROYALE
CLICK HERE TO GO TO HIS NEXT DOOR STUDIOS DETAILS