Big Hard Cock Randy Blue Gay Porn Star, Andrew Stark
Known Aliases: Ty (Corbin Fisher)
Years Active: 2010 – 2017
TWITTER @AndrewStarkRB
RANDY BLUE INFO:
Tall, handsome, and incredibly sexy with a scruffy five day old beard, Andrew Stark describes himself as 'straight but comfortable'. He's not new to the adult video world so he brings with him a little bit of experience. His body is lean and mostly smooth with a uniquely trimmed treasure trail that leads down to nice thick meaty cock. There's also a lightly hairy butt surrounding his inviting hole that you can't help feel needs to be put to good use. He's got the college frat vibe and you get the feeling that he'd be up for just about anything if coaxed enough. He says he'd much rather get laid than jerk off but when you watch him use both of his hands to jerk his huge dick you know he's had practice because he does it so well. And of course you keep wishing he'd let you do it for him. Then he comes and sprays a nice splash of jizz all over his beautiful slim chest.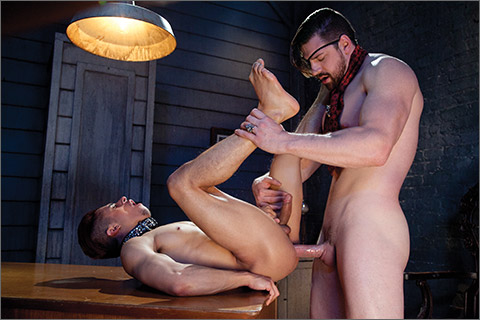 EARTHBOUND – HEAVEN TO HELL 2: Andrew Stark as Lord fucks Armand Rizzo as AlleycatLord (Andrew Stark) is angered, and he sends his Henchman out to find some answers. Left to his own devices, Lord turns to his courtesan, Alleycat (Armand Rizzo), to relieve the tension. Stripping off Lord's shirt, Alleycat leans in to teasingly lick Lord's sensitive nipples. Lord wraps his big, strong hands around Alleycat's tight, muscular ass, probing at the crack. Working his way down Lord's impressive torso, Alleycat liberates Lord's huge cock. Opening his mouth as wide as he can, Alleycat uses every one of his mastered techniques to render pleasure to his master. Alleycat tongues the tight, hairy center of Lord's ass, and Lord returns the favor with a wet, sloppy rimming. Using his fingers, Lord pushes his saliva into Alleycat's tight but inviting hole. Reclining on his chair, Lord invites Alleycat to sit down on his cock. Thrusting upwards, Lord pounds Alleycat's willing ass. Picking Alleycat up, with his cock still buried in Alleycat's hole, Lord fucks him wherever he pleases: against the wall, on the desk, and even hovering suspended in the air. Putting Alleycat down on the desk, Lord pounds him hard until Alleycat shoots his creamy load. As Alleycat kneels down on the ground, Lord strokes his thick cock and explodes across Alleycat's face and into his open mouth. Reaching out with his tongue, Alleycat tenderly massages the tip of Lord's cock, as frothy cum drips from Alleycat's chin.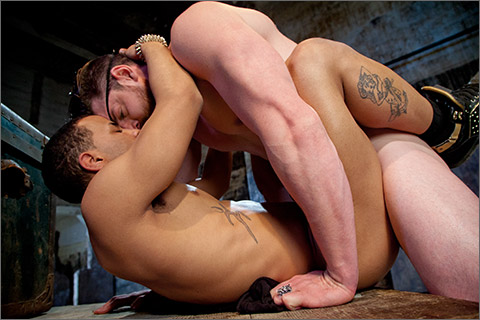 EARTHBOUND – HEAVEN TO HELL 2: Andrew Stark as Lord fucks Trelino as Snitch
Nobody snitches and gets away with it. You must pay! When Lord (Andrew Stark) confronts Snitch (Trelino), it takes enhanced interrogation tactics to get him talking. Lord spreads Snitch's ass and has his way with it, using his tongue to prepare it for Snitch's penance. Stripping off his clothing, Lord reveals his massive cock and shoves it into Snitch's mouth. With Snitch's ass wet and Lord's cock throbbing, Lord makes his move. As if possessed with demonic power, Lord pounds his cock deep into Snitch's tight hole. Flipping on his back, Snitch works his uncut meat as Lord penetrates further inside. With Lord still inside him, Snitch blows his load across his ripped abs. Standing over Snitch's face, Lord strokes out a massive, thick load that splatters across Snitch's face. Now that he got what he wanted, Lord pushes Snitch down on the ground and leaves him.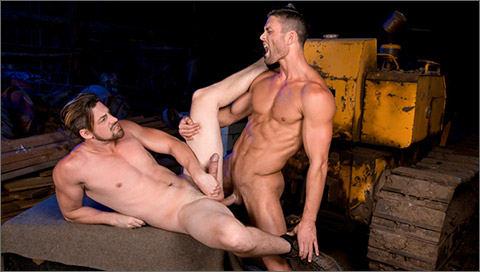 TOTAL EXPOSURE 2: Ryan Rose fucks Andrew Stark
Two stunning studs, Ryan Rose and Andrew Stark share a bottle of whiskey at sundown and sneak away to the barn for some privacy. After their final swigs, Ryan makes a move and locks lips and tongues with Andrew. Wasting no time, they rip each other's clothes off and Ryan hunkers down to swallow Andrews cock. After slobbering all over Andrew's cock, Ryan wipes his face with it, and taunts Andrew with his crack hanging out of the top of his jeans. Andrew knows he needs to possess Ryan's ass. Tongue, finger and cock in quick succession: Ryan's hole is skewered. But Andrew needs more. He needs to get fucked. Things heat up tremendously when Andrew lies on his back to let Ryan plow into him. Their smooth, ripped bodies collide in the dark quiet of the barn. They swap again, with Ryan now in a shoulder stand. When neither of them can hold back, they both release their loads in shooting bursts.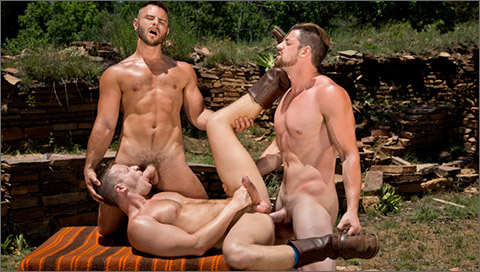 TOTAL EXPOSURE 2: Nick Sterling & Andrew Stark fuck Brian Bonds
Beefy Nick Sterling and dreamboat Andrew Stark spot Brian Bonds sunning near the old Native American ruin. They're both horned up and Brian is always up for a hot three way, so the hunks jump straight into the fun and slide their tongues into each other's mouth. Andrew's dick is so hard, his jeans are ready to burst, but Nick solves that by letting the cock out of its cage, having no choice then but to suck it. Andrew is a giant man, standing well over 6 feet, with the rest of his body parts in equal proportion. Nick tackles Brian's cock next, but his head continues to whiplash back and forth from Brian to Andrew. Nick and Brian entangle themselves in a sixty-nine, while Andrew bastes Brian's hole with his tongue and explores them more deeply with two fingers. When Brian lifts his ass into a shoulder-stand, it's a free-for-all on his hole, but Andrew's thick cock is first into the breach. Brian nurses on Nick's cock while Andrew fucks him. It's a super-hot change-up when Brian fucks Nick. Andrew's raging cock finds its new home in Nick's mouth. Climax for this trio finds Brian on his knees, swallowing two hot loads and drenching the thirsty ground with his seed.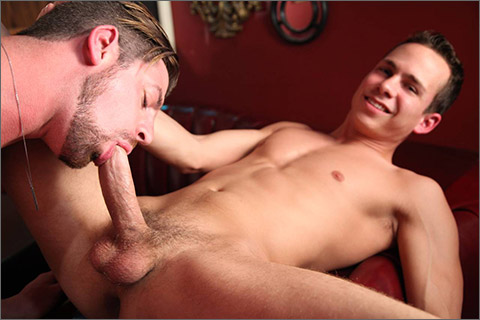 BIGGEST CATCH – BACKDOOR SCORE: Andrew Stark fucks Garrett Cooper
JD Phoenix and Killian James warn Garrett Cooper that if he can't find a sugar daddy of his own he'll end up back in Alabama living in his mom's basement. They hit San Francisco's hottest nightclub, and turn Garrett loose to find the biggest catch. He chooses tall beefy bartender (Falcon Exclusive) Andrew Stark. Andrew takes Garrett to the back room to feed him his thick monster-cock then bends him over to eat his ass. Garrett bounces up and down on Stark's rock-hard dick then eats his thick white cum. On the way out he scores a VIP pass and a promise, but no guarantee.
RAGING STALLION
FALCON STUDIOS
LUCAS ENTERTAINMENT
CLICK HERE TO GO TO HIS RAGING STALLION DETAILS