Cute Randy Blue American Gay Porn Star, Andres Moreno
Years Active: 2013 – 2015
MEN.COM INFO:
Hair Color: Brown
Eye Color: Black
Dick Size: 6 cut
Height: 5'7″
Weight: 160
Sexual Positions: Bottom
RANDY BLUE INFO:
Andres Moreno has one of those ever hard dicks. Just the thought of sex or showing off for someone else and the boy gets a raging boner. We decided to film him showering. And like magic as soon a his towel came off, his dick rose to attention. He let the hot water cover his body and started to soap up. But getting clean became an after thought, when his hard dick was calling out to him. He started to stroke it. And the more he paid attention to his dick, the harder it got. Finally he turned off the water and started to pound on his pud even harder. He then reached around and started to play with his ass. He got out of the shower and stood in front of the mirror. He loved looking at his hot muscled physique and hard cock. He grabbed his towel and made his way to the bedroom. He dropped the towel, his hard on still raging. And he bent over. It was not time to give his ass the attention it deserved. One finger was not enough. He penetrated his hole over and over, getting him harder and harder. He then flipped over on his back and started to finger his hole some more. Finally, he shot out streams of jiz all over his ripped chest. Andres has a hungry ass, and it is ready for more.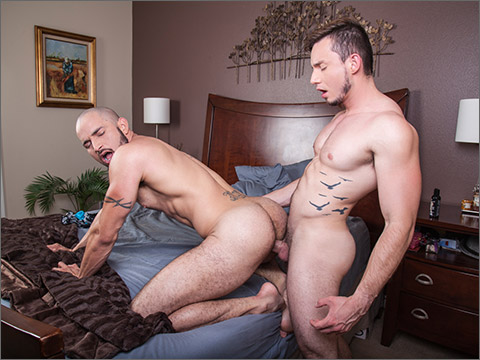 BOYFRIENDS ALEX TORRES AND ANDRES MORENO BAREBACK FOR THE RANDY BLUE CAMERAS
Alex Torres is about to make his solo debut. His boyfriend Andres Moreno brought him in. So I thought it would be fitting that Andres be the one to interview him since he knows him best. Well, I did not think that all the way through, because by the time the interview was over and Alex was ready to jerk off, he demanded that Andres join in. Alright, I will be honest. I pretty much knew that this was going to happen. And what follows is some of the hottest sex you will ever see. Andres and Alex have been together for months and fuck at least twice a day. They know every inch of their bodies and know exactly what buttons need to be pushed. Alex has a hot shaved head and beard and tattoos to go with his nice hard muscled body. Andres is also big and beefy, but with a softer more innocent quality about him. I wanted Alex to take charge and give Andres the fucking he desired. They took turns filming each other blowing each other and then threw the camera to the side when the fucking began. Alex is always the top, but Andres was feeling a little rambunctious and flipped Alex over and stuck his dick inside of him. This got them going. And when Andres sat on Alex and let him pump up into him. He was ready to cum. While Alex fucked him, Andres came and Alex put it in his mouth while he pounded into him. Then Andres let Alex cum inside of him. Alex pulled out as geysers of jizz shot every where. Then he sucked the cum right out of Andres and his willing hole. Then the two snowballed and made out for what seemed like hours. I may be wrong, but I have a feeling these two are going to have a long and happy cum filled relationship ahead of them.
Tags: Hardcore, Latin, Hairy, Muscular, Beefy, Hung, Uncut, Amateur, Anal, Men with Beards, Cum Eating Videos, Kissing, Rimming, Gay Porn Stars with Dark Hair, Guys who cum while getting fucked, Multiple Cum Shots, Cum Hungry Boys, Big Shooters, Creampie Videos, Gay Porn Muscle Bears, Uncut Latino Porn Stars, Scruffy, Bareback Video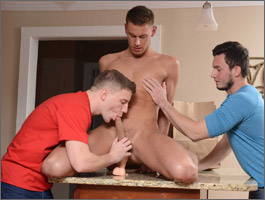 THE SEX TOY
Luke Alexander is excited to have arrived home, as his eager hole cannot wait to try out his brand new sex toy. After ensuring his friends are not around, he proceeds to blow a huge dildo until it's nice and wet, ready for him to take deep in his ass. As he is riding his new toy, in walks a hung Doug Acre and handsome Andres Moreno. The dildo is put aside for now as Luke and Andres take their turns getting their holes fucked hard by Doug's long, hard cock.
CLICK HERE TO GO TO HIS MEN.COM BIO PAGE