Sexy Young Czech Gay Porn Star, Andrej Lamos / Enrique Vera
Known Aliases:
Years Active: 2015 – 2019
WILLIAM HIGGINS INFO:
Andrej Lamos is one very handsome straight guy aged 22. He lives in Dobris and is currently unemployed. In his spare time Andrej sports, fitness and football. In a very enlightening interview Andrej tells us that he would never, ever have sex with another guy, so there is a challenge that we must try to take up. After his interview he stands and starts to strip off, showing off a beautiful body that matches his handsome face. When he is naked, apart from his underwear, we see a lovely big bulge, which Andrej is quick to start feeling. He also rubs his hands over his hot chest. Pushing the underwear down he shows off his beautiful cock and balls, and then turns around to give a great view of his hot ass. His hands grab the ass cheeks, pulling them apart enough to show his tight hole too. Then he turns to the side and starts wanking on his cock. As his cock begins to swell Andrej grabs his balls as well and then drops the underwear to the floor so that he is fully naked. He wanks his cock, getting it nice and hard as the other hand runs over his sexy body. He sits ont he sofa, leaning back with his legs spread wide, to wank that hot cock, with his big balls getting tighter. Then Andrej lifts his legs in the air to show off his hot ass. His cheeks are spread wide to show off his hole as his hands rub over the cheeks. Turning over, onto his knees his big balls hang down as that sexy ass is on show again. Andrej's hands rub that ass and over the balls, pulling the cheeks wider apart to stretch the hole. He then stands up and starts wanking his cock again, this time until he shoots his hot cum all over the floor. He milks the cock dry, shaking the last drops of cum off it. Then it is off to the shower to clean up after a lovely video.
Age (2015): 22
Home Town: Dobris
Height: 182cm/5'11"
Weight: 80kg/176lb
Foot Size: EU43/US8.7/UK8.2
Penis Size: 17cm/6.69″
Profession/Student of: Unemployed
Hobbies: Sport
Favorite Sports: Soccer
Active Sports: Fitness
Movie/Music/Sport Stars: Jodie Foster
Visited Coutries: Scotland
Want to Visit Coutries: Mexico
Dream of My Life: I don't know.
Zodiac Sign: Leo (July 23 – August 22)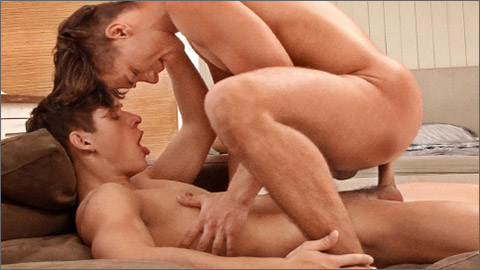 CONDOM FREE: JEFF MIRREN & ENRIQUE VERA
One thing can be said about Jeff Mirren, and that is that he always gives all of himself to the task at hand. Today's task is to be the first guy who has fucked Enrique Vera on BelAmiOnline.com. While Enrique at this stage is already a fairly seasoned performer, he was one of those guys who held out on bottoming for a special occasion. While the expression on Enrique's face tells us that the initial penetration may not have been the most comfortable thing ever, he soon opens up to the idea of getting fucked as a pleasurable experience.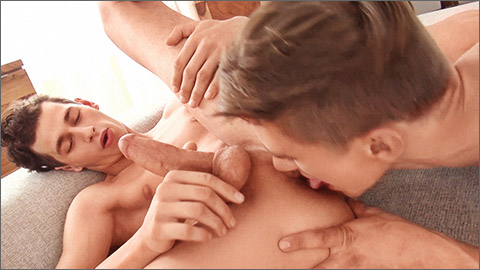 FRESHMEN ISSUE 64: HOME VIDEO SPECIAL: Benoit Ulliel & Enrique Vera
During our second scene, Adam realizes it is not easy to find and convince models to shoot with him. This is due to home videos being shot on a reduced budget since so many wind up in the trash bin. Since this is Benoit's second scene here on Freshmen, we are interested in your thoughts on his performance.

FULL CONTACT: ROSTA BENECKY & ANDREJ LAMOS – SCREEN TEST
In a great screentest we have Rosta Benecky and Andrej Lamos. They enjoy some kissing, whilst sitting on the bedframe. Then they stand and begin to undress each other, releasing to big hard cocks from their pants. As they play with the cocks they kiss again. Then Andrej drops to his knees and takes Rosta's massive pole in his mouth. He sucks on that big cock, taking it as deep as he can. Then, as they move to the bed Rosta takes a turn at sucking. His mouth envelopes Andrej's throbbing cock and he licks and sucks it real good. Then Rosta lays on his back and lifts his legs up, making his ass available to Andrej. Andrej gets to work, inserting a toy into Rosta's eager hole. As his hole gets worked Rosta wanks on his big, stiff, dick. Andrej leans over to suck on that big cock as he fucks the toy into Rosta's hole. Then he turns Rosta onto his side and shoves his cock deep into the waiting hole. Rosta can take cock real well and does so now. They move and Rosta sits his hot hole down on Andrej's stiff cock. He rides that dick real well. Next the move to missionary, with Andrej slamming his cock deep into Rosta's ass. Rosta wanks on his huge dick as he take Andrej's cock. As he wank his cock gets even harder and shoots his creamy cum all over his belly. Andrej is ready too and pulls out to dump his hot cum too. Then he leans forward to kiss Rosta once more after a great scene.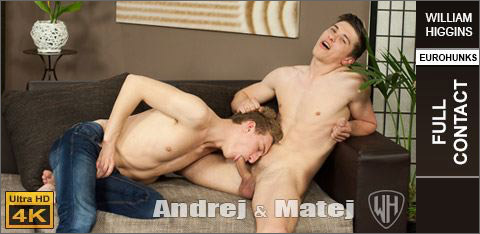 FULL CONTACT: ANDREJ LAMOS & MATEJ BORZIK – SCREEN TEST
Andrej Lamos a hot and straight newcomer agreed to a screentest, with Matej Borzik. As they sit on the sofa they enjoy kissing each other and then they remove their tee shirts to expose two hot chests. Matej misses Andrej's chest and then his lips, again. He pushes Andrej back and helps him off with his panst. That reveals a very nice cock which is already getting quite hard. Matej takes the cock in his mouth and sucks it to a full, rock hard erection. Andrej moans some as he feels the hot mouth working on his cock and he pushes Matej's head down it, to go deeper down his throat. Then, after kissing again, Andrej stands up and fucks his cock into Matej's eager mouth. That cock is big and thick and Matej sucks it so well. He keeps working on Andrej's dick until it is time to give up his ass. Matej is on his back, legs in the air, as Andrej rams his big cock in and out of that hot ass. Matej moans as Andrej pounds away at his ass. He moves onto his knees, with Andrej taking him from behind, still fucking hard and fast. Andrej is loving it too, his dick so deep in that hole. Then it is into missionary position, with Matej wanking hard as Andrej continues to fuck him. His wanking speeds up in time with Andrej's hard fucking and soon Matej dumps his creamy cum over his belly. Andrej continues to fuck until his cum is ready too. Pulling out of that ass he shoots his cum over Matej to finish a great screentest.
BEL AMI
BEL AMI FRESHMEN
WILLIAM HIGGINS
STR8HELL
CLICK HERE TO GO TO HIS WILLIAM HIGGINS BIO PAGE